Springtime is here, and that means it's baseball season! A new website for Chicago sports launches next week. One of the founders, Jonathan Eig, joins us with the details on Chicago Tonight at 7:00 pm.
In the "About" section of the website's Facebook page, ChicagoSide Sports is self-described as: "The best Chicago sports journalism in town."
Chicago Tonight spoke with the website's Social Media Director, Marta Steele, to learn more about it. Excerpts:
Can you tell me a little bit about the website: ChicagoSide Sports? 

The website is a place for people in Chicago to go and really dive deeper into sports. If you're a sports fan, you can get your scores anywhere. At ChicagoSide, we want it to be a site that people have to read, where they want to go. It's not just about covering sports; we want to engage people around sports, and get them to think and talk about sports with each other and with us.
Whether it's an interesting angle on a story, or player or coach, we are diving deep, and could be finding interesting videos. We want to make it an interactive, fun, interesting experience on the web. We consider ourselves like Slate and other online magazines, rather than a newspaper.
The word that keeps popping up when we talk about our website is "authentic." We want it to be real. That's what Chicago is. It's a down-to-earth, Midwest, it is what it is. It's there; it's in front of you. We are trying to build that into the personality of ChicagoSide; in the events we hold. This is the real thing, real journalism, real stories from people who love writing, and love sports and love Chicago.
How did you get involved in ChicagoSide Sports?
I've known Jonathan Eig [editor-in-chief and co-founder] for a long time, and when I first heard about ChicagoSide Sports, being leaked through [Robert] Feder and Time Out Chicago, I called Jon and Sol [creative director and co-founder] and met with them. I wanted to know more about their social media strategy and how I could help them.
We realized social media and being able to use the platforms and tools out here is so key. We want people to be engaged; we want to be in conversation with people. We want them to come out and meet us, and create a community. Social media is so key to making that happen. It's integral to ChicagoSide and how we reach out and connect with our readers.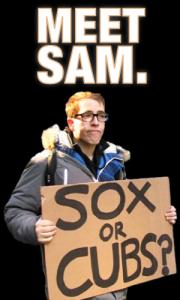 Can you tell me a little bit about your vision and goals for the site, as far as social media? What are your responsibilities as social media director?
A lot of things happen around social media and making people aware through Facebook and Twitter. But we wanted to do more. We have a fun campaign for Sox or Cubs where we created a hashtag: #SoxorCubs. We are branding this campaign around a new person who is coming to Chicago and hasn't claimed Cubs or Sox yet. Our newbie, Sam, takes his camera and a microphone and is going around the city and getting to know Chicago and talking to people, and will eventually make his allegiance known at our launch party on April 9 at Haymarket Pub & Brewery. We are using social media to get the word out and let Chicago to get to know Sam.
It's heavy on videos; a lot of tweeting and Facebooking, and will culminate in a big, structured debate between someone representing the Sox and someone representing the Cubs, which Sam will moderate. And he will make his decision at the party. We used social media to build that campaign.
Because social media is such a key and integral part, the main thing we are focused on right now is getting back to authenticity. We are using social media to have a real connection and conversation with our readers and fellow sports lovers. We don't want social media to be in that one-way, shouting out our content. We want to have conversations, moderate discussions, find and respond to comments on the stories, and build community.
Your website hasn't officially launched, is that correct? When will it be launching?
The website is live now, but beginning the first week of April, when the baseball season starts, the website will have original, featured content daily.
Every day, there will be a new story front and center on the home page, from ChicagoSide. Up until then, we're doing one to three stories a week. The first week of April, we are going daily. And we are celebrating that event at the launch party on April 9.
Eventually, in that first week of April, we will have a score ticker. We want ChicagoSide to be a one-stop shop, where you can see scores from the day before, and get fresh, new, original ChicagoSide Sports stories. We want users to go online at 8:30 am because they know this is where they want to go first.
How many writers are involved with the content? How did you go about finding them?
It's a really interesting model. We are calling it a co-op. We have a pool of very seasoned journalists and people who are new on the scene: great and up and coming writers. They will write stories. Eig works closely with the co-op and the writers to put together the pieces. It's through sharing in the profit of ChicagoSide how everyone is involved. There's such an interest of writers who want to be a part of this, and involved in the caliber of writing and journalism that we are bringing to ChicagoSide. People are raising their hands and saying, 'I want to write for you.' Through the co-op model, which is new, we can engage and give our readers a piece of ChicagoSide as we build the name and the brand.
Writers receive a nominal payment for content, but what we're building is through profit sharing at the end of the year. We are working on getting the word out and supporting each other, so there's more in the pool at the end of the year.
I heard that you have some famous Chicagoans who will be writing for you. Can you discuss any of them?
I can't! We have former players, really well-known journalists, up and coming amazing writers that we really want to give a voice to in a really, organized way. Sorry I can't be more specific.
Is there an iPad/Android app? Will the website be available to mobile users?
Eventually. When we get the site up and running, we want people to be mobile and reading it with ease. That's step two, it's in the works.
Is there anything else you would like to add?
One last point I want to make is when we look around at what's out there in Chicago and sports journalism, the reason ChicagoSide is out there, and Jon and Sol wanted to put something in place, is because really no one is doing what ChicagoSide does: taking sports from a hyper local perspective and going deep; putting really excellent, high-level, interesting, interactive journalism out on the web.
We are trying to do something that doesn't exist and nobody else is doing. We are so pleased and amazed with the response, and the support that we're getting.