The video cannot be displayed.
To park or not to park. That is the question. And it becomes all the more complicated at the intersection of faith and politics.
At the Logan Square Monument, where Kedzie, Milwaukee and Logan Boulevards intersect, two residents squared off against each other.
"There's a separation of church and state in this country," said Paddy Lauber, head of "Save Our Boulevards."
"I understand that," said Saul Osacky, a local business owner.
"Do you really?"
"Yes."
At issue is Chicago's historic Boulevard system - part of the city's "Emerald Necklace" of wide, park-lined thoroughfares.
On the interior streets of the boulevards in Logan Square, you can park. On the exterior, you can't. That is, unless you attend one of the handful of religious institutions along Humboldt, Kedzie, or Logan Boulevards.
Divine intervention? No. It was part of a courtesy agreement the city had with churches to look the other way as cars parked illegally during services. But church officials say that's changed in the last year.
"It really causes people frustration when they're coming into worship God, but they're coming out to a $90 ticket," said Pastor Bob Burns of the Armitage Baptist Church, located on Kedzie Boulevard.
Angry church-goers have taken their frustrations to a higher power: Ald. Rey Colon of the 35th ward.
"I'd get a big crowd of people that wanted me to resolve their parking problem," said Ald. Colon. "But the ironic thing is, I can't, because the sign clearly says 'no parking, tow zone.'"
In June, an ordinance authored by Colon quietly passed City Council, allowing free parking during certain hours along the boulevards.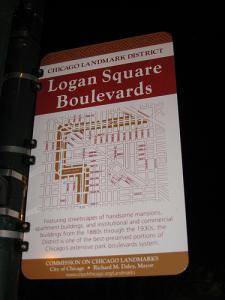 "You know, it's really easy to depict this situation like I'm turning the boulevards into a parking lot, like I'm being a dictator with providing parking," said Colon. "You know, nothing is further from the truth. I'm actually allowing what's been occurring to occur."
"It's not the government's responsibility to provide free parking for churches. That's their job," said Lauber.
Her group is pushing for a repeal of the ordinance, because it says parking destroys the character of the boulevards.
"People like the open, airy boulevards," she said. "We don't need the boulevards for parking."
Some of the regulations allow drivers to park from 7:00 am to 11:00 pm on weekends. Lauber says she believes the long hours are really to help business establishments in the rapidly gentrifying neighborhood get more customers.
"Rey has created 124 hours of parking. I don't know any church that needs 124 hours in a week," said Lauber. "So this is not about churches. This is about creating parking, maybe for valet parkers. This is about business parking."
Ald. Colon says he simply wants to give church-goers time to mill around after service ends without having to worry about getting ticketed.
Saul Osacky owns the Logan Square Auditorium building, home to a concert hall and restaurants right in the center of the business district.
I asked him if the alderman ever came to him, or if he went to the alderman to lobby for parking to benefit his business.
"Not at all," said Osacky. "If I had gone to him being a business person, I would have said to him, I want parking 24/7. I'm a business person."
Harry Rivera lives on Logan Boulevard. He says he's opposed to the new ordinance because he thinks it presents a safety issue.
"I'm afraid by having more parking on the blvd, you're going to have more people crossing in the middle of the street, and we have the potential for more accidents," said Rivera.
The Chicago Department of Transportation did a site survey and concluded that parking along the boulevards, during the hours the church has requested, would be safe.
A CDOT spokesperson even said it would increase safety by forcing traffic to slow down.
Lauber thinks the opposite is true.
"What happens is you end up with a pretty solid line of cars on a boulevard from say 10:00 am to 1:00 pm, and by 3:00 pm it's a car here, a car there. Then you have two lanes, then one lane and there's a lot of traffic accidents," said Lauber.
And for critics who want to maintain the open, airy feeling of the boulevards, Colon says it will still be there; it just depends on the time of day.