Logan Square is one of many communities in which residents are facing a significant increase in their property taxes.  
The area used to be predominantly Latino, but over the years that number has decreased to about 36%.
Some longtime Latino residents say they don't know how long they will be able to keep paying property tax hikes, maintain a home and survive.    
"Now we have to choose between putting our kids through college and paying for the home, fixing our home or paying our taxes," said Norma Rios-Sierra, a Logan Square resident who also grew up in the area.
Some people may welcome gentrification, but it's causing a burden for families like Rios-Sierra's.   
"We're about to be displaced if there's no relief," she said. "If there's no way to keep up with these increases, then that's it, that pushes us out. That's the nail in the coffin that will push me out of a neighborhood I have been in my whole life." 
Interactive map: More from our community reporting series
In Logan Square, Christian Diaz is the director of housing for Palenque LSNA, an organization catering to brown and Black communities. 
"It's shocking some people have gone from having to pay $4,000 to $6,000, and a lot of these notices came right before Christmas," Diaz said in reference to recent property tax bills. "It's been very emotional. Your home is an emotional topic." 
As property taxes spike and community members remain on fixed incomes, Diaz said, "It's not an even playing field for working class families." 
"We want them to understand what programs are out there to help them," Diaz said. "We want them to appeal their property taxes as much as possible, if they qualify for senior property tax exemptions or long time homeowner exemption."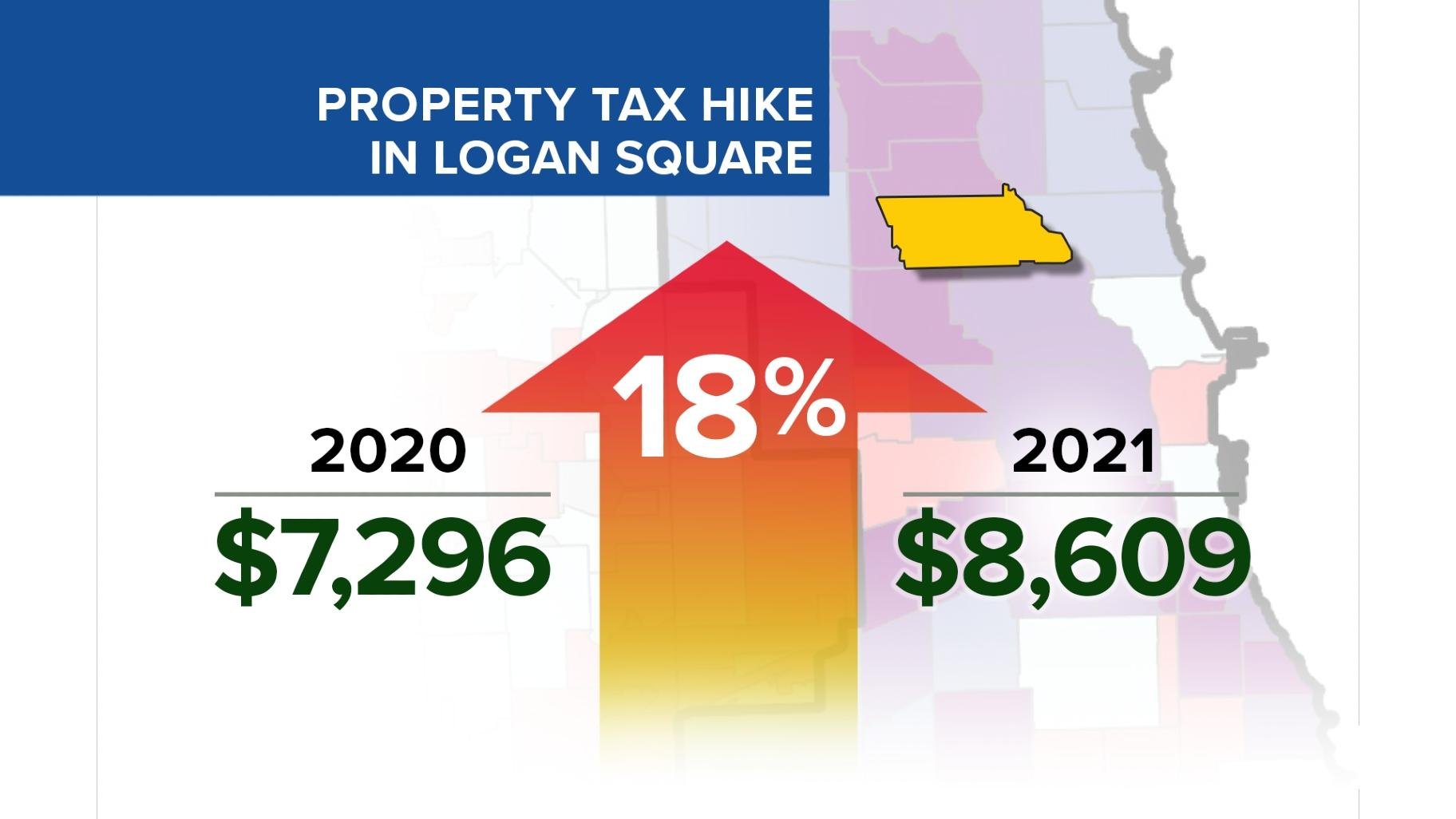 (WTTW News)
In Logan Square, the median residential bill increased by 18% over last year's tax bill, to an average of $8,000, according to an analysis by Cook County Treasurer Maria Pappas' office.
Center for Changing Lives is another organization in the area aiming to help longtime residents. The organization estimates the Logan Square community has lost roughly over 20,000 Latino families in recent years.
"It's a trend that seems to continue," says Paula Cripps-Vallejo, director of resource development for Center for Changing Lives. "We've seen the displacement happen in regard to housing and the impact that it has on the rest of the community is more than we can imagine."
A coalition of four founding organizations, including Palenque LSNA and Center for Changing Lives, created the Here to Stay Community Land Trust with a focus on retaining home ownership in West Logan Square and Hermosa.
"It's a small but big thing we can do to help stop the forces of displacement, while also building up home ownership that is often out of reach … to make it affordable," Cripps-Vallejo said. "In a land trust model, the community owns the land and the individual owns the house. It's a way for families to continue to stay here..we know the impact will come for generations and generations."
---
Video: Watch our full interview with Paula Cripps-Vallejo.
New developments in the neighborhood drive a bigger population density, which can lead to an increase in property value. 
"We also get asked by property owners, 'Isn't there some limit to the increase?' The answer in Illinois is no," Burke said. "If the assessor finds the value of your property tripled or maybe it was too low the last time, he can increase it by 3, 4, 5 tops." 
Homeowner Rios-Sierra is paying the price.
"You can appeal every tax increase, but even that costs money," Rios-Sierra said. "Do you have money to pay for a lawyer that is going to file the appeal? Is it even going to work out? Are you just going to break even? Just give me a tax break. We have been here for 30 years!" 
Earlier this week, Chicago Mayor Lori Lightfoot told WTTW News there's still work to be done in reforming the assessment system. 
"When we see the Board of Review making big concessions to commercial properties, who bears the brunt of that? Residential homeowners. So we have to fix that problem, as well. We are looking at a number of different solutions. There have been aldermen that have come forward offering solutions," Lightfoot said.  
Ald. Scott Waguespack (32nd Ward), who's running unopposed for his fifth term, says appealing doesn't always solve the problem. 
"We need to fix the system at every level — the city, county and state," Waguespack said. "If we look back at all the people who were involved in this corrupt system: Ed Burke, Madigan … making assessments half of what they should have been at the commercial level and residential level for decades, it really ruined the system…with new people at the Board of Review, I think we'll see some change there too."
---
Video: Watch our full interview with Ald. Scott Waguespack (32nd Ward). 
Those solutions may come too late for decade-long residents in Logan Square who face being displaced.
Burke said one solution could be for the city to rely less on property taxes to fund city schools or city parks.   
"A couple alternatives that are not favorable for the homeowners is to raise rents, which they don't want to do, or as you said, put off home repairs that they were planning on doing," Burke said.  
Resident Coleman Brice is a director at Palenque. He owns a local bar and acknowledges he is privileged to be able to afford the tax hike.
"I feel like a lot of the property values are based on flipping activity in the neighborhood or people coming into the neighborhood trying to profit off it," Brice said. "There needs to be some type of reward, stability for those folks who are trying to stay in their homes long-term." 
Rios-Sierra said the soaring property taxes are driving out the city's Latino population. 
"Stop using the system against us because we are a valuable part of the city," Rios-Sierra said. "We contributed so much to the city and we deserve to live here. Someone who has put the effort in his community, is college educated… Why do we constantly get pushed out?"
---
To view all of our "In Your Neighborhood" reports, click here.
---
Community Reporting Series
"Chicago Tonight" is expanding its community reporting. We're hitting the streets to speak with your neighbors, local businesses, agencies and leaders about COVID-19, the economy, racial justice, education and more. See where we've been and what we've learned by using the map below. Or select a community using the drop-down menu. Points in red represent our series COVID-19 Across Chicago; blue marks our series "Chicago Tonight" in Your Neighborhood.
---