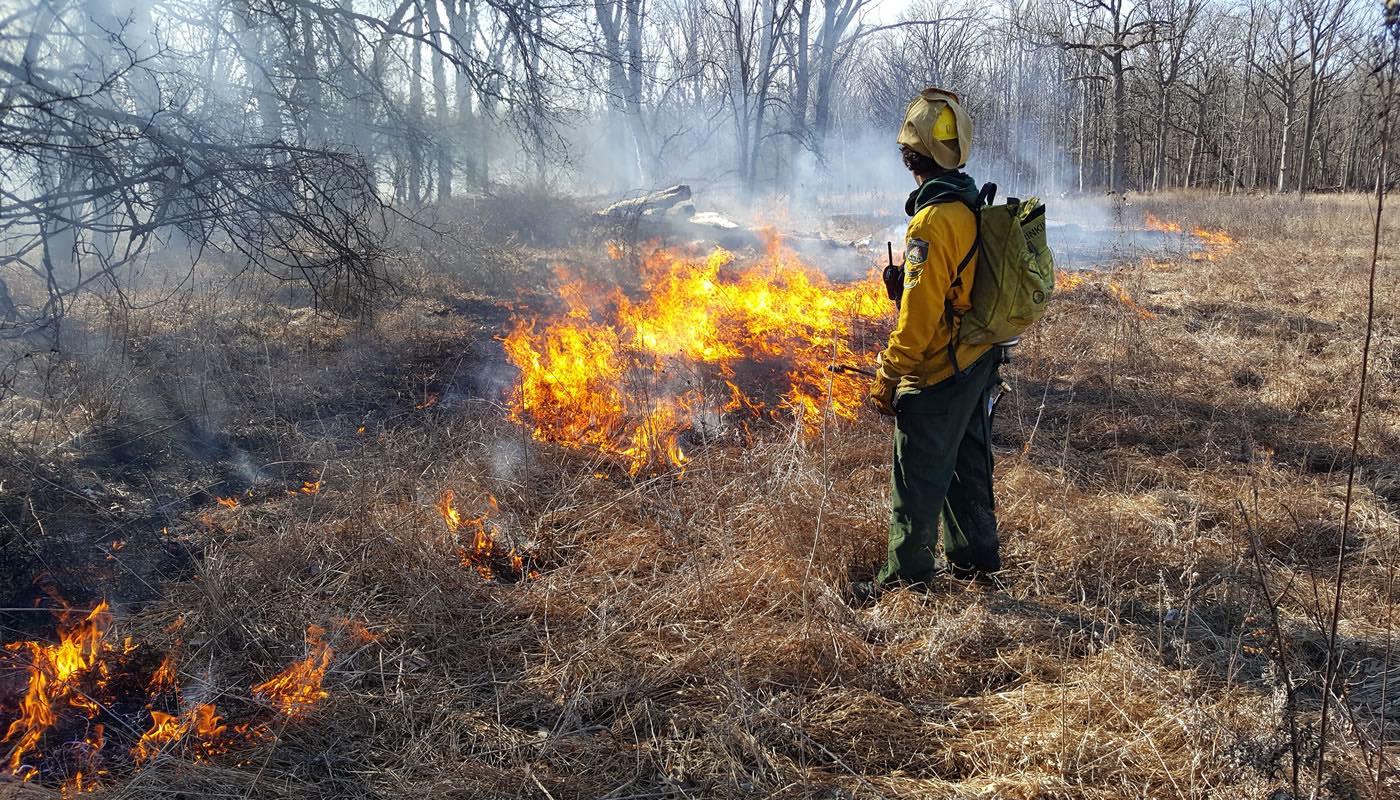 Prescribed burn in Cook County. (Kelly Bougher / Forest Preserve District of Cook County)
Forest preserve districts across the region are in the middle of fire season — not combatting them, but setting them. 
"Fire is an important tool in our restoration toolbox," said Erik Neidy, director of natural resources with the Forest Preserve District of DuPage County.
Prescribed burns mimic the wildfires that native prairies and woodlands adapted to over millennia. They're used to control invasive species, return nutrients to the soil and promote the growth of native plants and grasses.
"Protecting nature doesn't stop at merely acquiring land. Nature in urban areas faces constant threats from invasive plants and animals, pollution and human development," said John McCabe, director of resource management for Cook County Forest Preserves and president of the Illinois Prescribed Fire Council. "To fulfill our mission of restoring the forest preserves to health, multiple restoration techniques are necessary, from brush removal and seed collecting to the use of fire."
Detailed burn plans are developed in advance of prescribed fires, which are carefully monitored and only conducted when whether conditions allow, depending on wind speed and direction, temperature and humidity. Seasonal windows for burns are typically fall, when most vegetation has died, and spring, before things start to green up.
---
Read More: A Day in the Life of a Cook County Burn Crew
---
During the fall 2022/spring 2023 prescribed fire season, DuPage County crews conducted 72 controlled burns at 25 forest preserves, benefitting 1,597 acres, officials said.
This year, Cook County has debuted a prescribed burn activity map, alerting visitors to where burns are planned for the day as well as where burns were recently completed. Some 20 sites have been burned in recent days, ranging from areas within Sauk Trail Woods in the county's southern reaches to McDonald Woods in the north.
The Cook County map, which will be updated daily, is designed to help visitors avoid locations that may have increased smoke and is also a resource for nearby neighbors to see where activity is occurring, said Arnold Randall, general superintendent of the forest preserves.
To understand how prescribed burns are controlled, check out this video from DuPage County.
---
Contact Patty Wetli: @pattywetli | (773) 509-5623 |  [email protected]