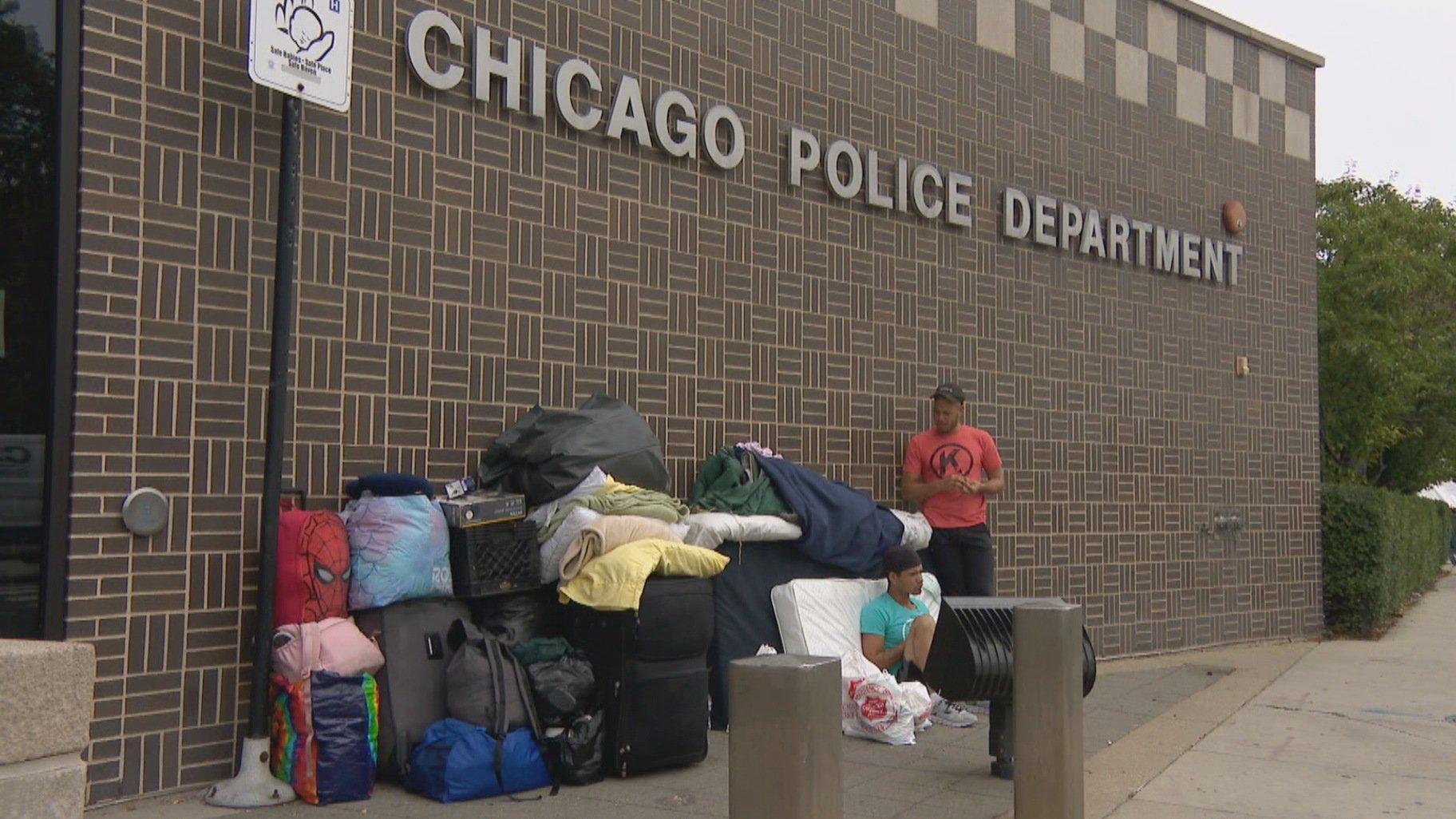 Migrants outside a Chicago police station. (WTTW News)
Migrants who have been staying in city-run shelters since 2022 — as well as those who arrived Friday — will have to find permanent housing by mid-January, as Mayor Brandon Johnson moves to limit the city resources available to the more than 21,300 people sent to Chicago from the southern border on buses paid for by Texas Gov. Greg Abbott.
The limits are included in a new approach launched Friday by Johnson to the humanitarian crisis engulfing the city. The new policy could mean more than 3,000 people will lose their beds in city shelters by early February, including 50 people who have lived in city shelters since 2022. The rest would have to leave by April, according to the policy.
Johnson said Wednesday he would not "sacrifice the needs of Chicagoans in support of those who wish to become Chicagoans."
In all, 12,100 migrants, who are all in the country legally after requesting asylum, are living in city shelters. Another 2,200 people are waiting in police stations across the city and at O'Hare and Midway airports for a shelter bed to open up, according to city data last updated Friday morning.
Migrants will now be limited to no more than two months in the city's shelters, with officials "issuing 60-day exit notices in waves based on their arrival date to shelter," according to a statement from the mayor's office.
That means an additional 8,800 people, who entered the city's shelters between July 31 and Thursday, must leave by April 2, city officials said.
Despite the new limits, Chicago will remain a welcoming city, Deputy Mayor for Immigrant, Migrant and Refugee Rights Beatriz Ponce de León said.
"We haven't closed our doors," Ponce de León said. "We are doing the best we can with the resources we have."
Brandie Knazze, commissioner of the Department of Family and Support Services, said migrants will only be allowed to stay beyond 60 days in cases of "extenuating circumstances," such as a medical emergency or severe weather.
Cristina Pacione-Zayas, Johnson's first deputy chief of staff, said city officials will step up efforts to help migrants become self-sufficient and live independently to ensure as many people as possible have somewhere to go when they hit the 60-day limit.
"It is not designed as a gotcha," Pacione-Zayas said.
Johnson announced the limits on city help amid a significant backlash to the city's efforts to care for the migrants and a political firestorm that defined the debate over the mayor's first spending plan.
"We have finite resources," Pacione-Zayas said. "And so we're just being responsible with, 'Here's what we have. Let's figure out how we can judiciously use it.'"
Pacione-Zayas did not directly answer a question from WTTW News about whether city officials were concerned the new limits on shelter stays, coupled with an end to state rental assistance for migrants, would exacerbate Chicago's homelessness problem, and expose vulnerable migrants to the elements and put them at risk of becoming a victim of crime or violence.
Chicago officials also plan to fine bus companies transporting migrants who don't abide by the city's curfew, specific drop-off locations or other rules. Additional efforts will be made to help migrants who do not want to stay in Chicago get to their final destination, officials said.
When migrants hit that 60-day limit, they will have to return to the city's entry point for migrants and wait for a bed to open up in a shelter, Knazze said. Knazze declined to tell reporters in a virtual briefing what would happen if someone refuses to leave.
Through the end of this year, the city expects to spend more than $363 million to care for the migrants, with little help from the federal government.
The city's 2024 budget set aside $150 million to care for the migrants, but Johnson acknowledged that will not be enough to cover the cost of housing, feeding and clothing the migrants, many of whom who fled Venezuela amid political and economic collapse.
For months, Chicago officials have pleaded with federal and state officials to provide additional help as members of the Chicago City Council balked at the cost of caring for the migrants. The crisis has strained the city's social safety net, ballooned the city's budget shortfall and exacerbated tension between Chicago's Black and Latino communities.
Heeding those calls, Illinois Gov. J.B. Pritzker said Thursday the state will spend an additional $160 million to prevent migrants from freezing to death once cold weather settles over the city.
The plan outlined by state officials calls for $65 million to be used to erect a temporary "soft-sided" shelter that could house some of the migrants now living at police stations and airports. No location has been identified for that shelter.
In addition, the Johnson administration has not made a final determination about whether to erect "winterized base camps" in Brighton Park or in Roseland, officials said.
An additional $65 million will be used to help the migrants apply for work permits, get housing assistance and move into permanent homes, officials said.
The remaining $30 million will be used to create an intake center to process the migrants as they arrive in Chicago, before being sent to a police station. That will enable officials to help those who do not want to stay in Chicago get to their final destination, while better tracking those who do want to stay in Chicago.
No location has been picked for that effort, which will be run by the state, officials said.
In addition, the Cook County Board of Commissioners earmarked $100 million to help confront the crisis facing Chicago as part of Cook County's 2024 budget.
That plan sets aside $70 million to be used by the county's health system to care for the migrants, with $20 million set aside for suburbs to care for migrants. Oak Park launched an effort to do that in recent weeks, and officials hope more will follow suit. The remaining $10 million will be held in reserve, in an effort to allow county officials to respond to unanticipated disasters in 2024, officials said.
As city officials impose new limits on the time migrants can spend in city shelters, state officials cut back the amount of rental assistance the state will provide to migrants as part of the changes announced Thursday.
That effort will now cover just three months of rent, rather than six months, for current residents of the city's shelters. New arrivals to Chicago will not be eligible for the program, "but housing assistance will still be provided to support the housing search process, tenant rights, and landlord-tenant communications," officials said.
The program has enough funding to help those who are in the city's shelters now, but not enough to help new arrivals into the city's shelters, officials said.
Contact Heather Cherone: @HeatherCherone | (773) 569-1863 | [email protected]
---