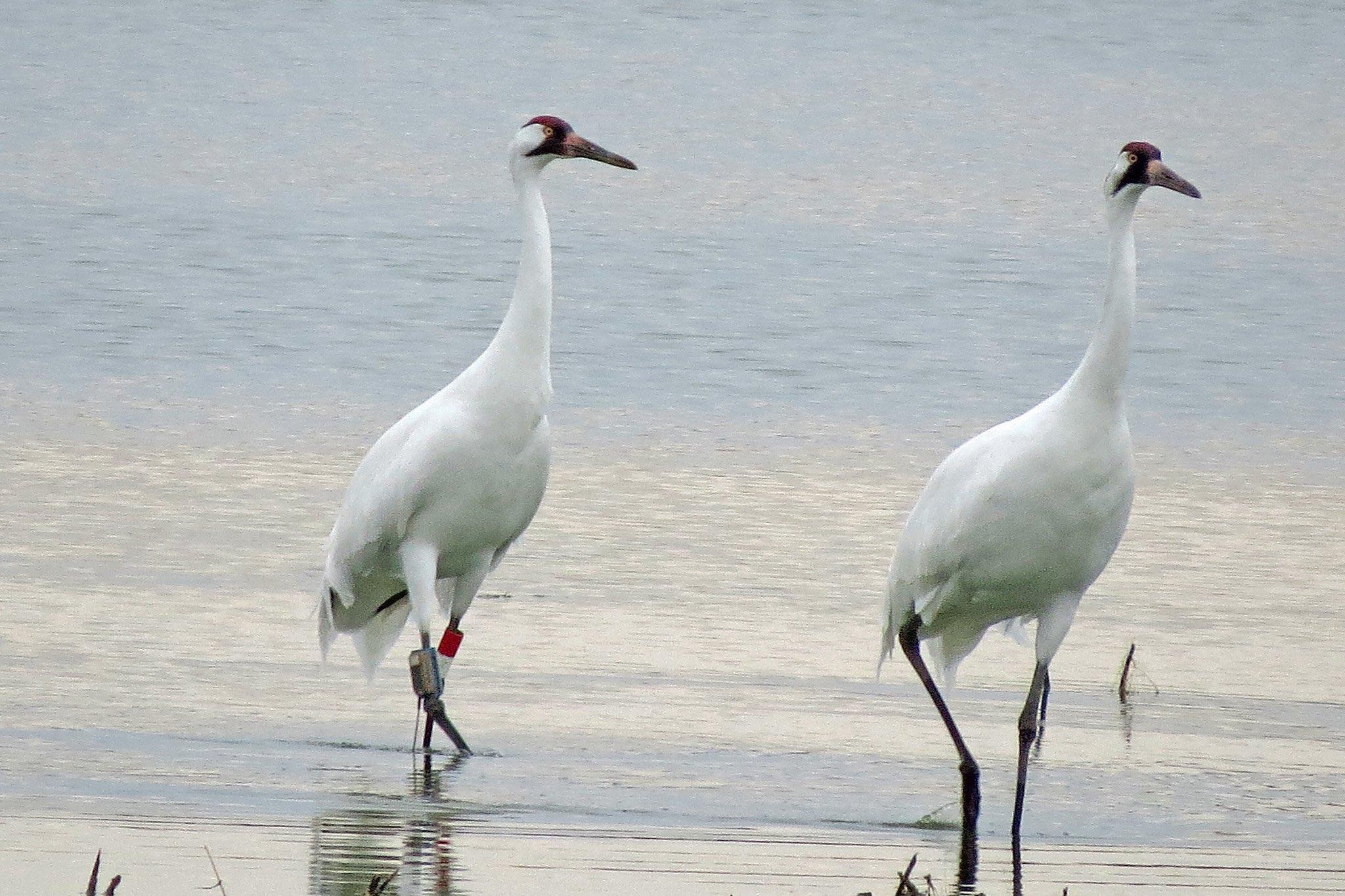 Whooping cranes are known for their snowy white plumage, red caps and bugling call. Seen here in South Dakota. (U.S. Fish and Wildlife Service Mountain-Pacific Region / Flickr Creative Commons)
Whooping cranes (Grus americana) are the tallest bird in North America, reaching heights of 5 feet, so they should be easy spot. Except there are fewer than 800 of them living outside of captivity, and that means any sighting of a "whooper" is rare and cause for, well, whooping it up.
Officials with the Forest Preserve District of Kane County did just that when they announced a family of three whooping cranes had touched down at the Muirhead Springs Forest Preserve in Hampshire on Nov. 9-10.
The mated pair and their colt were among the 12 whooping cranes that have been reported in Illinois during the current fall migration season (track them here). The birds are members of a tiny eastern population of just 76 whoopers that migrate between their breeding grounds in Wisconsin and winter home in Florida.
"This is the truest form of validation that we're on the right track with our land management," Benjamin Haberthur, executive director of the Kane County forest preserves, said in a statement.
Muirhead Springs has been undergoing restoration for more than a decade, as forest preserve staff works to transform this former agricultural land — farmed for 140 years — into high-quality prairie and wetland habitat.
In 2022, the district began re-meandering an old agriculture drainage ditch into a naturalized tributary. Birds quickly responded to the improvement, said Sadie Dainko, a wildlife technician with the district.
"Almost immediately, with the combination of restored prairie and newly created wet areas, waterfowl, shorebirds, gulls, terns, pelicans and many other water-related birds have flocked to the site," Dainko said.
Citing data collected from eBird.org, the district said there's been a 91% increase in bird diversity at Muirhead Spring in 2023 — compared with all of 2019-2022. The spike holds true across nearly every category of bird species, thanks to the combination of open water, wetland habitat and intact grasslands, the district said.
Last spring, whoopers visited the district's Nelson Lake Marsh in Batavia, where a more natural hydrology was also installed, Haberthur said.
Experts estimate there were once 15,000 to 20,000 whooping cranes in North America. Loss of habitat and hunting nearly sent the bird into extinction, with only 15 migratory whoopers left in 1941, all part of a single flock that migrated between Wood Buffalo National Park in Canada and the Aransas National Wildlife Refuge in Texas.
Thanks to intense conservation efforts, the species was brought back from the brink, but it remains critically endangered. Recent counts show that the vast majority of whooping cranes — roughly 550 — are descendants of that Canada-Texas flock and continue to migrate between the two protected preserves.
Out of concerns that concentrating all of the whoopers' eggs in a single basket could prove disastrous, wildlife biologists introduced new migratory flocks to Idaho and Florida. The Idaho effort ultimately failed altogether, and the Florida birds never learned to migrate. When the Wisconsin flock was introduced, scientists successfully used ultralight aircraft to teach the colts to fly south.
Contact Patty Wetli: @pattywetli | (773) 509-5623 |  [email protected]
---