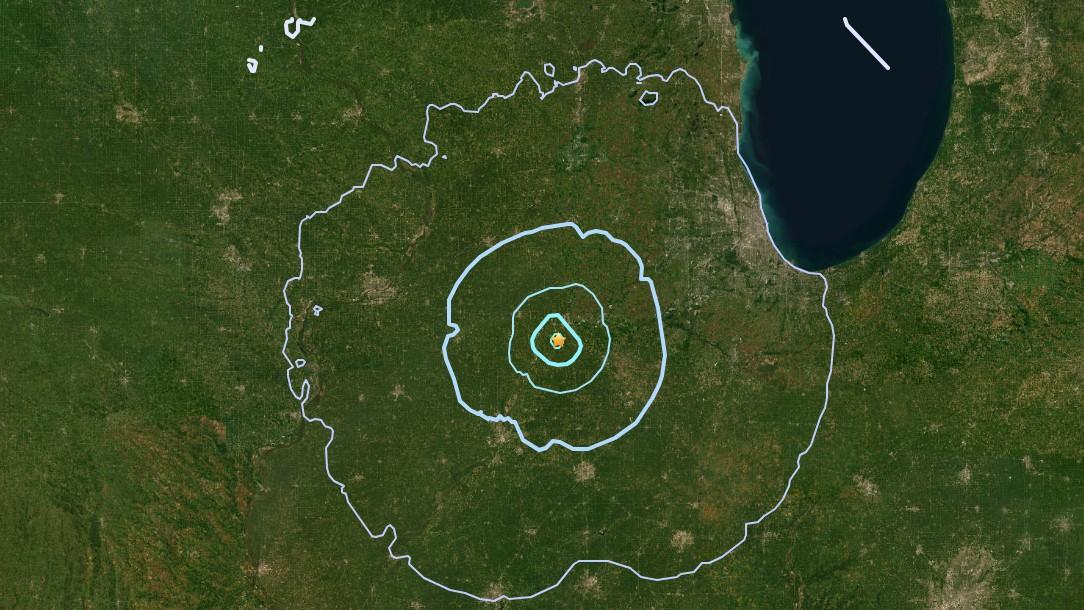 Aerial map of the epicenter of Wednesday's earthquake, Nov. 15, 2023. (U.S. Geological Survey)
A 3.6 magnitude earthquake hit north central Illinois Wednesday morning, shortly before 5 a.m., the U.S. Geological Survey (USGS) is reporting.
Standard, Ill., population 204, was the quake's epicenter, roughly 100 miles southwest of Chicago.
USGS is still gathering information on the tremor and is asking anyone who felt it to fill out a form online.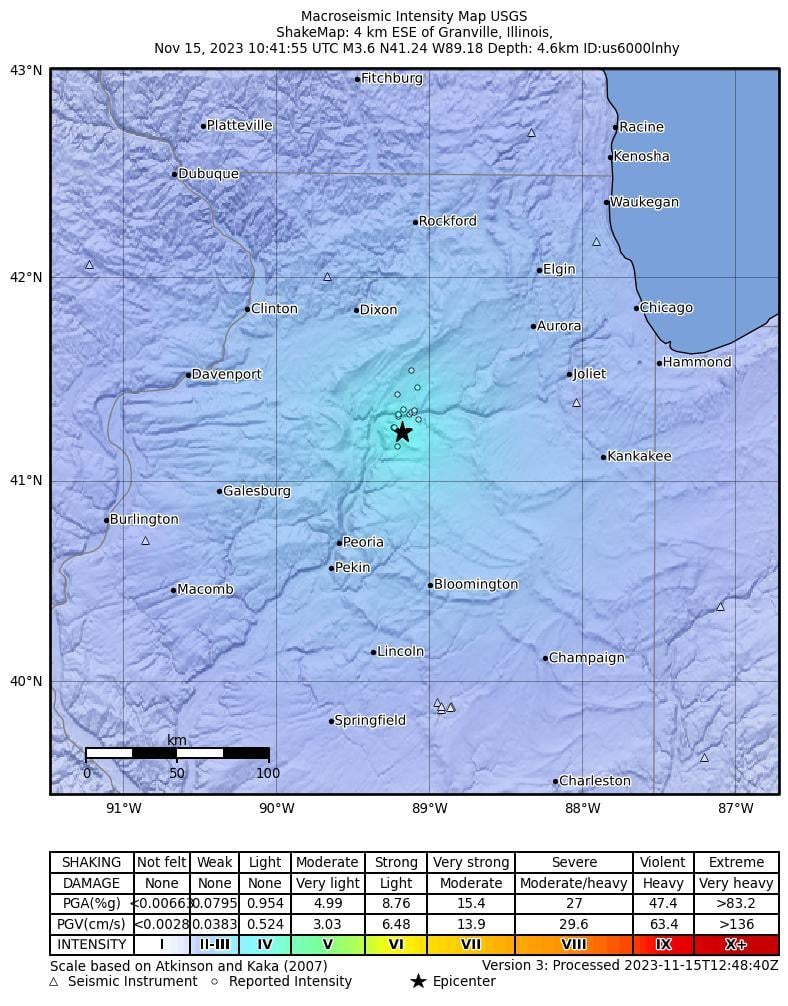 Intensity map of Wednesday quake, Nov. 15, 2023. (U.S. Geological Survey)
While earthquakes are rare east of the Rocky Mountains, Illinois sits within two "hot spots" for quakes in the central U.S.
One is the New Madrid Seismic Zone, which spans the central Mississippi Valley from Cairo, Ill., through southeastern Missouri, western Kentucky, western Tennessee and northeast Arkansas. This area has been the site of some of the largest earthquakes in North America, according to the state of Illinois.
Between 1811 and 1812, four catastrophic earthquakes with magnitude estimates greater than 7.0 occurred in this zone during a three-month period, with aftershocks continuing for years.
The other hot spot is the Wabash Valley Seismic Zone in southeastern Illinois and southwestern Indiana. The epicenter of this zone is located between Mt. Vernon, Ill., and West Franklin, Ind. Geologists have found evidence of prehistoric earthquakes in this region.
According to USGS, earthquakes east of the Rocky Mountains are typically felt over a much broader area than earthquakes of similar magnitude in the west. A magnitude 4.0 earthquake in eastern or central North America could be felt in communities more than 60 miles from its source, USGS said.
That would place communities such as Ottawa, Streator and Pontiac within the "shake zone" of Wednesday's quake. 
In 2008, a 5.2 magnitude quake was recorded in Illinois, centered near Mount Carmel. Shocks radiated all the way to Atlanta, Michigan's Upper Peninsula, West Virginia and Omaha, Neb. 
Contact Patty Wetli: @pattywetli | (773) 509-5623 |  [email protected]
---