Former Ald. Ed Burke and his legal team in federal court before U.S. District Court Judge Virginia Kendall on Nov. 6, 2023. (WTTW News)
After awaiting trial for more than four years, what's a few more days for Ed Burke?
It was expected that during the first week of the longtime 14th Ward alderperson's landmark racketeering trial a 12-person jury would be seated, opening arguments would be given and witness testimony would begin.
Instead, none of those things happened.
Burke faces 14 charges of racketeering, bribery and extortion. He's being tried alongside his longtime aide Peter Andrews and real estate developer Charles Cui. All three have pleaded not guilty.
Proceedings were slow going last week, which was marked by the extensive questioning of dozens of potential jurors and at least one confirmed COVID-19 case that brought the case to a halt before it could truly get going.
Burke last Monday made his first appearance at the Dirksen Federal Building since June 2019 as jury selection got underway.
Attorneys for the three defendants, federal prosecutors and U.S. District Court Judge Virginia Kendall began questioning the first batch of prospective jurors about their knowledge of Burke, Chicago politics and the case itself.
In one instance Tuesday, a defense attorney asked to play a word association game with a woman during her questioning. When given the prompt of "Chicago politics," her response was "messy."
Potential jurors were also asked about other things like their social media habits, their pets, what television programs they watch and where they get their news.
"That's why it takes a long time," Kendall said Tuesday afternoon after reiterating her goal of impaneling an impartial jury. "It's really important we get the right people who can be fair and impartial in this case."
Also on Tuesday, a large display in the hallway outside the trial courtroom memorializing past high-profile public corruption cases that have taken place at the courthouse was hidden away from jurors after it was covered up with brown paper. Other displays were also covered and will remain that way through the end of jury selection following a request from defense attorneys.
By Wednesday evening, Kendall stated that a jury would be selected by midday Thursday and opening arguments would go ahead that afternoon. Instead, parties arrived in court the following morning wearing masks as Kendall informed the public that the case would be delayed a week after an attorney tested positive for COVID-19.
The trial was expected to last six weeks and is now likely to run up to Christmas.
When proceedings resume, the sides will need to finish jury selection before the case can advance.
After the first week, 38 potential jurors made it through the initial round of questioning. The goal is to get to 47 before whittling that group down to a final jury.
Once testimony begins, federal prosecutors are expected to detail Burke's involvement in what they say are four criminal schemes as part of their bid to depict the former alderperson as "thoroughly corrupt."
Potential witnesses include former 45th Ward Ald. John Arena; former Building Commissioner Judy Frydland; current Building Commissioner Matthew Beaudet; former Planning Commissioner David Reifman and former Transportation Commissioner Rebekah Scheinfeld.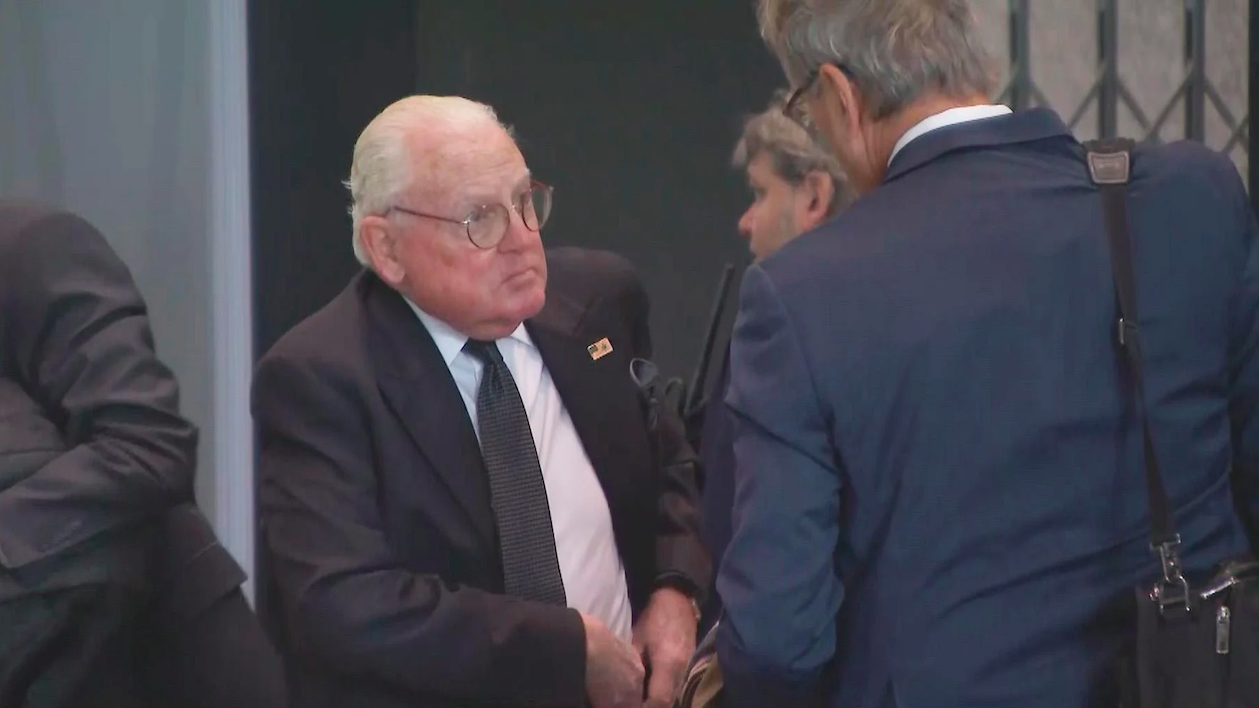 Former Chicago Ald. Ed Burke makes his way through security at the Dirksen Courthouse on Nov. 6, 2023. (WTTW News)
Jurors may also hear directly from disgraced former 25th Ward alderperson and government mole Danny Solis.
According to prosecutors, after he was confronted by federal agents probing him, Solis agreed to work as an informant and recorded numerous phone conversations between himself and others, including Burke and indicted former House Speaker Michael Madigan.
Solis has since entered into a deferred prosecution agreement with the government and prosecutors said before trial that they do not plan to call him as a witness.
However, Burke's defense team appears intent on doing so.
"We don't deserve to be defense lawyers if we can't get Danny Solis to say that his motivation for making these tapes was to save his own skin," Burke defense attorney Chris Gair reportedly said Wednesday.
One of the four schemes Burke allegedly orchestrated involved the Old Post Office.
The landmark was purchased by 601 West Companies, which planned to spend $800 million to renovate the massive structure into offices. But to make that financially possible, the developers needed significant help from City Hall, which meant they needed the backing of Burke, then the chair of the powerful Finance Committee, and Solis, the chair of the Zoning Committee.
Prosecutors are expected to tell the jury that Burke, working with Solis, whose ward included the Old Post Office, held up that assistance in an attempt to force the Old Post Office developer to hire Burke's private law firm, which specialized in getting companies breaks on their property taxes by appealing to county officials.
Proceedings in the case are set to resume Thursday morning.
Heather Cherone contributed to this story.
Contact Matt Masterson: @ByMattMasterson | [email protected] | (773) 509-5431
---