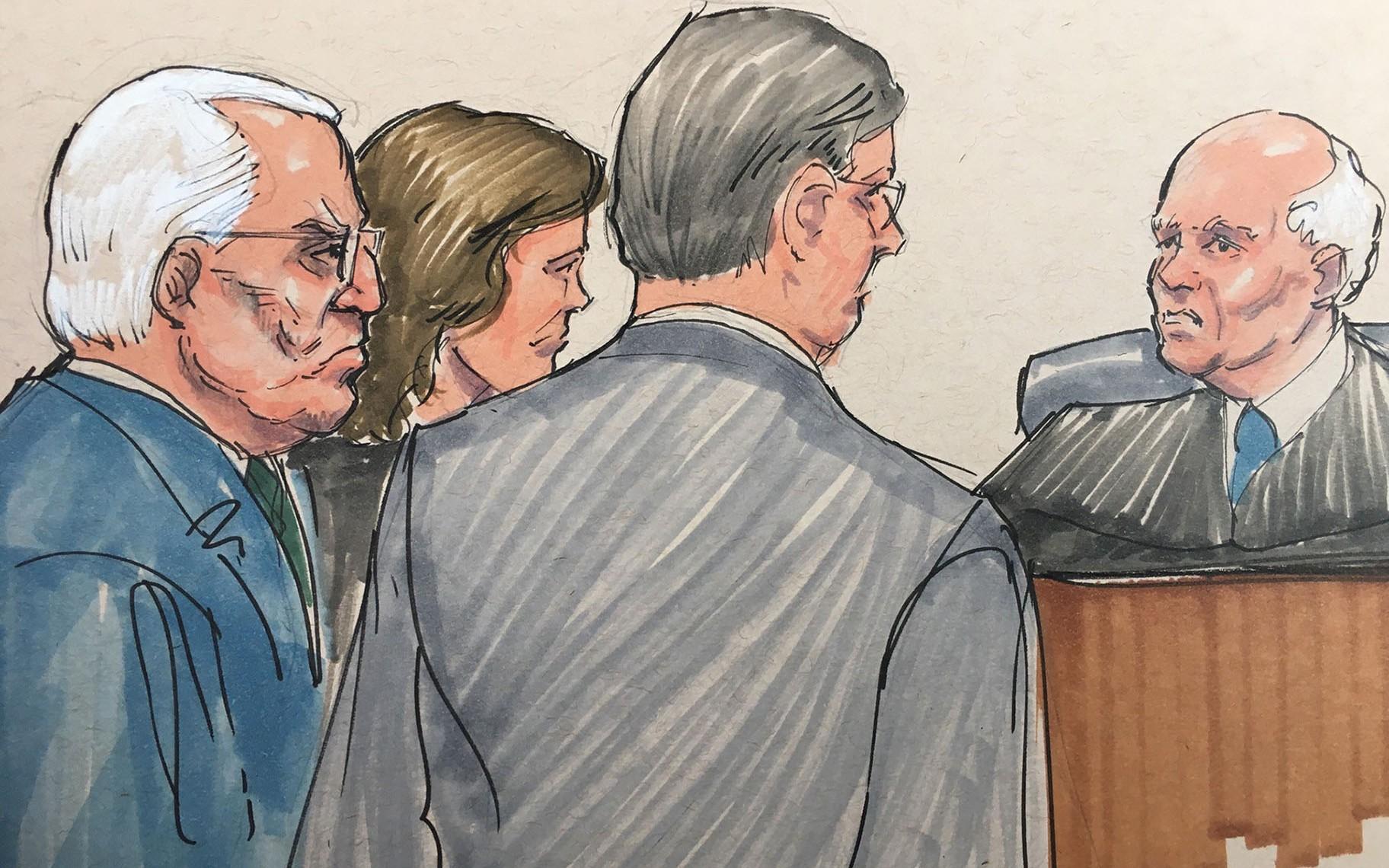 In this courtroom sketch, Ald. Ed Burke, left, appears before U.S. Federal Magistrate Judge Jeffrey Cole with his attorneys on Tuesday, June 4, 2019. (Credit: Tom Gianni)
At a March 7, 2018, gathering hosted by the City Club of Chicago to mark the 50th anniversary of then Ald. Ed Burke's election to the Chicago City Council, he offered a clue as to how he hoped to be remembered.
"History will conceive there have been plenty of rascals who saw Chicago as an opportunity to make a quick score," said Burke. But the City Council also has been filled with "many more statesmen who furthered the interests of this city quietly and with great dignity."
It was perhaps a glimpse into what it might have been like if he decided to leave the City Council on his own volition and not thanks to the ballot box, the jury box or the pine box, the three ways he often famously quipped alderpeople were most likely to exit City Council.
On Nov. 30, 2018, just nine months after Burke made those remarks, FBI agents raided his City Hall and ward offices, carting away boxes of evidence and setting off a political earthquake that that led to the election of Lori Lightfoot to replace former Mayor Rahm Emanuel while derailing the political careers of Burke's allies and friends.
Burke, of the Southwest Side's 14th Ward, was once the most powerful member of the City Council. He is now scheduled to go on trial starting on Monday at the Dirksen U.S. Courthouse on 14 charges of racketeering, bribery and extortion. Racketeering charges — usually brought against members of the mob or street gangs — allege a pattern of corruption unknown to its victims.
If Burke is acquitted, his legacy will be defined by the role he played in leading a group of White City Council members who worked to stymie Chicago's first Black chief executive, Mayor Harold Washington, touching off what came to be known as Council Wars in the 1980s.
If convicted, Burke could spend what was to be his retirement in federal prison and become the 38th member of the Chicago City Council to be convicted of a crime since 1968.
Federal prosecutors are set to argue Burke repeatedly — and brazenly — used his powerful position at City Hall to force those doing business with the city to hire his private law firm, formerly known as Klafter & Burke.
Burke was a member of the Chicago City Council from 1969 to 2023. He won his last term in 2019, after he was charged with extortion, but before prosecutors hit him with the 14-count indictment. The 14th Ward is now represented by Ald. Jeylu Guiterrez, born 20 years after Burke took office.
Read more: End of the Burke Era: A 54-year Political Reign at City Hall Comes to a Close
Burke's trial is expected to take six weeks and could wrap up just days before he turns 80 on Dec. 29. He is set to be tried alongside his longtime aide Peter J. Andrews and real estate developer Charles Cui. All three have pleaded not guilty.
Andrews remains on Burke's payroll, even as the two find their fates joined in court.
Between April 2021 and September 2023, Burke paid Andrews $185,000 for consulting services, according to records filed with the Illinois State Board of Elections. Lee Shalgos, Andrews' attorney, did not respond to a request for comment from WTTW News. Since the FBI raided Burke's office, his campaign committees paid Andrews $220,000, records show.
Justice Delayed
When Burke arrives to face U.S. District Court Judge Virginia Kendall, it will mark the first time he has been in court since June 2019. Soon after Burke pleaded not guilty, the COVID-19 pandemic shut down the federal court system, helping to delay his trial for more than four and a half years after he was indicted in May 2019.
Burke's yearslong defense has not been cheap. The former alderperson used his formidable war chest of campaign cash to fund a bevy of high-powered lawyers, spending more than $3 million in legal fees through the end of September, according to records filed with the Illinois State Board of Elections.
Burke has plenty of cash on hand to pay his lawyers for their trial work, with nearly $9 million in campaign funds in his Friends of Ed Burke campaign account and another account, according to state records.
Once the court system shuddered back to life, lawyers began sorting through the huge amount of evidence in the case, including records from "the longest wiretap in the United States that concluded in 2018." In all, investigators intercepted 9,101 calls made by Burke or answered by him during the investigation, according to court records.
The jury is also expected to hear recordings of conversations between Burke and disgraced former Ald. Danny Solis (25th Ward). Solis recorded those conversations as part of his work as one of most significant government informants and witnesses in public corruption cases during the last several decades, according to federal prosecutors.
Some of Burke's turns of phrase recorded on those tapes immediately became an indelible part of Chicago's long history of political corruption, and the jury is likely to hear Burke ask Solis, "So, did we, uh, land the tuna?"
Burke was also recorded cautioning Solis not to act because "the cash register has not rung yet."
Will Solis Testify?
As Burke's trial gets underway, one of the biggest questions revolves around whether Solis will testify.
Prosecutors have told the judge that they do not plan to call Solis, who admitted to taking bribes as the powerful chair of Chicago's Zoning Committee. But Burke's lawyers have said they plan to call their client's former colleague as part of their defense, setting up a potential high-profile showdown between two men who were once among the most powerful politicians in Chicago and who now stand accused of engaging in wide-ranging corruption.
After Solis was confronted by federal agents probing him, he agreed to work as a government informant and recorded hundreds of hours of conversations as part of investigations against Burke and former House Speaker Michael Madigan, officials said.
As part of the agreement that will likely keep him out of prison, Solis admitted taking a total of $15,000 from three executives of an unidentified firm in August and September 2015, shortly before and after he supported the zoning change they requested and shepherded it through the City Council. He also demanded that the executives attend fundraisers for his campaign and solicit contributions from other people.
During pretrial hearings, Burke's lawyers said they would likely argue to the jury that Burke was very busy and not focused on the details of any given item in front of him, preventing him from intentionally engaging in crimes, according to the Chicago Sun-Times.
Prosecutors to Detail Four Schemes
Prosecutors will detail Burke's involvement in what they say are four criminal schemes as part of their bid to depict the former alderperson as "thoroughly corrupt," three involving his side hustle as a property tax attorney.
Perhaps the most elaborate scheme involves the Old Post Office, the massive building that straddles the Eisenhower Expressway at the edge of the Loop. Vacant for nearly 25 years after the departure of the U.S. Postal Service, the building sank into disrepair making it a perfect setting for director Christopher Nolan's bleak depiction of Gotham in 2004's "Batman Begins" and its sequel, 2007's "The Dark Knight." 
But once those productions faded from the limelight, the Old Post Office was best known for catching fire in 2014 and again in 2016, sending massive clouds of smoke billowing over downtown.
The landmark's fortunes began to reverse when the building was purchased by 601 West Companies, which planned to spend $800 million to renovate the massive structure into offices. But to make that financially possible, the developers needed significant help from City Hall, which meant they needed the backing of Burke, the chair of the powerful Finance Committee, and Solis, the chair of the Zoning Committee.
Prosecutors are expected to tell the jury that Burke, working with Solis, whose ward included the Old Post Office, held up that assistance in an attempt to force the Old Post Office developer to hire Burke's private law firm, which specialized in getting companies breaks on their property taxes by appealing to county officials. 
Burke pledged to kick back a portion of the spoils to Solis in return for his approval of an $18 million subsidy and a tax break worth $100 million, prosecutors alleged in the indictment.
But the scheme was slow to come together, as the New York-based developer balked at hiring Burke's firm, angering Burke.
"So did we land the, uh, tuna?" Burke asked Solis during a meeting on May 26, 2017, according to recordings expected to be played for the jury.
On Oct. 25, 2017, Burke told Solis the plan was on ice because, in his words, "The cash register has not rung yet."
Burke's lawyers unsuccessfully tried to prevent the jury from hearing Burke's continuing frustration about not consummating the deal, which he blamed on the religion of the company's leaders.
"(W)ell, you know as well as I do, Jews are Jews and they'll deal with Jews to the exclusion of everybody else unless … unless there's a reason for them to use a Christian," Burke said, according to a recording.
Eventually, the renovation of the Old Post Office was completed, and it is now a a gleaming office building home to Uber's Chicago operations and Walgreens' corporate headquarters. In June, its meticulously restored Art Deco lobby hosted a speech by President Joe Biden.
Burke's law firm had a number of prominent clients, including former President Donald Trump, who hired Burke to appeal the property taxes he owed on the hotel and tower his firm built along the Chicago River at Wacker Drive. Burke saved the future president $11.7 million in property taxes, according to a report by the Chicago Sun-Times.
But jurors won't hear the name of the former president during the trial, with prosecutors not opposing a plea from Burke's lawyers that contended it would unfairly prejudice the jury because Trump, the likely Republican nominee for president in 2024, is "despised by a significant percentage of the population."
The very first charge levied against Burke in January 2019 — attempted extortion — involved a similar scheme, this one involving the owners of a Burger King in Burke's 14th Ward. 
In 2017, the owners of the fast-food joint needed city permits to renovate the eatery at 4060 S. Pulaski Road. Under the City Council's decades-long tradition of aldermanic prerogative, they needed Burke's sign-off — and prosecutors say Burke explicitly withheld that permission until the owners hired his private law firm to appeal their property taxes.
The complaint also alleges Burke urged the Burger King executives to donate campaign cash to Toni Preckwinkle, who was running for another term as president of the Cook County Board of Commissioners at the time. Preckwinkle's connection to Burke was enough to torpedo her 2019 run for mayor, even as she won reelection as county board president in 2022.
A longtime aide to Burke, Andrews is charged with participating in the attempted extortion of the Burger King restaurant, which has earned its place in Chicago political history twice over. In 2014, 17-year-old Laquan McDonald was shot 16 times and killed by police Officer Jason Van Dyke just outside the eatery's front door, leading to his second-degree murder conviction.
While neither the developers of the Old Post Office nor the Burger King owners ended up hiring Burke as their property tax appeal attorney, a Portage Park businessman who transformed a long-vacant Six Corners bank building into a Binny's Beverage Depot, Culver's and gym did.
Charles Cui was charged with bribing Burke and will stand trial alongside the former alderperson and his aide. 
According to federal prosecutors, Cui went to Burke when city officials denied his request for a large pole sign outside the former bank building he redeveloped. Burke offered to help Cui, if he hired Klafter & Burke. Cui did, according to the indictment, and now he will stand trial alongside Burke. The pole sign was never erected.
The final charges Burke faces accuse him of threatening to block a fee increase at a museum in 2017 because officials didn't agree to hire a friend's daughter as an intern. While not identified in the indictment, Burke intervened to help the daughter of former Ald. Terry Gabinski (32nd Ward) get a job at the Field Museum. Eventually the fee hike was approved, and Gabinski's daughter never took a job at the museum.
Crash Course in Chicago Politics
The judge agreed to allow prosecutors to give jurors what is likely to amount to a crash course in Chicago politics by calling Elmhurst College Professor Connie Mixon to the stand, ruling that the case against Burke requires a deep knowledge of how City Hall operates.
"The structure of Chicago's City Council is not inherently understood through common sense; nor does it parallel that of other large municipalities," Kendall wrote in her ruling.
That is likely to mean Chicago itself — with its deep and long history of corruption — will be on trial alongside Burke and his codefendants, with the jury's ultimate decision passing judgment not just on individuals but on the system that stands charged with allowing wrongdoing to flourish.
Contact Heather Cherone: @HeatherCherone | (773) 569-1863 | [email protected]
---