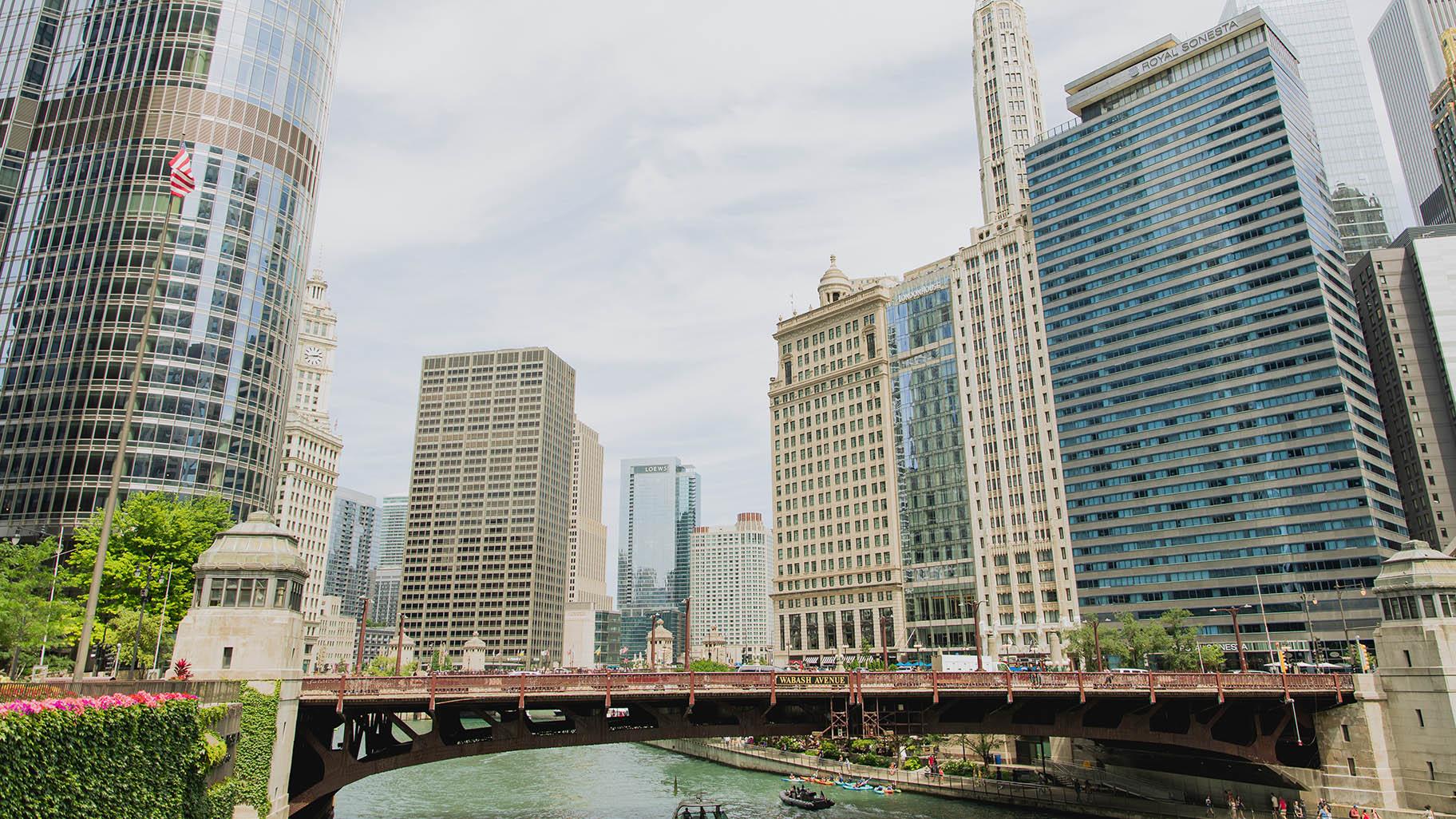 (Michael Izquierdo / WTTW News)
As efforts to weaken or repeal Chicago's status as a sanctuary city gain steam amid the crisis posed by the arrival of nearly 21,000 migrants in the city from Texas, a coalition of community groups warned members of the Chicago City Council that the push could put longtime Chicago residents at risk of deportation and in deep peril if former President Donald Trump is reelected.
A key vote by the Chicago City Council's Rules Committee could come as soon as Thursday on a measure that would ask voters during the March primary whether Chicago should remain a sanctuary city. An alternate proposal backed by allies of Mayor Brandon Johnson would ask voters whether caps should be put on city aid for the migrants who have made their way to Chicago after fleeing economic collapse and rampant violence in central and South America and requesting asylum.
Chicago's status as a sanctuary city does not require it to encourage immigrants to move to Chicago nor does the Welcoming City ordinance obligate officials to use taxpayer funds to care for immigrants in Chicago. The ordinance focuses on protections for undocumented immigrants, so it does not apply to any of the migrants, who are in the country legally.
Despite the fact that the city's sanctuary city status has nothing legally to do with the migrants, Ald. Anthony Beale (9th Ward) and Ald. Raymond Lopez (15th Ward) have demanded a nonbinding referendum on the city's sanctuary city status, which they both have long opposed, on the March primary election ballot.
Both Beale and Lopez have vehemently criticized Johnson for working to feed, clothe and shelter the migrants, many of whom arrived in Chicago on buses paid for by Texas Gov. Greg Abbott, a Republican, who has said he is determined to harm President Joe Biden's reelection chances and reduce support for immigrants among Democrats.
Caring for the migrants is likely to cost taxpayers $361 million through the end of the year, according to the most recent financial projections released by the mayor's office. State and federal aid has covered only a fraction of those costs.
"We have to draw the line somewhere," Beale said, falsely accusing the migrants of committing crimes in Chicago.
---
Read more: What Does It Mean That Chicago Is a Sanctuary City? Here's What to Know
---
Palenque LSNA Executive Director Juliet de Jesus Alejandre said both ballot questions are based on xenophobic rhetoric and should be rejected.
"We are angry that in 2023 in Chicago an anti-immigrant ballot question is given the light of day," de Jesus Alejandre said. "It does nothing but sow harmful divisions. It does not address the solutions our city and new arrivals are facing. And it does nothing to address the challenges of disinvested communities that have been here for generations in this community."
There are nearly 12,100 migrants in city shelters as well as an additional 3,100 men, women and children sleeping at police stations across the city and at O'Hare International Airport.
Of those waiting for a bed to open in a city shelter, approximately 1,500 men, women and children are sleeping in thin tents outside police stations across the city, protected from the cold, wet concrete by only tarps or cardboard, according to data provided by Deputy Mayor for Immigrant, Migrant and Refugee Rights Beatriz Ponce de León.
Anti-immigrant sentiment has surged as the humanitarian crisis gripping the city has escalated, dismaying groups that have worked for decades to welcome immigrants to Chicago.
Palenque LSNA is part of a coalition of community groups led by the Illinois Coalition for Immigrant and Refugee Rights whose members held a rally last Thursday outside City Hall to call on City Council members to reject efforts to put either one of those questions to voters, or to repeal the city's Welcoming City ordinance.
Instead of asking voters about the city's sanctuary city status or whether to stop helping migrants, Chicago's elected leaders should direct the city's collective anger at the federal government for not fixing the country's broken immigration system "not at people seeking safety in our city," de Jesus Alejandre said.
Mayor Brandon Johnson has blamed the crisis facing Chicago on "right-wing extremists bent on sowing chaos and division in our city."
But the debate will not end once the City Council decides whether to ask voters to weigh in on the crisis during the March primary. The arrival of the migrants has fundamentally changed the debate over what Chicago owes immigrants to the city, and frayed relations between Chicago's Black, Latino and Asian communities.
Seven of the most conservative alderpeople have introduced legislation that would repeal the city's Welcoming City ordinance, first approved in 2006 that ratified an executive order first issued by former Mayor Harold Washington. That ordinance has been amended twice, most recently in 2021 to ban Chicago police officials from cooperating with federal immigration agents in all cases.
The seven alderpeople who introduced separate measures to repeal the Welcoming City ordinance are: Alds. Beale; Lopez; Marty Quinn (13th Ward); Silvana Tabares (23rd Ward); Nicolas Sposato (38th Ward); Anthony Napolitano (41st Ward) and Brendan Reilly (42nd Ward.)
It is unlikely that any of those identical proposals sent to several different committees would even be called for a hearing, much less a vote or pass the Chicago City Council. Even if it did, Johnson could veto it and fulfill his promises not to "flinch" in his support for Chicago's newest arrivals.
Not one of the seven alderpeople responded to requests for comment from WTTW News about their proposal, and whether they believed that Chicago should no longer shield all immigrants from federal agents, regardless of whether they are citizens, permanent residents or asylum seekers.
A spokesperson for Johnson did not respond to questions from WTTW News about the ballot questions or efforts to repeal the Welcoming City ordinance.
If the city's sanctuary city status is repealed, it would likely prompt many undocumented immigrants to return to life in the city's shadows, unwilling to seek help from city officials for health care or protection from the Chicago Police Department for fear of exposing themselves or their families to deportation, immigrant advocates said.
Organized Communities Against Deportation co-founder Antonio Gutierrez, who said they are an undocumented immigrant, said the Welcoming City ordinance made it possible for them to access critical city services without fear of being deported.
"The welcoming city ordinance allows individuals like me to feel safe," Gutierrez said.
Tania Unzueta Carrasco, political director for Mijente, a political organization dedicated to expanding the political power of Latinos, said immigrants in Chicago were once again under threat from "right-wing politicians trying to divide our community and taking advantage of a difficult moment."
"Losing the welcoming city ordinance would be dangerous," Unzueta Carrasco said. "It would mean the lives of our families and the safety of our loved ones would be in the hands of Immigration and Customs Enforcement agents. That would mean that when an ICE officer comes to the house of one of our neighbors, does an immigration raid in our community, separates children from their parents, they would be doing so with information provided by the city of Chicago."
Members of the Chicago City Council should refuse calls to put the humanity of Latino Chicagoans to a vote, Unzueta Carrasco said.
"That is unacceptable," Unzueta Carrasco said of the potential repeal of the Welcoming City ordinance. "We cannot let that happen."
A decision by the Chicago City Council to repeal the Welcoming City ordinance could also supercharge efforts by former President Donald Trump to crack down on undocumented immigrants if he wins a second term. The leading candidate for the Republican nomination for president, Trump is planning to round up undocumented immigrants and detain them in camps while they await deportation, according to reporting from the New York Times.
Members of the immigrant rights coalition urged Chicagoans to focus on what they said was the real threat to Chicagoans of all races: Trump-style politics fueled by white supremacy.
"That is the real enemy," said Frank Chapman, of the Chicago Alliance Against Racist and Political Repression.
Contact Heather Cherone: @HeatherCherone | (773) 569-1863 | [email protected]
---