Bob Dylan performed at the Cadillac Palace Theatre on Oct. 6, 2023. No photography was allowed inside; phones were collected in the lobby and returned after the show. (Marc Vitali / WTTW News)
On opening night of a three-night stand at Chicago's Cadillac Palace Theatre, Bob Dylan and his band delivered a show that satisfied even as it mystified, and he bookended the concert with a surprise pair of Chicago-centric cover songs.
It was an intimate setting despite a high security presence and a strict no-photography policy. Phones were collected in the lobby and returned to ticket holders after the concert. That placed the focus where it belonged and eliminated the distraction of audience members recording every moment on handheld screens. Also refreshing: no sing-a-longs, and this in an era when it seems that every person with less-than-perfect pitch sings aloud at shows like it's karaoke night at the hotel bar. Anyone who wanted to shout along to "Most Likely You Go Your Way (and I'll Go Mine)" from his seminal "Blonde on Blonde" album would have been hard-pressed to match the Bard's unpredictable phrasing in a musical arrangement that sounded very little like the original recording.
Dylan was backed by an impeccable band that was almost telepathic in how it responded to him. Band members create a foundational groove in country-blues (or jazz standards or spirituals, as the case may be) and give the bandleader room to improvise. Seated or standing at a baby grand piano, Dylan brought the same intuitive fearlessness on the keyboard that he carries in his vocals. Sometimes that would be a sweet melody on the keyboard, other times an extended solo that the band had to maneuver around. He's no Jerry Lee Lewis on the keys and no Mel Tormé on vocals, but with all due respect to Jerry Lee and Mel, they didn't write songs that connected the Beat poets to nearly every form of popular music of the past 150 years.
Vocally, Dylan was in fine form, and not just for an 82-year-old. He's a sly and nimble vocalist, adding dramatic pauses and odd emphases that make you question the way you thought you knew the song. Lyrically he quotes the Bible, David Bowie, William Shakespeare, Irish poetry, the Civil War and early rock-and-roll songs, and that's just a starter list. The song "I Contain Multitudes" mentions Anne Frank, Indiana Jones and the Rolling Stones all in one lyric. Who else does that?
The setlist spoke to Dylan's faith in his recent work. Half the songs in the 18-song set were from his 39th studio album, 2020's "Rough and Rowdy Ways," a beguiling collection of self-referential tunes both funny and fierce. Performing the songs live, he built on spare arrangements from the record or changed instrumentation and tempo. "Black Rider" sounded like a saloon song filled with menace and anxiety. The bluesy "False Prophet" snarled as he punched every word of lines like "I'm the enemy of the unlived, meaningless life" and "Can't remember when I was born, and I forgot when I died." For nearly two hours he mixed the sacred and the profane, the dreamy and the nightmarish. Onstage, he was a shadowy presence in a dark suit, turning pages on the music stand at his piano. He didn't say much besides "Thank you" and "How are you all doing?" I've seen him when he didn't say a word.
Another recent song, "Goodbye Jimmy Reed," is a tribute to the blues giant ("Big Boss Man," "Bright Lights, Big City") who made his mark with Chicago's Vee-Jay Records. But the surprise of the night was opening and closing the show with the covers "Born in Chicago," a blues standard made famous by the Paul Butterfield Blues Band, and "Forty Days and Forty Nights" by Muddy Waters. Other highlights included a scorching version of "Gotta Serve Somebody" from 1979's "Slow Train Coming" and a typically unpredictable take on "When I Paint My Masterpiece."
Think about how easy it would be for Dylan to pander to the crowd with the many classics that he's written. But there was no "Maggie's Farm," "Just Like a Woman" "Tangled Up in Blue," "Forever Young," "Like a Rolling Stone," "All Along the Watchtower" or "Blowin' in the Wind." Just an unpredictable evening from an artist who has never stopped evolving and always keeps his fans guessing.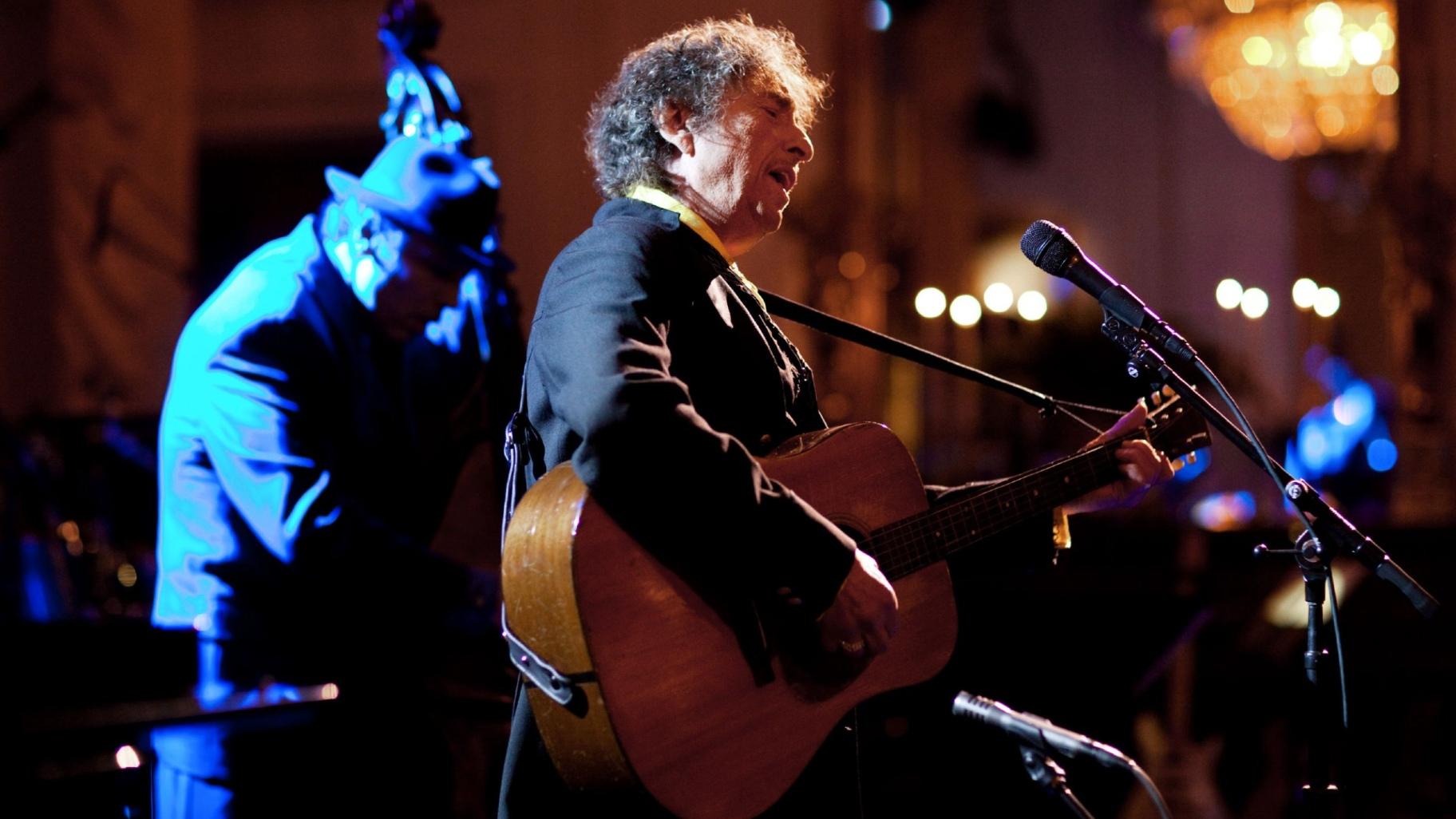 Bob Dylan sings "The Times They Are A-Changin'" at the White House on Feb. 9, 2010. No photography was allowed when Dylan played Chicago's Cadillac Palace Theatre on Oct. 6, 2023. (Official White House Photo by Pete Souza)
---