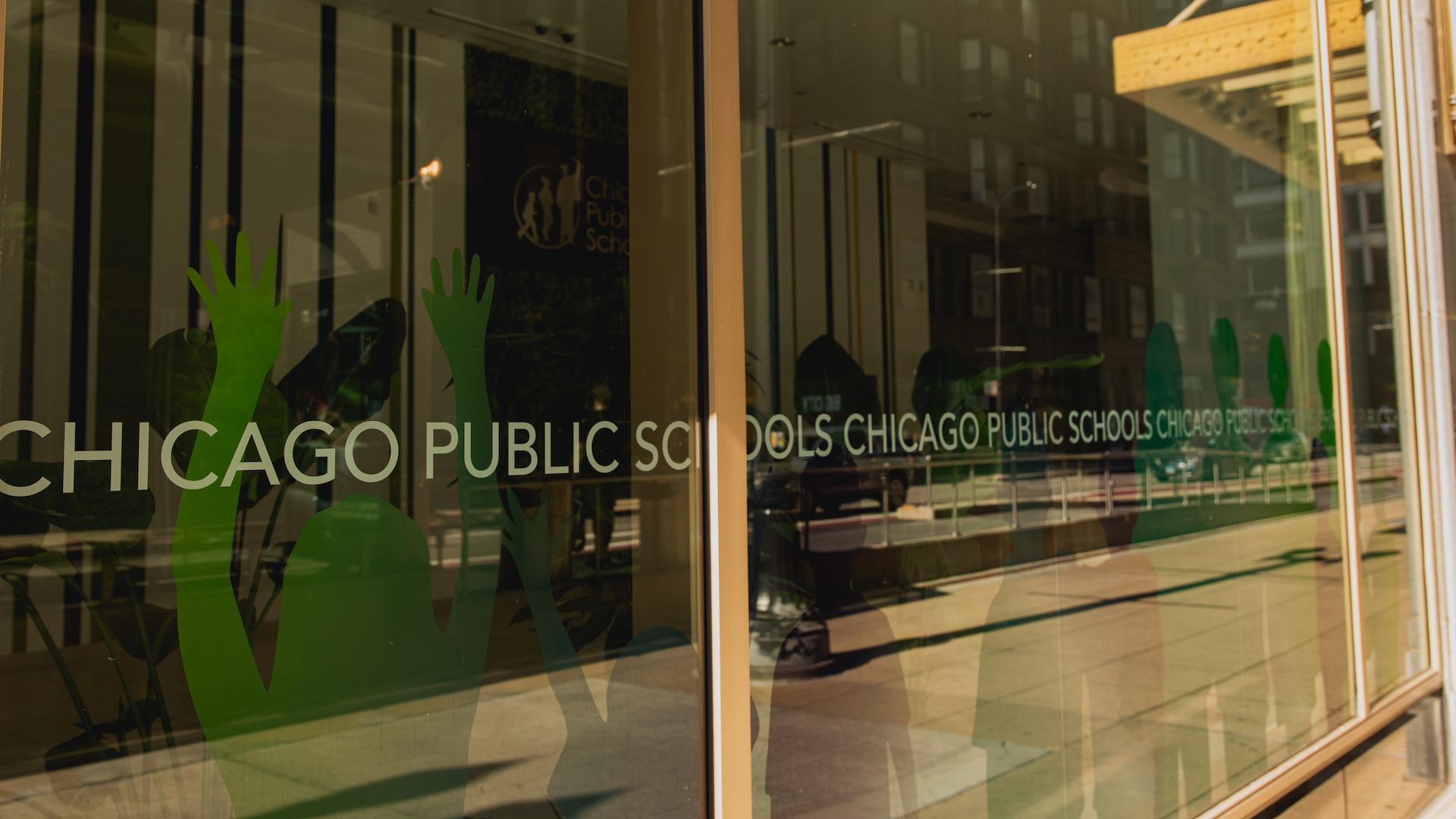 (Michael Izquierdo / WTTW News)
At least two Chicago Public Schools security guards — both former Chicago police officers who had been fired by the department — were suspended last month, raising questions about whether the district's background check system is operating as intended.
One man, who has been working as a security guard at Lane Technical High School since 2021, was terminated in 2019 by the Chicago Police Department following allegations of sexual misconduct involving a minor, records show. He was suspended on Sept. 11. 
The other is a Kenwood Academy security guard who the police department ousted in 2012 because of a string of domestic violence incidents, according to CPD disciplinary files. He was also suspended on Sept. 11.
A senior CPS official confirmed that there are no misconduct allegations involving students connected to either of these two individuals in their current roles.  
Both were on the city of Chicago do-not-hire list, a group of at least three former CPD employees with this designation working a CPS security job last school year, records show.
"Chicago Public Schools (CPS) is committed to ensuring a safe learning environment for our students and staff," the district said in response to questions from WTTW News. "As part of the hiring process, all CPS applicants, including security guards, undergo robust criminal background checks."
The district overhauled its hiring process in 2018 following a series by the Chicago Tribune, which identified pervasive sexual misconduct by district employees. CPS announced at the time that it had implemented new rules requiring candidates for security officer jobs to go through centralized vetting rather than being hired directly by staff at individual schools.
"Our hiring process also needs an applicant's full participation, transparency, and cooperation," a district spokesman said. "As a District, we continually work to improve our policies and procedures to ensure the safety and security of our schools."
'She wanted to put the troubling incident behind her'
Darius Alexander, 50, was a Chicago police officer from 2006 to 2019. He was terminated by the department following his involvement in a case in which he was found to have asked for sexual favors from an underage girl involved in an earlier arrest, records show.
In May 2012, documents from a Chicago Police Board hearing indicate that Alexander and his partner stopped a vehicle after witnessing a hand-to-hand drug transaction in the Austin neighborhood. Two adult men were charged with drug offenses, and Alexander took the two young women who also had been in the vehicle from Crystal Lake to the police station in Austin, according to records. 
The girl testified during an administrative hearing that Alexander offered to help get her mother's car out of impound. Alexander knew the girl's age because he had access to her identification at the time, in addition to her young appearance, reports show.
Alexander kept no official records of his interactions with the two young women, but began texting the then 17-year-old soon after meeting her, records show. Investigators estimate he sent 47 texts and calls the day after the arrest.
According to the report, Alexander met the women in person, with a conversation that included, "talking about Ms. Doe's sexual boundaries and her experience with anal sex, as well as discussing what Ms. Doe would do" in order to secure his help getting her mother's car back. Records show Alexander deleted text messages from him on her phone.
The unidentified girl secretly recorded a conversation with Alexander, records show.
It took six years for the disciplinary case to reach the Police Board. 
"In this case, the impact was particularly serious on the victim, who had been deeply affected by the actions of Officer Alexander and had left the state, was enrolled in higher education, and was reluctant to return to testify because she wanted to put the troubling incident behind her," the findings of the Police Board read.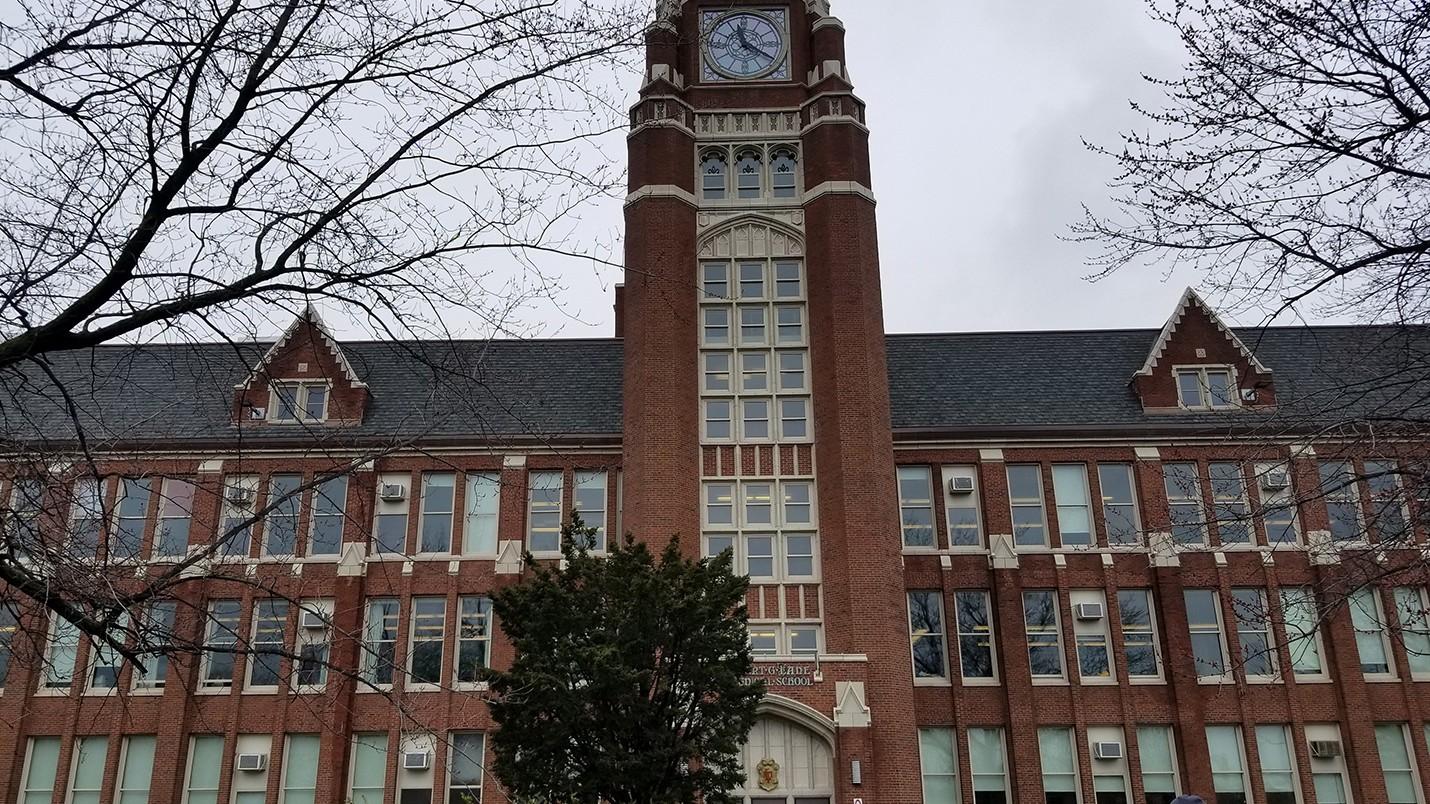 Lane Tech High School (Matt Masterson / WTTW News)
After this decision was rendered in May 2019 in a case that was covered by multiple news outlets, Alexander started working at Lane Tech in 2021 following a background check, records and interviews show. Alexander was placed on the city of Chicago do-not-hire list following his CPD exit.
CPS said the district did not have access to this do-not-hire list, though the district is run by the city. Versions of the document are also available online. WTTW News obtained the list through a public records request. 
CPS confirmed Alexander was currently suspended without pay following his pre-disciplinary hearing on Sept. 20. The district emphasized there is no police presence in the building at Lane Tech.
Alexander, CPS and Lane Tech Principal Edwina Thompson did not respond to questions about what information he disclosed to the district prior to his hire.
School security was a major concern at Lane prior to Alexander's employment.
The Lane Tech Local School Council voted 9-3 to remove on-duty police officers, sometimes called school resource officers, from the school on Aug. 10, 2020. 
No current or former council members wanted to comment on the record about Alexander, who was employed as a security guard and not a school resource officer, though some expressed concern about a disgraced officer working security at the school, and emphasized the LSC, "does not have any role in hiring CPS personnel."
According to figures from the district, there are about 1,400 full-time security personnel, including 80 part-time security officers who are off-duty police. 
CPS said the district currently has 57 who are school resource officers.
None of the security guards on the Chicago do-not-hire list were school resource officers.
"CPS is committed to moving towards a more restorative approach in supporting the safety of our schools. There has been no effort to replace SROs staff members with police backgrounds at Lane Tech College Prep or any other school in the District," CPS Safety and Security Chief Jadine Chou said in a statement. 
"In addition, as part of the District's intentional efforts to reduce police presence in schools, CPS is beginning the process of updating the District's job requirements for part-time security officers to remove the requirement that part-time security officers have police credentials," Chou said.
A recent report by the CPS Inspector General's Sexual Allegations Unit showed misconduct accusations against security guards to be on the rise over the past school year.
'Violent behavior and a complete lack of respect'
Carlos Latimer, 54, has worked for CPS as a security guard and wrestling coach at Kenwood Academy following his termination from the Chicago Police Department in 2012. Records confirm he was suspended with pay this September, and Latimer told WTTW News his pay now is suspended.
Latimer was fired from his police officer job after the department's investigation determined that he hit his girlfriend with a closed fist and violated an order of protection. Before his termination, he was stripped of his police powers and ordered to attend anger management classes.
At the time, Latimer was dating another woman whom he later married, and records show he was ordered not to contact the girlfriend in the domestic violence cases. Records show his girlfriend was bleeding from her nose and mouth when she was interviewed by police.
He pleaded guilty to violating an order of protection in order to have the domestic battery charge dismissed in the case that led to his termination, records show. 
In addition, the documented domestic abuse probe by the outside agency that investigates misconduct by officers showed examples of Latimer making false reports about the case and disobeying orders.
The report stated, "The Respondent exhibited violent behavior and a complete lack of respect for the orders of a court and his superiors."
Before his administrative hearing, Latimer had a second domestic incident with the same girlfriend, leading to a 15-day suspension. He was charged with simple assault and domestic battery in this case, according to the police administrative hearing record.
Between 2002 and the end of his employment, Latimer was involved in five domestic violence cases, including three sustained complaints in 2007, records show.
The circumstances of his termination from CPD do not appear in records given to WTTW News. Latimer said he disclosed his "only misdemeanor conviction" to CPS when he was hired. 
Testimony from his former girlfriend said she attempted suicide because she was depressed and tired of being beaten by Latimer.
Latimer's work history also shows stints at Morgan Park High School, Manley High School and the now-closed Marconi Elementary. His CPS disciplinary record lists four cases during his time with the district, including allegations of inappropriate behavior connected to a fundraiser, and two reports of sports-related injuries.
His last background check was completed in August 2021, and Latimer completed three prior background checks, CPS said.
Latimer spent a lot of time at his work shifts doing home enrollment checks at Kenwood, he said, in addition to his role as a wrestling coach. About his time at CPD, Latimer said, "I worked for Chicago police. That was a depressing part of my life. I don't want to talk about it."
When asked about what caused him to get suspended from his CPS job, Latimer said, "The last case I had must not have gotten expunged."
The school and the district did not explain the circumstances that led to Latimer's suspension.The district said it was prohibited from releasing information from background checks.
Background check process
The updated background process from 2018 requires all employees, including security, coaches and vendors, to submit fingerprints to the FBI and Illinois State Police to check for past criminal activity. It also runs names through resources like the registered sex offender databases in Illinois and at the federal level.
CPS reported it would stagger checks of existing employees so that all would undergo refreshed backgrounding starting in late 2018.
CPS was unable to say how many applicants or former employees were flagged in the new backgrounding process, and has not performed a comprehensive analysis of the program since it was implemented.
Experience gained from police work has some application to school security roles, which could make the transition easier.
There is a list of offenses that automatically disqualify a person from employment at CPS, though the district considers the totality of information about a case when making hiring decisions involving other types of charges.
In Latimer's case, violation of an order of protection is not an automatically disqualifying offense.
In Chicago, how security is handled in public schools has been a frequent point of discussion in many school communities. 
LSCs in Chicago made headlines following the murder of George Floyd in 2020, when many decided to remove sworn school resource officers from their schools.
Principal Edwina Thompson at a June 2022 Lane Tech LSC meeting said the school had been asking the district for years about more security guards, and discussed the difficulty hiring staff for these positions.
---