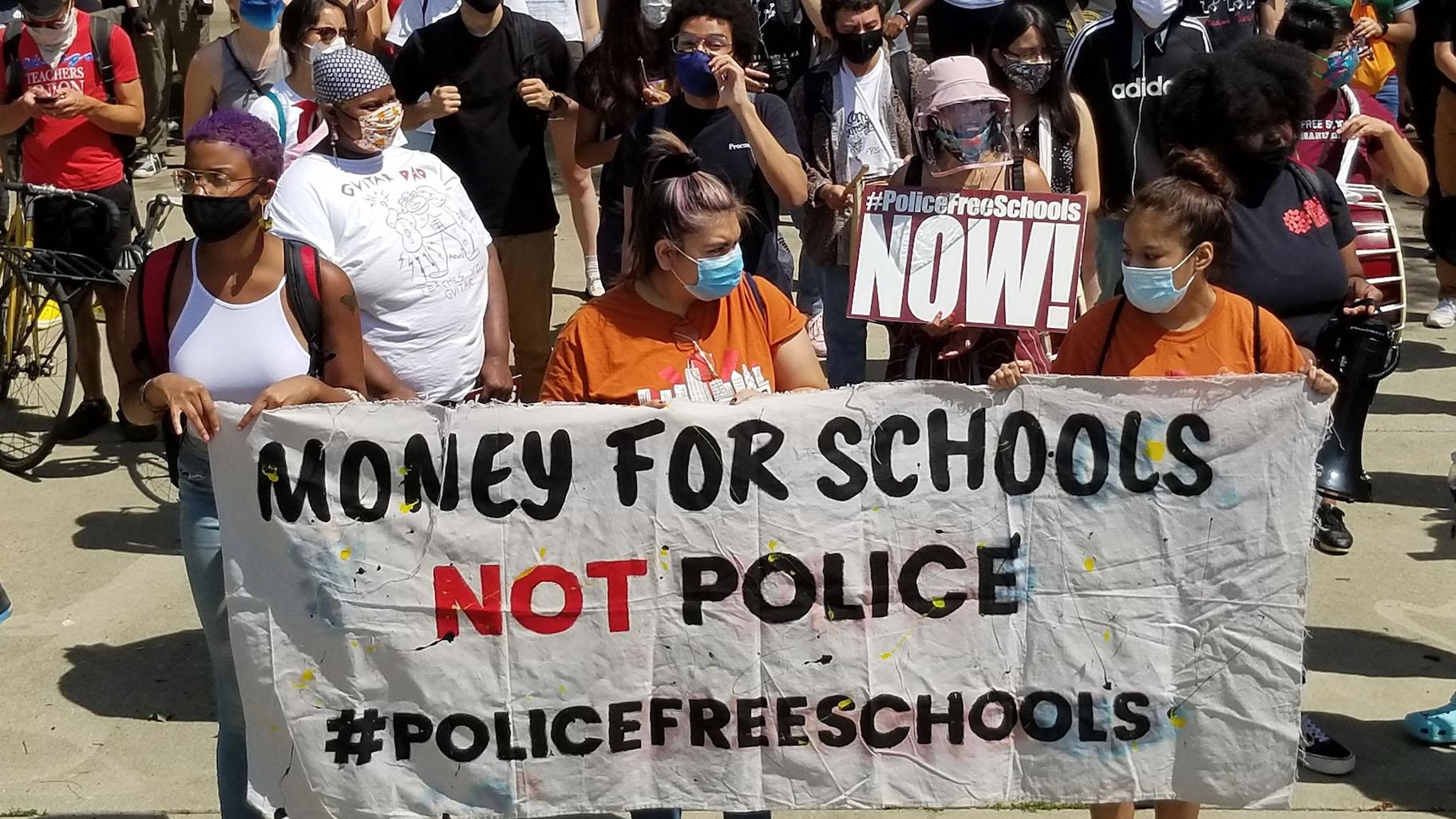 Youth activists organized a peaceful march to then-Mayor Lori Lightfoot's home on Aug. 13, 2020, to demand the removal of resource officers from Chicago Public Schools. (Matt Masterson / WTTW News)
While Chicago Public Schools is planning to increase spending on its school resource officer program over the next year, the number of officers assigned to district schools is actually set to go down slightly.
According to CPS officials, two high schools have voted to remove one or more of their school resource officers ahead of a Board of Education vote on a one-year contract renewal with the Chicago Police Department that otherwise will largely remain the same as this past year's deal.
"Substantively this year, we've stayed status quo," Jadine Chou, the district's chief of safety and security, said of the proposed contract during the board's agenda review meeting Wednesday.
Chou said Austin High School will remove one of its two school resource officers, while Marshall High School has voted to remove both of its SROs. Even so, the contract total will actually increase slightly — from $10.2 million last year to more than $10.3 million this year — due to increased salaries for the CPD officers assigned to schools. A CPS spokesperson did not immediately respond when asked for the total number of SROs that will still be employed in the coming school year.
That contract total is well below the $33 million CPS spent on SROs in 2019 before Chicago and many other cities across the country began rethinking policing strategies following the murder of George Floyd by Minneapolis police in 2020.
No official business was conducted at Wednesday's meeting. The board will vote to approve the new SRO contract at its monthly meeting next week.
CPS began allowing individual local school councils to vote on whether they wanted to add, maintain or eliminate SRO positions at their schools. The district has also retooled its agreements with the police department to better define an SRO's responsibilities and to give school leaders more control over the officers in their buildings.
Board member Elizabeth Todd-Breland on Wednesday expressed concern that schools serving mostly Black students remain overrepresented among those employing SROs.
"So we are disproportionately policing Black children in schools," she said, "in some buildings in particular with very low student populations. So you have like a one SRO to every 40 student ratio, which is troubling."
Asked about the contract vote Wednesday, Mayor Brandon Johnson noted that LSCs have the final say in whether a school employs any school resource officers, but recognized that many children have been "raised in communities where there's a great deal of trauma that has been untreated."
"I think it's important that as a city we recognize that our priorities have to be in the development of the full child and a budgetary decision that will ultimately come down to whether or not a local school council believes that's the best pathway forward," he said. "I support LSCs and the democratic process that has been established through that particular means of government."
According to Chou, CPS plans to conduct research moving forward to assess the impact of SROs, both at schools that still use resource officers and also at ones that have removed them from their buildings.
Chou said the district has also had conversations with CPD officials about the use of mobile patrols, which could be assigned to monitor multiple different school campuses.
"What we have heard is schools like that safety, that knowledge of knowing if and when they need a police officer, they will be there," Chou said. "If that could be met through mobile patrols, they would be more likely or comfortable in removing their police."
Heather Cherone contributed to this report.
Contact Matt Masterson: @ByMattMasterson | [email protected] | (773) 509-5431
---