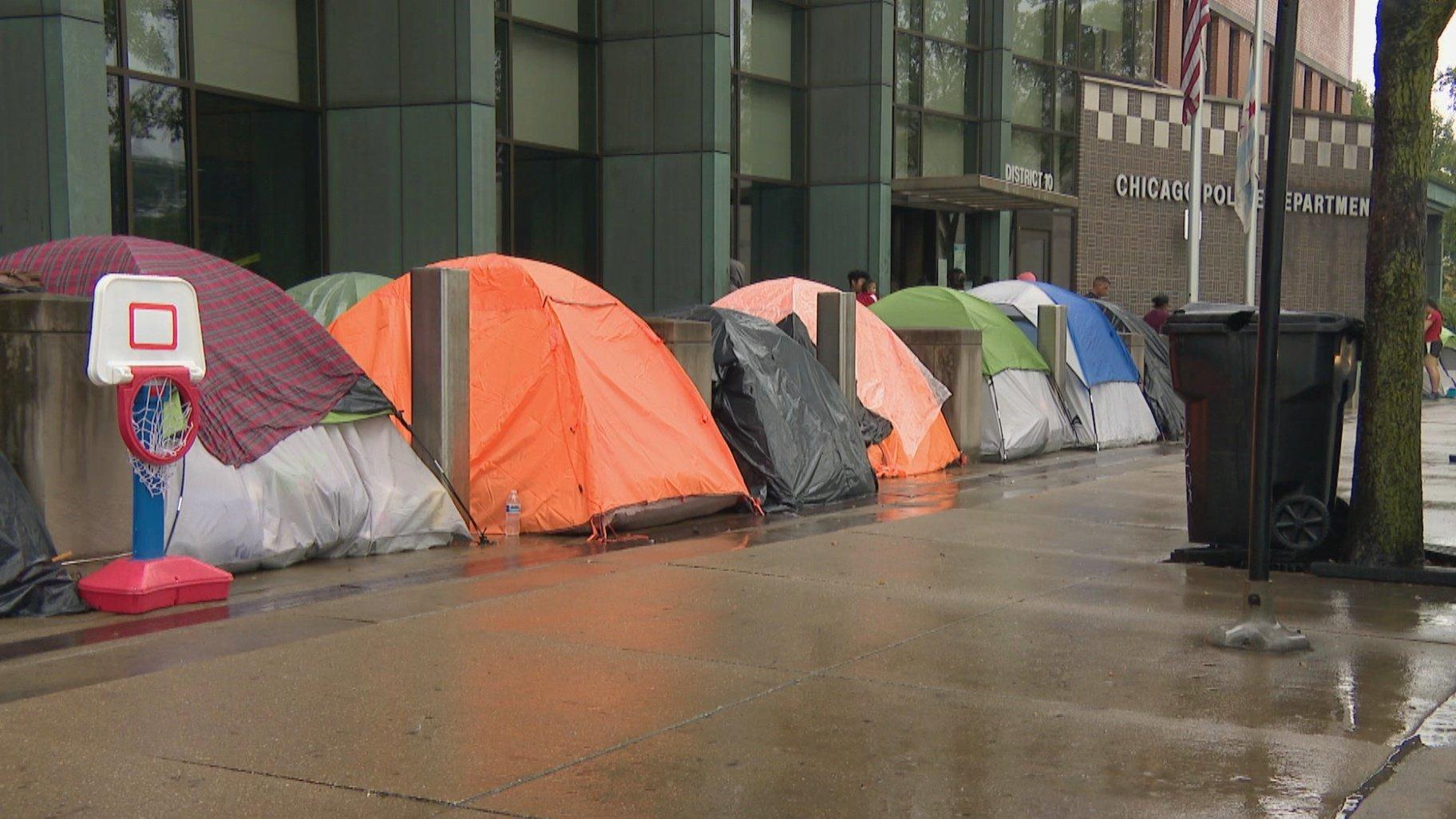 Migrants are sleeping in tents outside Chicago police stations. (WTTW News)
Members of the Chicago City Council unleashed their anger and frustration Friday at a five-hour committee hearing that focused the City Hall spotlight on the escalating humanitarian crisis posed by the arrival of thousands of migrants sent to Chicago from the country's southern border.
More than 15,000 people, many fleeing violence and economic collapse in Venezuela, have made their way to Chicago in the past 13 months. That has strained the city's social safety net, ballooned the city's budget shortfall and exacerbated tension between Chicago's Black and Latino communities.
Approximately 9,300 people are taking up every available spot in 21 city shelters, according to city data. Another 2,300 men, women and children are sleeping on the floors of police stations across the city and at O'Hare and Midway airports, an increase of 25% in the past seven days, according to city data.
More than three dozen buses have arrived in Chicago in the past week, each carrying between 40-50 migrants, who are all in the country legally after requesting asylum, said Deputy Mayor for Immigrant, Migrant and Refugee Rights Beatriz Ponce de León.
No city official expects buses full of migrants paid for by Texas Gov. Greg Abbott to stop arriving anytime soon, and the only thing everyone agreed on was the lack of good options to house, feed and care for the migrants as cold weather looms just over the horizon.
Ald. Andre Vasquez (40th Ward), the chair of the City Council's Immigration and Refugee Rights Committee, kicked off the marathon meeting by blasting Mayor Brandon Johnson's decision to move the thousands of migrants now living in police stations and airports into large, winterized tents.
"I am saddened by the possibility that we are on the precipice of this administration moving forward with building military-grade tent base camps in our great city," Vasquez said.
Cristina Pacione Zayas, Johnson's first deputy chief of staff, and Ponce de León defended Johnson's decision, saying that it was the best — and only — option available to the city, given the lack of available existing buildings that can be converted quickly into shelters.
Johnson has been under growing criticism for a week for his decision to partner with the state of Illinois and agree to pay $29 million to Aegis Defense Services, doing business as GardaWorld Federal Services, to erect the tents to house the migrants now being forced to sleep on the floor of the city's police stations and airports. That firm was used by Florida Gov. Ron DeSantis to move migrants to states led by Democrats, according to the Tampa Bay Times.
Pacione Zayas said the winterized tents will "center the dignity of the migrants" and will not force those arriving in the city to live in "sub-par conditions." The city will continue to search for existing buildings to serve as shelters for migrants wherever possible, she added.
That did not satisfy Ald. Jeanette Taylor (20th Ward), who said she understood why a handful of Black residents, furious at the amount of money spent by the city on caring for the migrants, repeatedly disrupted the meeting.
"It's wrong to put these people in these damn tents. It is wrong," Taylor said, before becoming the first of many alderpeople to plead with their colleagues not to fight with each other but to focus on caring for the migrants, many of whom arrive in Chicago sick, hungry and traumatized.
"What y'all doing is you're going to start a race war," Taylor said, calling on her colleagues to fight "White supremacy."
Taylor, a close ally of Johnson's who chairs the Education Committee, blasted former Mayor Lori Lightfoot's decision to open a shelter for migrants in a closed Chicago Public Schools building in Woodlawn, a neighborhood that has suffered for decades from a lack of investment and where most residents are Black.
"Stop putting them in our community," Taylor said.
Ald. Pat Dowell (3rd Ward) said the city needed a new approach to the migrant crisis, which is likely to cost taxpayers $345 million by the end of the year, according to updated financial projections shared by Pacione Zayas. Three weeks ago, those costs were pegged at $302 million, according to city data.
Approximately $200 million of city's projected budget deficit in 2024 of $538 million is due to the cost of caring for the migrants sent to Chicago, officials said.
Dowell, Johnson's hand-picked Finance Committee chair, called on the mayor to center the need of Black Chicagoans and warned that every bus that arrives "is eating away at the goodwill of the people of the city of Chicago."
This crisis "exposes the disparities we see in our communities, especially communities that have been marginalized," Dowell said.
Gov. J.B. Pritzker has also criticized Johnson's plan for the tents, telling reporters Thursday it would be better to house the migrants in unused federal buildings rather than to house as many as 1,000 migrants in a single, massive tent.
"I've expressed my concerns about it and we continue to have conversations about it," Pritzker said. "I think it's something that the city, with a lack of existing buildings to put people in, I know the city has looked at this as one of its options, but I don't think this is the only option."
Ald. Carlos Ramirez Rosa (35th Ward) took to X, the platform formerly known as Twitter, to criticize those statements Thursday, and took to the floor of the City Council chambers to blast the state's most powerful Democrat "on the record" for failing to open and operate migrant shelters.
"That is shameful because we are a welcoming state," Ramirez Rosa said. "The state of Illinois is currently failing the city of Chicago."
Ramirez Rosa called statements from Jordan Abudayyeh, the governor's press secretary, that city officials declined state officials' offer to open a shelter in a closed CVS drugstore in Little Village a "bold-faced lie." Pacione Zayas said city officials eagerly accepted the state's offer to open a shelter in that location, only to see it delayed by the transition from the Lightfoot administration to the Johnson administration and questions about the property's ownership.
The widening public break between the mayor and the governor, who have otherwise been in lockstep, came as Johnson and his allies are under increasing pressure from their progressive supporters, many of whom are furious that he would partner with a firm that helped a Republican politician transport migrants to states and cities controlled by Democratic leaders as part of an effort to harm President Joe Biden's chances for reelection.
"And I know our mayor, he is the nicest person," said Ramirez Rosa, the mayor's floor leader. "I know why our mayor hasn't gone out there and called the governor out. But I will."
As Ramirez Rosa spoke, Olivia Kunico, Pritzker's senior deputy press secretary, posted on social media that state officials had provided $330 million to the city of Chicago for the care of the migrants. Hours after the dustup, Pritzker's office announced Chicago would get an additional $30.25 million to care for the city's newest arrivals.
Ald. Jessie Fuentes (26th Ward) joined Taylor in pleading with her colleagues to avoid fighting with each other to the delight of Republicans who have relished the uproar caused by their decision to send the migrants to cities like New York and Chicago, which are led by Democrats.
"It is easy to sit in this room and be upset with each other, but we are not the ones to be mad at," Fuentes said. "And so we need to refocus the pain and anger that we are feeling to the root causes of the problem."
Contact Heather Cherone: @HeatherCherone | (773) 569-1863 | [email protected]
---