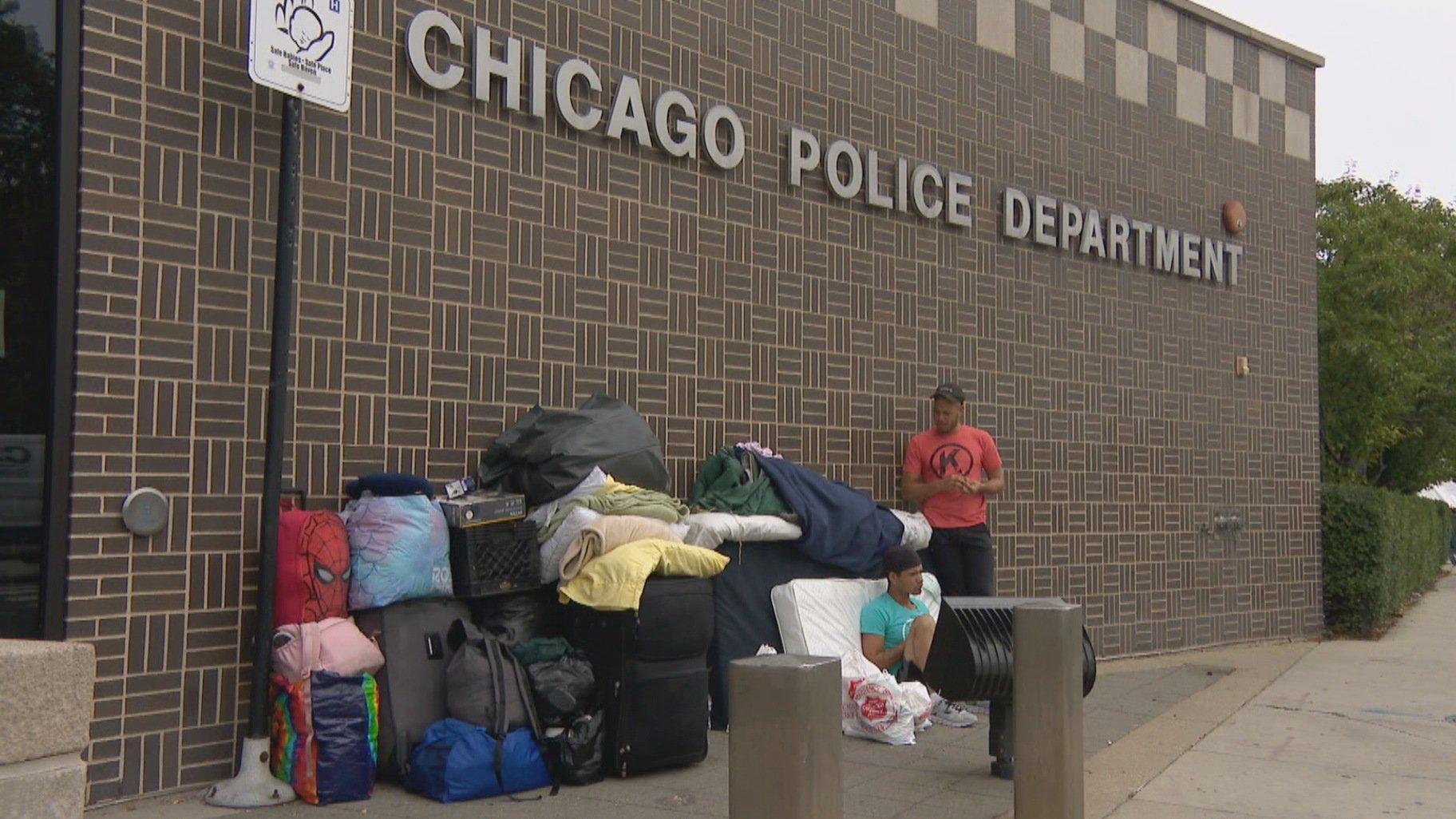 Migrants outside a Chicago police station. (WTTW News)
One of Mayor Brandon Johnson's top aides on Thursday defended his decision to move the more than 2,300 migrants now living in police stations and airports into large tents amid rising criticism from progressive political organizations and Gov. J.B. Pritzker.
Cristina Pacione Zayas, Johnson's first deputy chief of staff, said the winterized tents will "center the dignity of the migrants" and will not force those arriving in the city, who are all in the country legally after requesting asylum, to live in "sub-par conditions." The city will continue to search for existing buildings to serve as shelters for migrants wherever possible, she added.
"These are not detention camps … these are not concentration camps," Pacione Zayas said in a virtual briefing with reporters. 
The cost of caring for the migrants through the end of the year is now estimated to reach $345 million, according to updated financial projections shared by Pacione Zayas. Three weeks ago, those costs were pegged at $302 million, according to city data.
Approximately $200 million of city's projected budget deficit in 2024 of $538 million is due to the cost of caring for the migrants sent to Chicago, officials said.
Johnson has been under growing criticism for a week for his decision to partner with the state of Illinois and agree to pay $29 million to Aegis Defense Services, doing business as GardaWorld Federal Services, to erect the tents to house the migrants now being forced to sleep on the floor of the city's police stations and airports. That firm was used by Florida Gov. Ron DeSantis to move migrants to states led by Democrats, according to the Tampa Bay Times.
Pritzker said Thursday it would be better to house the migrants in unused federal buildings rather than to house as many as 1,000 migrants in a single, massive tent.
"I've expressed my concerns about it and we continue to have conversations about it," Pritzker said. "I think it's something that the city, with a lack of existing buildings to put people in, I know the city has looked at this as one of its options, but I don't think this is the only option."
When asked about the governor's comments, Pacione Zayas said the Johnson administration favors building the tents under a state-approved contract with GardaWorld because it is the fastest way to get migrants out of police stations and the airport.
However, Ald. Carlos Ramirez Rosa (35th Ward), Johnson's closest ally on the City Council, blasted the governor's comments in a post on the social media platform X, once known as Twitter.
"This is particularly ludicrous coming from JB given that lack of meaningful support from the state of Illinois has pushed the city in this direction," wrote Ramirez Rosa, Johnson's floor leader. "New York state has opened multiple migrant shelters. The state of Illinois operates ZERO shelters. ZERO. Open some shelters JB!"
In response, Jordan Abudayyeh, a spokesperson for the governor, said state officials had plans to open a shelter in a closed CVS drugstore in Little Village that were rejected by city officials earlier this year. City officials have now accepted that offer, Abudayyeh said.
The public break between the mayor and the governor came as Johnson and his allies are under increasing pressure from their progressive supporters, many of whom are furious that he would partner with a firm that helped a Republican politician transport migrants to states and cities controlled by Democratic leaders as part of an effort to harm President Joe Biden's chances for reelection.
The 33rd Ward Working Families political organization formally called on Johnson to reverse course, the first time the mayor has faced significant and sustained criticism from the political movement that put him in office.
Pacione Zayas said she was "grateful" for the response from 33rd Ward Working Families and would meet with representatives of the group to craft rules for the operations of the shelters at the base camps.
"It is all valid feedback," Pacione Zayas said.
No sites for the tents have been selected, although about a dozen locations are under consideration, and there is no timeline for them to open, even as cold weather looms, Pacione Zayas said.
Johnson defended the contract with GardaWorld and told reporters after Wednesday's special City Council meeting that Chicago would remain a sanctuary city that protects undocumented immigrants from deportation and a welcoming city for all immigrants.
"I don't flinch," Johnson said, when asked about the increasingly vehement criticism from conservative alderpeople. 
Pacione Zayas also delivered a full-throated defense of Chicago's status as a welcoming city, which dates back to the administration of former Mayor Harold Washington and was expanded after former President Donald Trump threatened mass deportations of immigrants.
"We have every intention to operationalize our values," Pacione Zayas said, adding that Johnson inherited "no infrastructure" to handle the humanitarian crisis triggered by the arrival of the migrants in Chicago on buses paid for by Texas Gov. Greg Abbott. Others traveled to Chicago on their own or on flights paid for by nonprofit organizations.
Since the first bus of migrants arrived in Chicago 13 months ago, more than 15,000 people have made their way to the city, straining the city's social safety net and at times exacerbating tension between Chicago's Black and Latino communities.
That crisis intensified during the past week, with more than two dozen buses arriving since Saturday, officials said. As many as eight buses have arrived every day this week, Pacione Zayas said. That has increased the number of people living in Chicago's airports and police stations to more than 2,300, an increase of 25% in the past seven days, according to city data.
Approximately 9,300 people are taking up every available spot in 21 city shelters, according to city data. Those shelters have become magnets for trouble in many parts of the city, and Pacione Zayas said new efforts would be made to ensure the safety of those living and working in the shelters as well as the surrounding neighborhoods.
City officials are also working to reduce the costs associated with running the shelters by renegotiating contracts and requiring firms to hire Chicagoans and work with local firms, Pacione Zayas said.
Contact Heather Cherone: @HeatherCherone | (773) 569-1863 | [email protected]
---