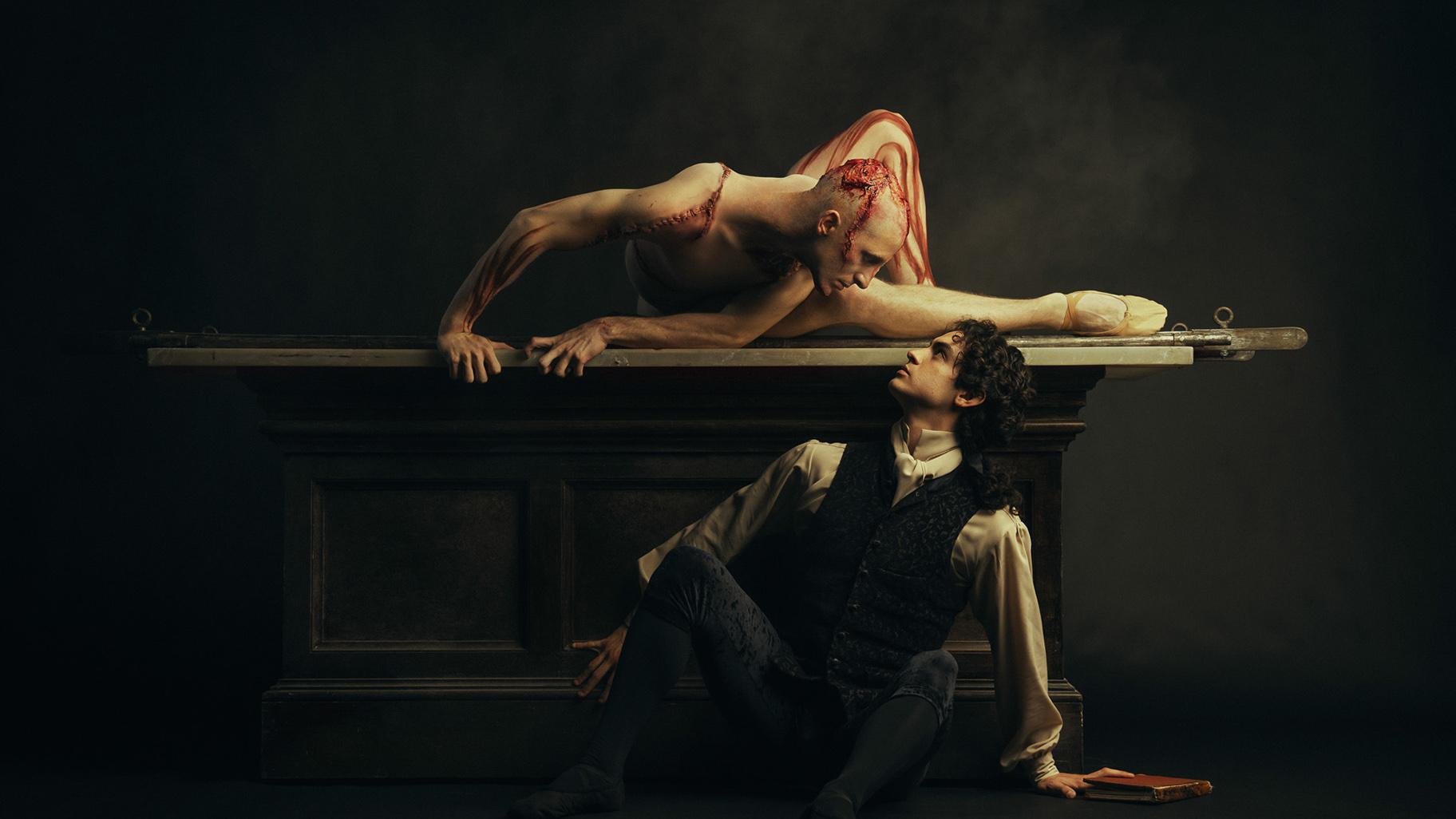 Joffrey Ballet will stage "Frankenstein" this fall. (Credit: Todd Rosenberg Photography)
If the Hollywood strikes affect your viewing habits this season, shake things up – see a play, visit a museum, support local and touring musicians. Just show up. The audience is half the equation.
Here's a starter list of more than 20 shows to know running across the Chicago area this fall – including one I'll personally offer a money-back guarantee if you don't like it. No, really!
"Frankenstein" at Joffrey Ballet
Will Frankenstein's monster attempt a grand jeté? If he does, will he lose a body part? This is the Chicago premier of a contemporary ballet that earned high marks for the visual splendor of its set design and costumes – the stitched-together monster in his nude bodysuit looks positively disturbing. "Frankenstein" premiered at the Royal Opera House in London in 2016 and was choreographed by the Royal Ballet's Liam Scarlett.
Lyric Opera House, 20 North Wacker Drive, Oct. 12-22.
Open your ears to funk, raga, folk and musical subgenres you might not even know about. A total of 34 bands represent 22 countries along with 10 local groups at indoor and outdoor stages. And it's free. You can even pull an all-nighter and attend Ragamala to hear traditional Indian ragas when they were meant to played – late night hours and early morning. Eight ensembles perform through the night on Sept. 29-30 under the Tiffany Dome at Preston Bradley Hall in the Chicago Cultural Center.
Many locations, including The Hideout, The Promontory, The Empty Bottle, Sleeping Village and Constellation, Sept. 22-Oct. 1.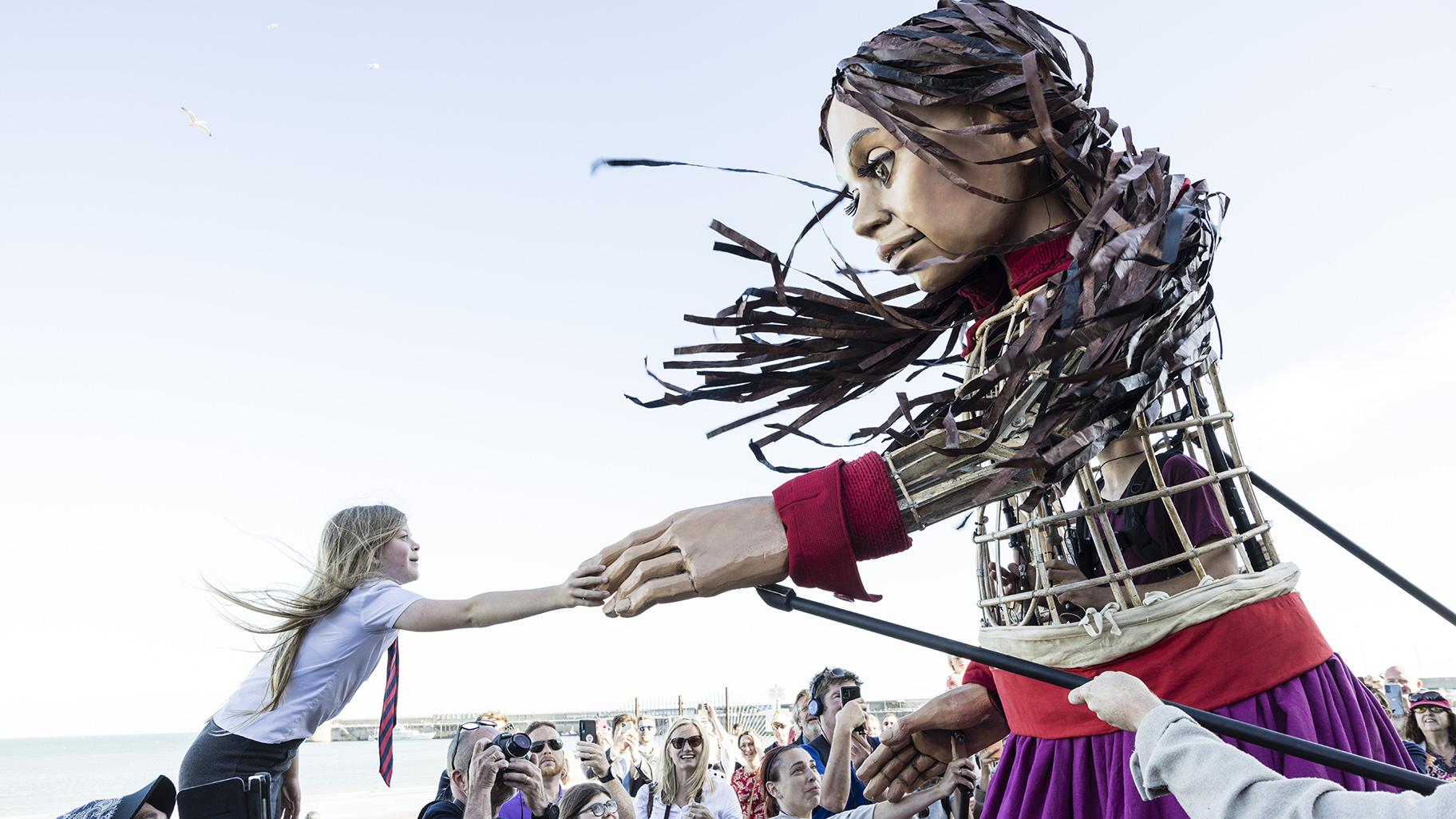 "Little Amal" is set to appear at various locations around Chicago. (Credit: Igor Emerich)
A 12-foot tall puppet of a 10-year old girl brings awe and awareness to Chicago. This family-friendly event features Little Amal, a Syrian refugee who "walks" for immigrants and asylum seekers. She's traveled across 13 countries since she was made by the Handspring Puppet Company of South Africa. Here, she is supported by artists from the Chicago International Puppet Theater Festival and many partner institutions. Whether at Navy Pier, Pilsen, or along the Chicago River, this plucky puppet promises to be a memorable meet-up.
Various locations, Sept, 28-30.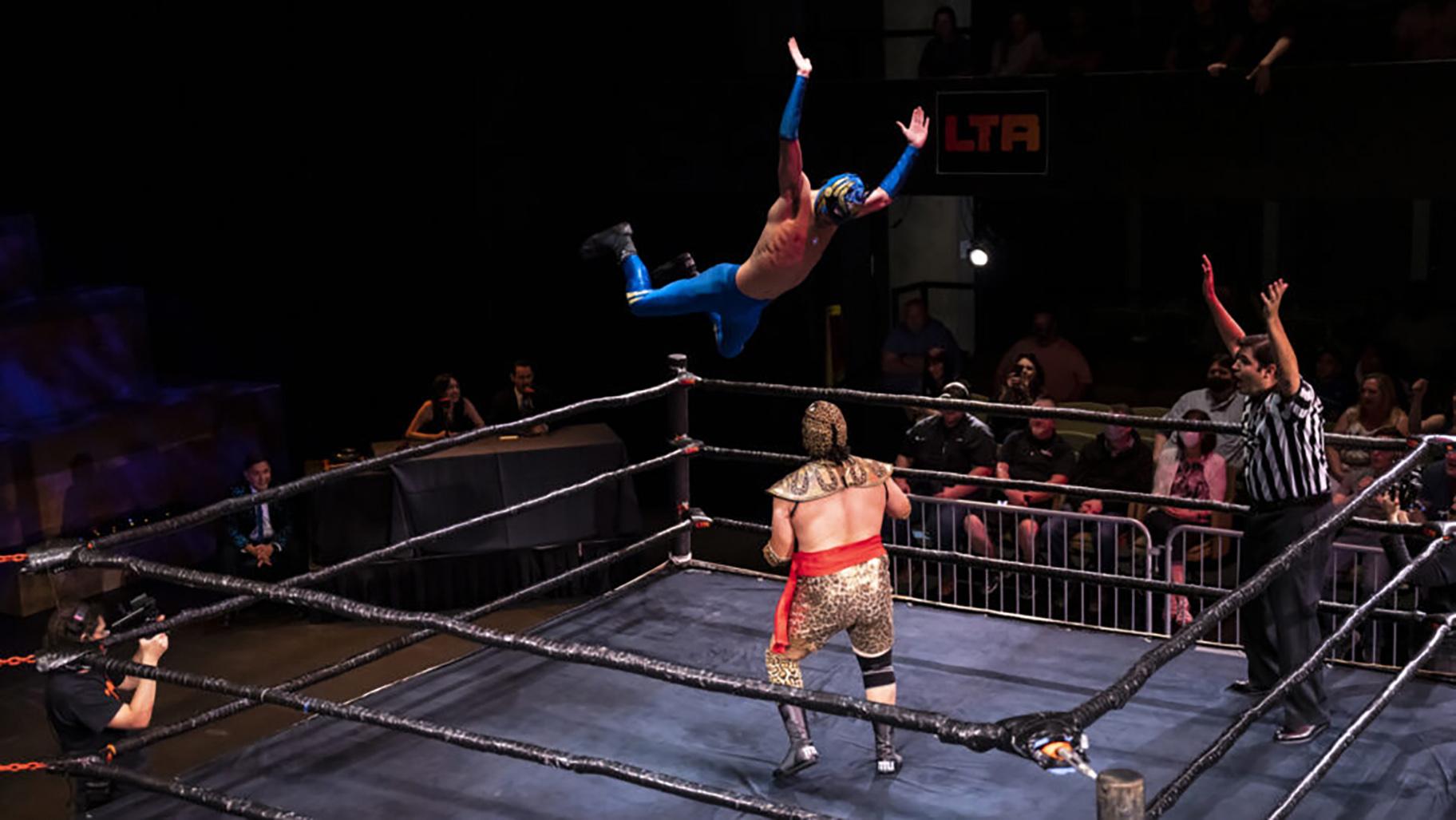 "Lucha Teotl" is part of the Destinos festival. (Credit" Joshua Davis)
Destinos, Chicago International Latino Theater Festival
Honor, tradition, and… body slams? One of 17 intriguing shows in the Destinos fest this year, "Lucha Teotl" features masked wrestlers (luchadores) representing Aztec gods in a story of family redemption. Another highlight: a one-night only showcase of top Latine drag talent acting out scenes from the telenovela tradition. "Que Dramáticas: A Telenovela & Music Review" comes from Cabaret Parodia in partnership with Steppenwolf Theatre. But it's just one night: Sept 30.
Various locations, Sept. 28-Nov 12.
Chicago International Film Festival
Fun fact: the star-studded world premiere of "One Flew Over the Cuckoo's Nest" took place at the Chicago International Film Festival in 1975. The 59th edition of this homegrown fest boasts an eclectic line-up that includes Chicago's first look at the new animated film by Hayao Miyazaki, "The Boy and the Heron." So many movies of note, but these two caught my eye: "We Grown Now" (a coming-of-age story about young men growing up in Cabrini-Green) and "Eric LaRue," the directorial debut from acclaimed actor Michael Shannon.
Music Box Theater and many other locations, Oct. 11–22.
Jazz great Louis Armstrong was a lifelong cannabis enthusiast – maybe it helped him hit that high C – but the focus of this Broadway-bound musical is on the women who influenced the icon. Satchmo is portrayed by James Monroe Iglehart, who won a Tony Award in 2020 for his performance in "Aladdin." He played a genie in that role, and he plays a genius in this one.
Cadillac Palace Theatre, 151 W. Randolph St., Oct. 12-29.
The 82-year-old released his debut album when JFK was in the White House and Elvis Presley's "Follow that Dream" was in movie theaters. In concert these days, Dylan and his band play music from his standout 2020 album "Rough and Rowdy Ways," plus gems "When I Paint My Masterpiece," "Every Grain of Sand," and the odd Grateful Dead cover. The 2,300-seat Cadillac is an intimate place to see the 2016 Nobel Prize winner. His never-ending tour won't go on forever.
Cadillac Palace Theatre, 151 W. Randolph St., Oct. 6-8.
"The Psalms: New Work by Tony Fitzpatrick"
His elegant tribute to Sinead O'Connor – "Psalm for an Irish Girl" – was made just weeks after her death. Other new work includes odes to a stockyard bull, his favorite Italian restaurant, his late dog Huey, and, of course, birds. The pictures shimmer with affection and love, even if Fitzpatrick himself resembles a bouncer at a Bridgeport bar. Toughness and tenderness permeate the work of this quintessential Chicago (via Lombard) artist who continues to find inspiration everywhere.
T.F. Projects and The Dime Gallery, 1513 North Western Ave., Now through Oct. 26.
"Ruth Duckworth: Life as a Unity"
Fleeing Nazi Germany, Duckworth began her career in England and worked for a time carving tombstones. She immigrated to the U.S. in 1964 to teach at the University of Chicago and lived in the city until her death at age 90 in 2009. Her sculptures and porcelain wall murals express her deep engagement with the natural world. The exhibition includes her mesmerizing "Clouds Over Lake Michigan."
Smart Museum of Art, 5550 S. Greenwood Ave., Sept. 21-Feb. 4.
"Nacirema" is "American" spelled backwards, and this play flips the script on African-American debutantes in Alabama in 1964. The play is a farcical comedy with a dash of social commentary, and it's part of a citywide celebration of Pearl Cleage, best known for the book "What Looks Like Crazy on an Ordinary Day" and the play "Blues for an Alabama Sky" (currently onstage at Remy Bumppo Theatre.) Other partners in the fest include Black Ensemble Theater, Congo Square Theatre and the American Writers Museum.
Goodman Theatre, 170 N. Dearborn St., Sept. 16-Oct. 15.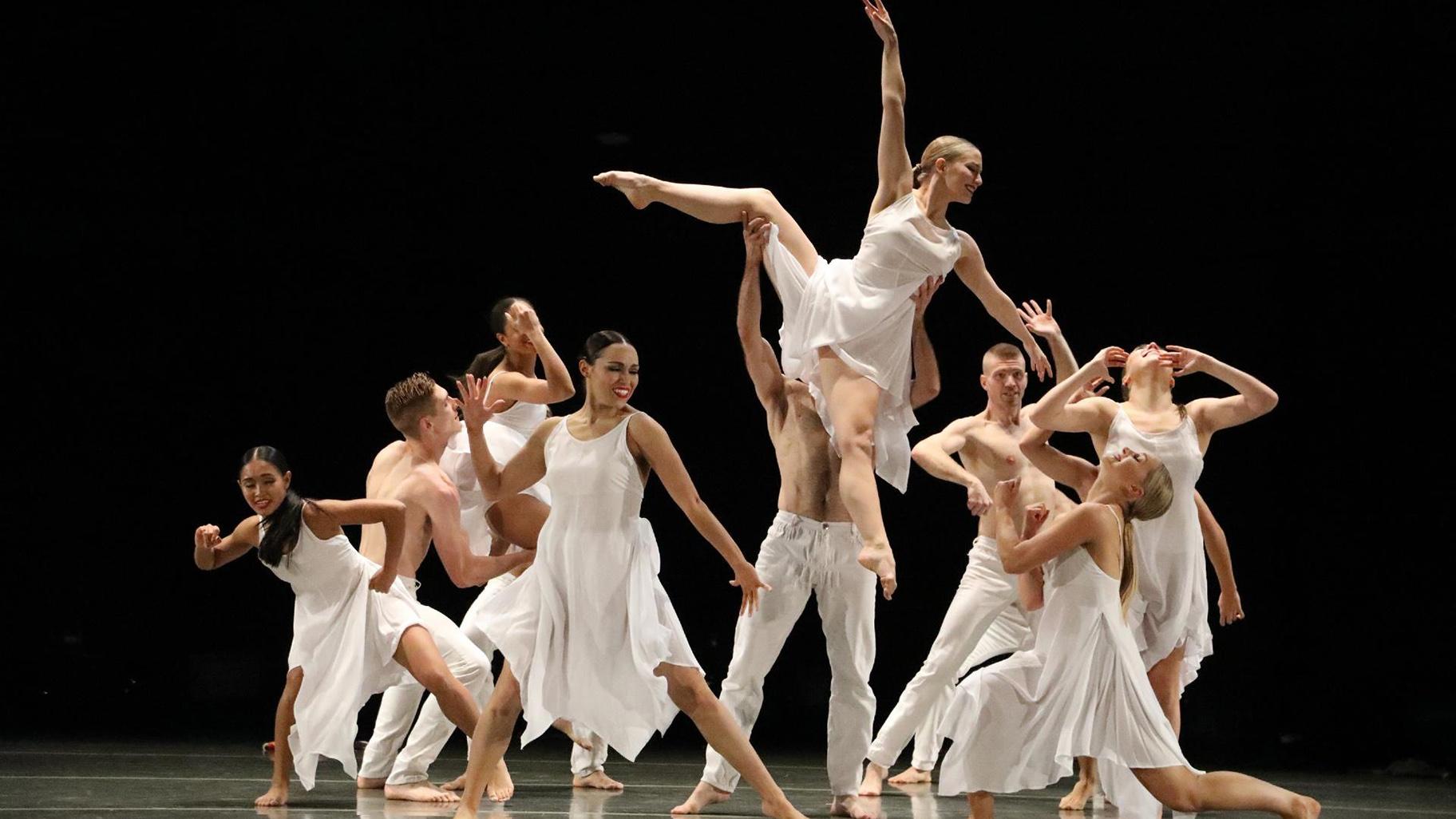 Giordano Dance Chicago performs. (Credit: Gorman Cook)
Resident Dance Companies at the Harris Theater for Music and Dance
The Harris Theater is hiding in plain sight directly behind the Jay Pritzker Pavilion in Millennium Park. It's an unfussy, modern space with clean sightlines – perfect for experiencing dance. And this season they have an abundance, including new work from resident companies Giordano Dance Chicago, Hubbard Street Dance, and Mandala South Asian Performing Arts. The Harris will also present the State Ballet Theatre of Ukraine.
Harris Theater, 205 E. Randolph St., various dates, October – November.
"Orbert Davis' Soul Migration"
See this and be transported for the low, low cost of $1. Trumpet player and band leader Orbert Davis leads his Chicago Jazz Philharmonic in a "seven-movement epic across time and space" that celebrates the enduring communities built in the wake of the Great Migration. The Kehrein Center in the Austin neighborhood is an ideal venue for this jazz band that embraces classical music, and Davis' trumpet sounds magnificent in the room. Take a chance and see it – if you don't like it, I'll personally refund your money. Heck, I'll even double it.
Kehrein Center for the Arts, 5628 W. Washington Blvd., Oct. 20.
Mandy Patinkin returns for October concerts. (Courtesy of The MAC)
"Mandy Patinkin in Concert: BEING ALIVE"
The Chicago native returns to the area for two shows at the McAninch Arts Center at College of DuPage. Patinkin has a well-earned rep as a thrilling performer. Before he was in TV shows and movies ("The Princess Bride," "Chicago Hope," "Homeland") he was a Tony Award-winning stage actor. With just piano accompaniment, the focus will be on Patinkin's soaring voice. Recent concerts featured Broadway tunes, plus covers of Harry Chapin and "Bohemian Rhapsody."
Belushi Performance Hall, McAninch Arts Center, 425 Fawell Blvd., Glen Ellyn, Oct. 12 and 14.
It's the 5th anniversary of the cult-hit variety show that features campy comedy, costumes and classic country songs. Hosted by rising singer Andrew Sa, the showcase has a house band that features Spencer Tweedy and Sima Cunningham, plus talented headliners Kacy & Clayton and Esther Rose. Previously held at the Hideout, this year the Cosmic Country Showcase saddles up at Lincoln Hall.
Lincoln Hall, 2424 N. Lincoln Ave, Oct. 27.
"Faith Ringgold: American People"
Faith Ringgold is a 92-year-old artist with links to the Harlem Renaissance, and she's a prime influence on textile artists of today. She's a painter, writer and sculptor, but the artist is best known for quilts filled with people and stories – they are narrative paintings made with fabric and thread. This comprehensive look at the artist's body of work from all of her practices should be visually stunning.
Museum of Contemporary Art Chicago, 220 E. Chicago Ave., Nov. 18-Feb. 25, 2024.
She created sensuous sculptures in bronze and stone in the 19th century, a time when few women were praised in the male-dominated field. Camille Claudel was a trailblazing French sculptor and longtime associate of Auguste Rodin. Her life story is tragic – she spent the last 30 years of her life in an asylum – but her work endures. Her powerful expressions of the human form prompted one critic to say: "We are in the presence of something unique, a revolt of nature: a woman genius."
Art Institute of Chicago, 111 S. Michigan Ave., Oct. 7-Feb. 19, 2024.
Free exhibits, performances, films and talks are the cornerstones of the largest exploration of contemporary architecture and design in North America. The fifth edition of the Chicago Architectural Biennial is called "CAB 5: This is a Rehearsal." It's curated by the art collective the Floating Museum and looks at the needs of our evolving cities and solutions to everyday crises.
Chicago Cultural Center and various locations.  
Riccardo Muti and the CSO open the season with Brahms and Stravinsky, soon followed by the Philip Glass world premier "The Triumph of the Octagon." Commissioned by the Chicago Symphony Orchestra, Glass' new music is dedicated to Muti and was inspired by a 13th century Italian castle. Also coming up at Symphony Center, a concert by the hottest young vocalist in jazz, Samara Joy.
Symphony Center, various dates.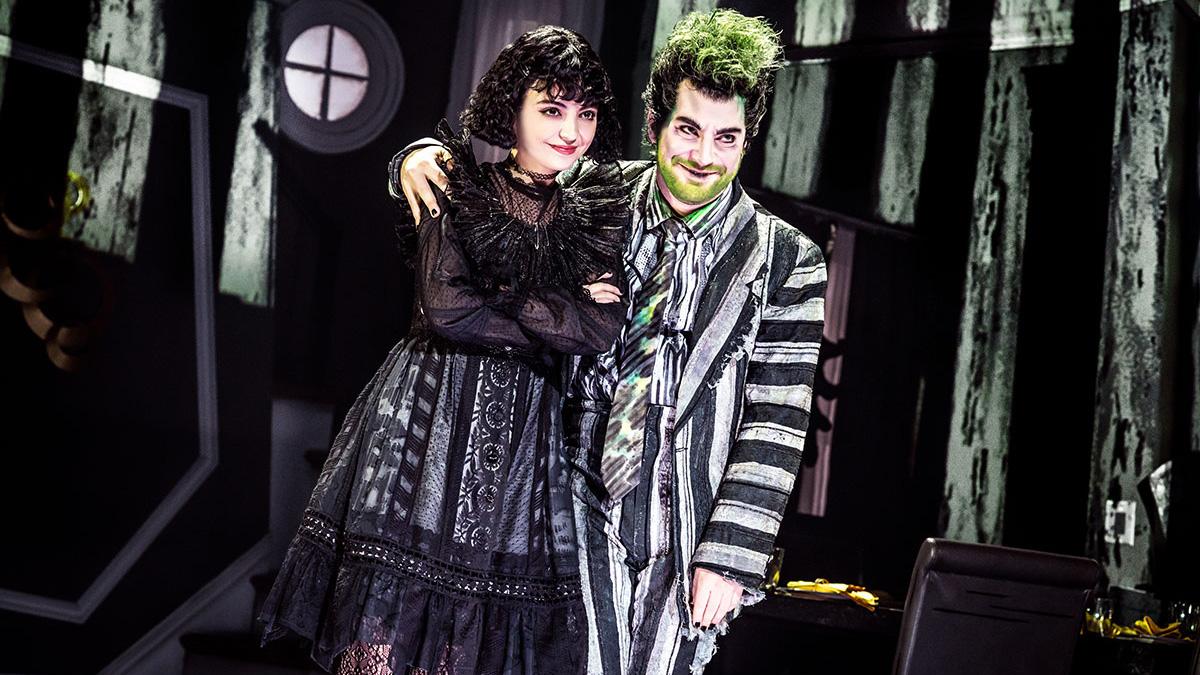 The touring production of "Beetlejuice" will hit Chicago. (Credit: Matthew Murphy)
Musicals that get bad reviews usually don't find an audience. "Beetlejuice" is an exception. The show that Chris Jones of the Chicago Tribune called a "sleazy mess" on Broadway has attracted a devoted fan base among Gen Z theatergoers. The adaptation of Tim Burton's 1988 film focuses on the character Lydia (played by Winona Ryder in the movie) while Beetlejuice himself narrates the action. This touring production visits the Auditorium Theatre, which, like most theaters, appreciates your patronage if you don't vape or grope.
Auditorium Theatre. 50 E. Ida B. Wells Drive, Nov. 7-19.
See you at the show – where you can thank me for recommending Orbert Davis and the Chicago Jazz Philharmonic. I'll bring a few $2 bills just in case.
Note: This article was updated to correct the spelling of Faith Ringgold. 
---