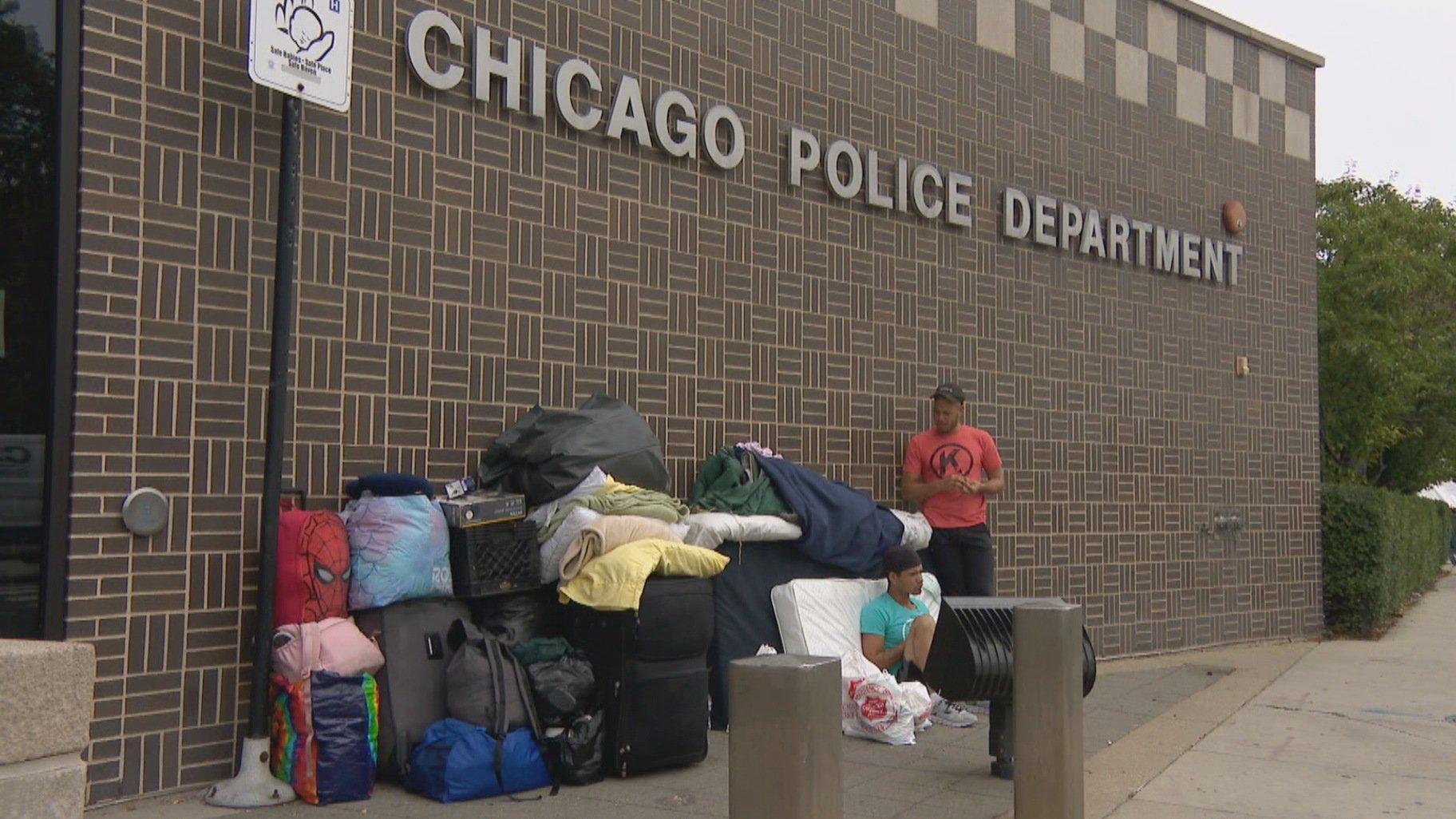 Migrants outside a Chicago police station. (WTTW News)
Mayor Brandon Johnson on Friday briefed members of the Chicago City Council on his plans to move the nearly 2,000 migrants from police stations across the city into large tents, and said it will likely cost more than $300 million to care for the men, women and children sent to Chicago from the southern border through the end of the year.
Since the first bus of migrants arrived in Chicago on a bus sent by Republican Texas Gov. Greg Abbott a year ago, more than 13,500 people have made their way to Chicago, straining the city's social safety net and at times exacerbating tension between Chicago's Black and Latino communities.
Between Aug. 31, 2022, when the first bus arrived, and the end of July, the city spent $132 million caring for the migrants, and expects to spend an additional $123 million between August and the end of the year, for a total of $255.7 million, according to projections shared with alderpeople Friday.
In the briefings that began Friday and are set to continue Monday, Johnson and his top aides did not identify where they planned to build the massive tents, which could shelter, feed and care for as many as 1,000 migrants in a single location, or precisely how much it would cost Chicago taxpayers, sources told WTTW News.
Instead, Johnson asked the City Council members to each identify two to three locations in their wards big enough to erect temporary structures — much like the ones used by sports teams as practice facilities during the cold weather months — large enough to house at least 200 people, sources said.
A spokesperson for Johnson declined to comment on the plans and members of the City Council who spoke to WTTW News asked not to be identified discussing such sensitive plans.
With approximately 6,500 people taking up every available spot in 19 city shelters, more than 2,000 people are being forced to sleep on the floors of police stations across the city and at Chicago O'Hare International Airport and Midway International Airport, according to city data released by the City Council's Committee on Immigrant and Refugee Rights.
City officials had expected to spend $144 million in 2023 to care for the migrants, who are all in the country legally after requesting asylum but are not permitted to work without special permission.
However, a significant acceleration of the humanitarian crisis since May means it will cost the city at least another $94.3 million to care for the migrants through the end of the year, according to the mayor's office. Opening the winterized tents to serve as base camps for the migrants who would otherwise be sent to police stations would add an additional $158 million to the city's costs, according to projections shared with alderpeople Friday.
That means the total cost to Chicago taxpayers to care for the migrants through the end of the year could total $302 million, according to those projections.
On Friday, Johnson said Chicago had an obligation to care for the migrants in a way that "recognizes their dignity."
"So the sacrifices that will be required in this moment will be necessary from all of us, every single level of government," Johnson said at an unrelated news conference Friday.
Allowing thousands of migrants to sleep on the floors of police stations and airports for months is not an option, especially as the weather turns colder, Johnson said.
"Look, I can tell you that the cost of inaction will be far more substantial," Johnson said. "The point here is: Police stations being used as landing zones, that's what I inherited. And I've said that from the very beginning that this is not dignified. So my plan is to move, with expediency, families out of police stations into housing and shelter that's more suitable."
Johnson vowed in mid-July to move the 950 people then living at police stations into permanent shelters as quickly as possible during an ongoing probe into whether more than one officer assigned to a West Side police station had sexual contact with at least one of the migrants. Officials have yet to substantiate that complaint or identify a victim.
However, those efforts stalled as the pace of new arrivals accelerated, making long-term planning nearly impossible.
Johnson and Gov. J.B. Pritzker marked the first anniversary of the arrival of the first bus of migrants in Chicago by pressing President Joe Biden to allow the migrants to work in industries facing labor shortages.
Pritzker and Johnson have also asked the Biden administration to bear more of the cost of feeding, sheltering and providing medical care for the migrants. In the past 12 months, the state has spent $250 million to care for the migrants, while city officials have spent $100 million, the governor said.
Under typical rules, immigrants seeking asylum in America have to wait 150 days after submitting their application to ask officials to allow them to work. That permit cannot be granted until 30 days after they ask for it. However, because of massive backlogs, permits nearly always take much longer to be issued.
In all, state and city officials have received just $38 million in reimbursements from the Biden administration, although it is the federal government's responsibility to care for those awaiting hearings on their request for asylum, Pritzker said.
Biden has not responded to the pleas from his fellow Democrats.
Contact Heather Cherone: @HeatherCherone | (773) 569-1863 | [email protected]
---