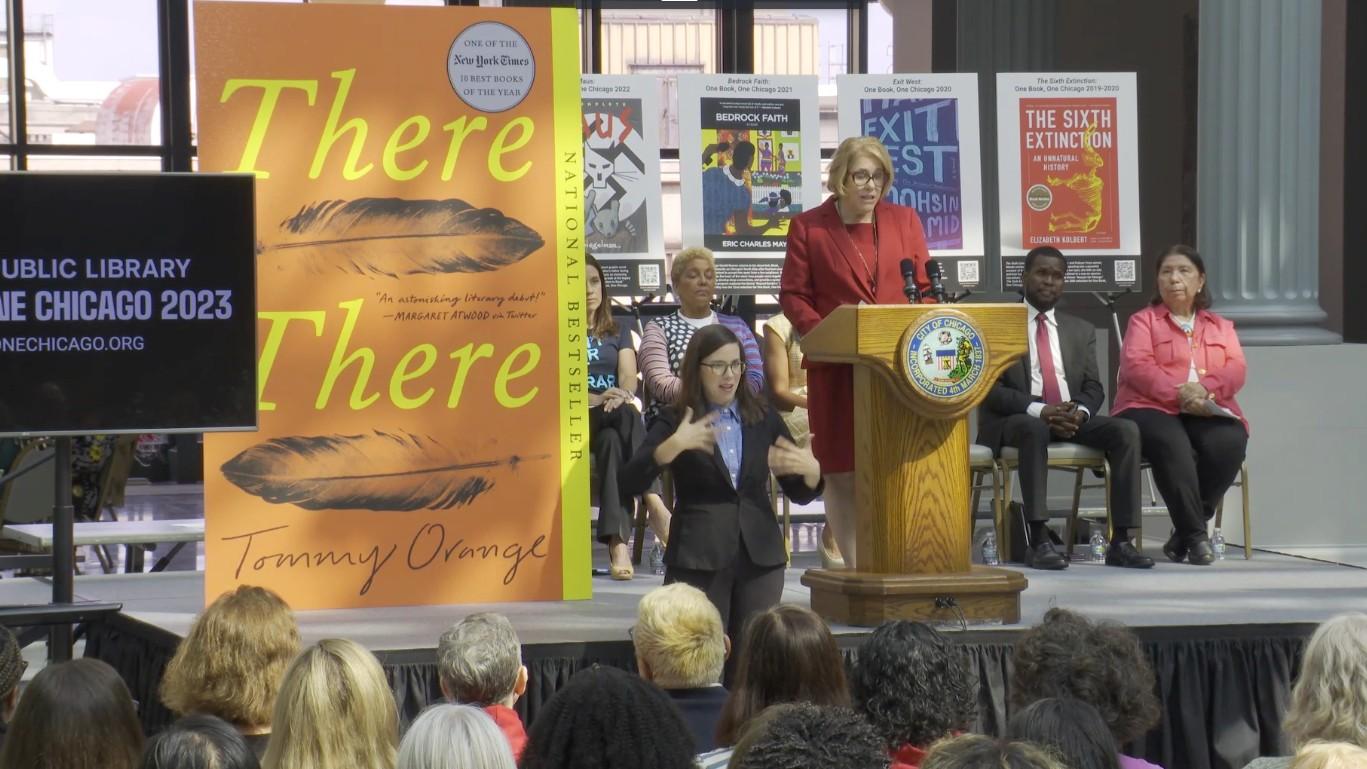 Chicago Public Library officials unveil "There There" as the 2023 One Book, One Chicago selection. (WTTW News)
The Chicago Public Library announced Wednesday the selection of "There There" as 2023's One Book, One Chicago.
Tommy Orange's debut novel was published to widespread acclaim in 2018, and was a finalist for that year's Pulitzer Prize. It follows the stories of 12 interconnected characters, all Native Americans traveling to a powwow in Oakland, California. 
Orange, an enrolled member of the Cheyenne and Arapaho Tribes of Oklahoma, will participate in a keynote discussion Nov. 15 at Harold Washington Library Center. Other One Book, One Chicago programming will include film screenings, food demonstrations and storytelling.
"Through the One Book, One Chicago initiative, we embrace diversity, connectedness and discourse as Chicagoans come together through reading that helps us to learn about one another and shared experiences," said Mayor Brandon Johnson in a statement. "I am pleased to see this year's book selection shed light on an important perspective and hope our readers enjoy 'There There.'" 
Speaking at Wednesday's announcement ceremony, Dorene Wiese, president of the American Indian Association of Illinois, said she recognized herself within the pages of "There There."
"I have lived and worked in Chicago most of my life and like the characters in 'There There,' I came searching for myself, my identity in this modern world and looking for where I might contribute to my native community," said Wiese, tribally enrolled with the Minnesota White Earth Ojibwe.
The book, she said, was the first popular novel to shine a light on the experiences of urban native people, who vastly outnumber their peers living on reservations.
Though all native people were removed from Chicago by 1833, the U.S. government began sending people back to urban areas in the 1950s, '60s and '70s. Today, "Chicago has more native people than any reservation except the Navajo Nation, which covers four states," Wiese said.  
As the city collectively engages with "There There," members of its native community will have the opportunity to take ownership of and find power in their story, while sharing their history and culture with other Chicagoans. 
"From the beginning of time ... Chicago has always been Indian country. Tommy Orange says an urban Indian belongs to the city, and the cities belong to the earth," Wiese said.
Library officials noted that Illinois Gov. J.B. Pritzker recently signed a bill requiring that Illinois public schools teach the history of Native Americans of the Midwest and the state of Illinois as part of their curriculum. 
"As you embark on this literary journey, know that you aren't just reading a novel," Chicago Public Library Commissioner Chris Brown said in a statement. "You're partaking in a citywide endeavor, a collective experience that challenges erasure and celebrates the diverse identities shaping America." 
The One Book, One Chicago selection also arrives at a pivotal moment in American culture, with books being challenged and banned across the country.
"Take a moment and reflect on the war of words we are in the midst of," said Ald. Samantha Nugent (39th Ward).
She threw her support behind the library's commitment to pushing boundaries and its continued encouragement of exploration and inquisition through choices like "There There" and One Book's accompanying programming.
"This book is beautiful," Nugent said, "this book is complicated and this book is hopeful."
One Book, One Chicago launched in 2001. The first selection was Harper Lee's "To Kill a Mockingbird."
Here's Tommy Orange discussing "There There" during a 2018 reading in Washington, D.C.
---
Contact Patty Wetli: @pattywetli | (773) 509-5623 |  [email protected]