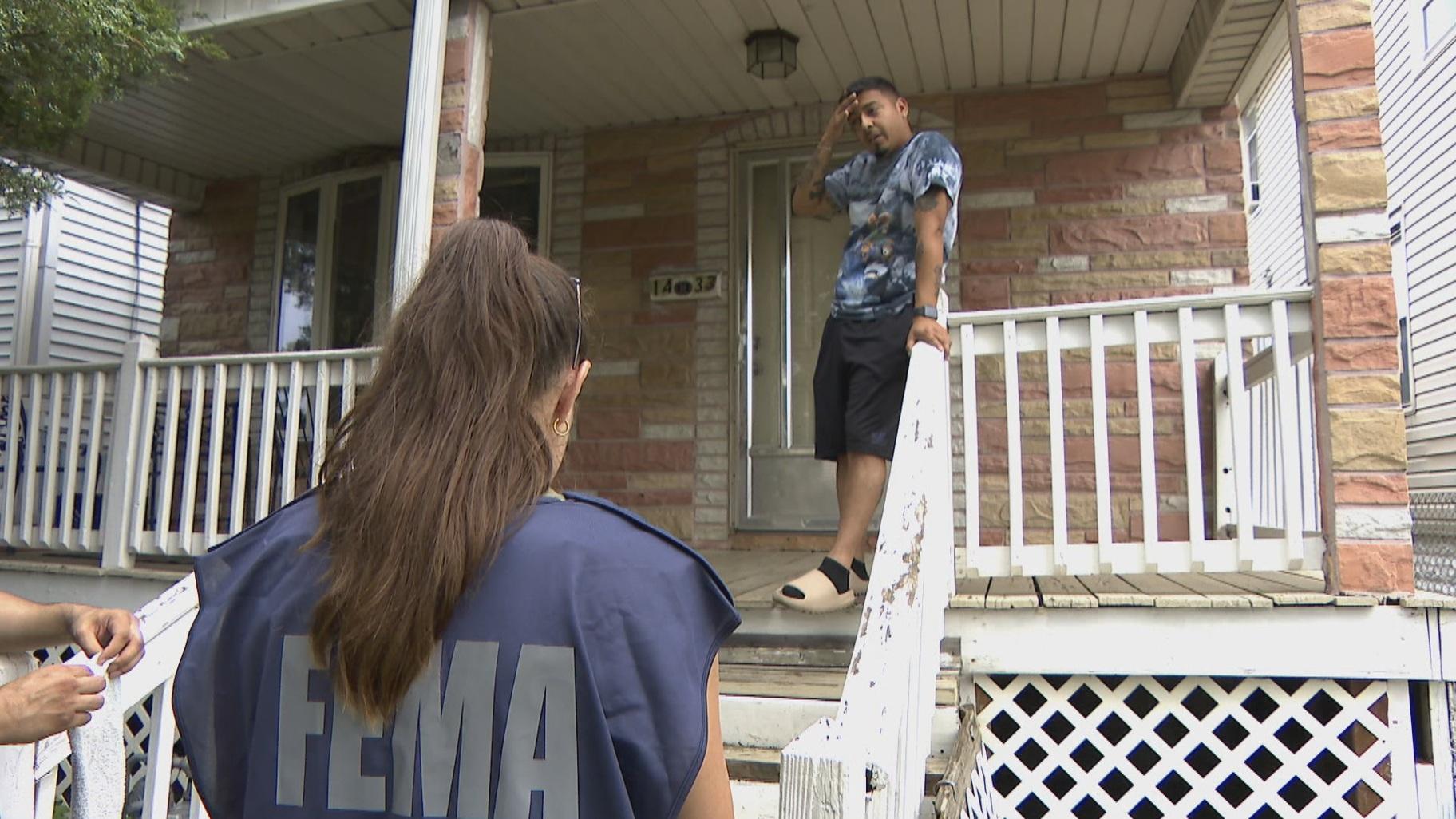 A team member with the Federal Emergency Management Agency speaking to a resident in Cicero, Ill., on July 26, 2023. (WTTW News)
Cook County residents whose homes and businesses flooded during severe storms between June 29 and July 2 can apply for federal relief.
Federal funding was made available after President Joe Biden issued a disaster declaration on Aug. 15 for the storms and floods that particularly hit hard West Side residents and the surrounding suburbs. Flash floods with more than 8 inches of rain left residents with costly home repairs from flood damage.
Representatives with the Federal Emergency Management Agency and the U.S. Small Business Administration are in Cook County to assist people with applying for federal grants and loans as the agencies work to open a designated recovery center in the area.
Federal grants through FEMA can cover temporary housing, essential housing repairs, public transportation and medical expenses not covered by insurance. When applicable, FEMA will also refer people to SBA, where residents can apply for low-interest loans to cover other uninsured property or vehicle damage.
"With FEMA, we are your jump start," said FEMA spokesperson Tiana Suber. "We give the basics, and we're just helping you get back on your feet. SBA is more long-term."
Nearly $30 million in federal assistance through FEMA has been approved for Cook County. The agency has recieved 6,539 applications as of Friday.
Here's what you need to know about the FEMA and SBA federal assistance application process.
Where can I go to apply for federal disaster assistance?
Cook County residents can apply for assistance online at disasterassistance.gov, by using the FEMA app or by calling 1-800-621-3362. Multilingual operators are available.
FEMA is in the process of opening a disaster recovery center in the county, a designated hub where people receive help throughout the application process and learn more about federal assistance programs.
The exact location and when it would open has yet to be finalized, according to a FEMA spokesperson. In the meantime, FEMA representatives are also going door to door to help people apply and keep them updated on the status of their applications.
SBA has opened two business recovery centers, aimed at assisting business owners, homeowners and renters who have already applied with FEMA for assistance and are interested in applying for low-interest, long-term loans for repairs and replacement of personal property. The business recovery centers will be available until the disaster recovery center opens. They are located at: 
3600 W. Ogden Ave. in Chicago. Open Monday through Friday, 9 a.m.-5 p.m.
332 S. Michigan Ave., Suite 600, in Chicago. Open Monday through Friday, 8 a.m.-6 p.m.
You can also apply for SBA disaster loan assistance online at disasterloanassistance.sba.gov/ela/s/ or by calling SBA's customer service center at 1-800-659-2955.
When is the deadline to submit my application?
Residents have until Oct. 16 to apply for federal grants through FEMA.
"We like to tell people the importance of getting that registration in even if you are waiting on your insurance claim to come back through or you're waiting on some other information," Suber said. "If you get into our system, therefore, when that deadline comes, you are still able to get help after that deadline."
Homeowners, renters and business owners also have until Oct.16 to apply for SBA disaster loans that cover physical property damage.
Businesses owners who didn't experience physical damage, but had a negative economic impact due to the floods, can apply for economic injury loans until May 15, 2024.
I'm not a U.S. citizen. Am I still able to receive disaster assistance?
Non-citizens can still receive disaster assistance, under certain qualifications. Click here to learn if you qualify under U.S. citizen, non-citizen national or qualified non-citizen.
A parent or legal guardian of a child who is a U.S. citizen, non-citizen national or qualified non-citizen can apply for assistance on behalf of the child if they live in the same household and the child was under 18 at the time of the disaster. The parent or legal guardian would apply as a co-applicant.
What does the overall process look like to get federal assistance through FEMA?
According to FEMA and the city of Chicago's website:
If you have insurance, file a claim.
When filling out the application for FEMA assistance, you will be asked for information such as income, insurance, housing needs and the damage to your residence.
You will be given an application number that will help locate your file in the system. Write down your application number.
A FEMA inspector will call you to arrange a visit to your damaged home or apartment.
If you qualify, you will receive a federal government check or the funds will be directly deposited into your designated bank account. A separate letter also will be sent to you explaining how you may use the funds.
What reminders or advice do FEMA and SBA representatives have for people going through the federal disaster assistance process? 
FEMA spokesperson Tiana Suber:
There should be only one applicant per household.
If you have insurance, file a claim with insurance before applying for assistance with FEMA.
Be sure to pick up the phone when inspectors with FEMA call to set up an appointment. Not doing so can slow down the process of getting assistance.
Be wary of fraud and scams. Representatives with FEMA will have a FEMA badge and know your application number.
Keep in touch with FEMA and have patience with the process. You may get a letter in the mail saying you were deemed ineligible at the moment. Don't throw the letter away because oftentimes, FEMA will ask about missing or incorrect information.
Federal assistance from FEMA comes in the form of grants that do not have to be paid back; however, keep receipts of everything in case you get audited.
SBA spokesperson Sherrod Schuler:
SBA helps homeowners and renters, not just businesses.
If you are referred by FEMA to apply for SBA disaster loans, strongly consider applying. If you don't apply, you may be disqualified from other assistance FEMA offers. If you apply, but don't qualify for the loan, you are still eligible for other forms of federal assistance.
The SBA loans for homeowners and renters have to be paid back. There are no payments or interest for the first 12 months. After that, interest on loans can be as low as 2.5% along with a maximum loan term of up to 30 years.
"A lot of people may be a little hesitant when they hear that it's a loan," Schuler said. "But what I would strongly encourage individuals to do is to take an opportunity to sit down, if they are able, with one of our representatives, or call, or review the information online because our program is designed to help them get back to the place that they were prior to the disaster."
How long does the process take to receive assistance?
FEMA grants: From the time of applying and setting up an appointment with an inspector, the inspector will come within 10 days. It then takes one to two weeks to get an update from FEMA about your preferred method of receiving the grants, if approved, or about FEMA looking for missing information on your application.
SBA disaster loan: From the time of applying, it can take two to three weeks to receive funds, if approved.
Contact Eunice Alpasan: @eunicealpasan | 773-509-5362 | [email protected]
---