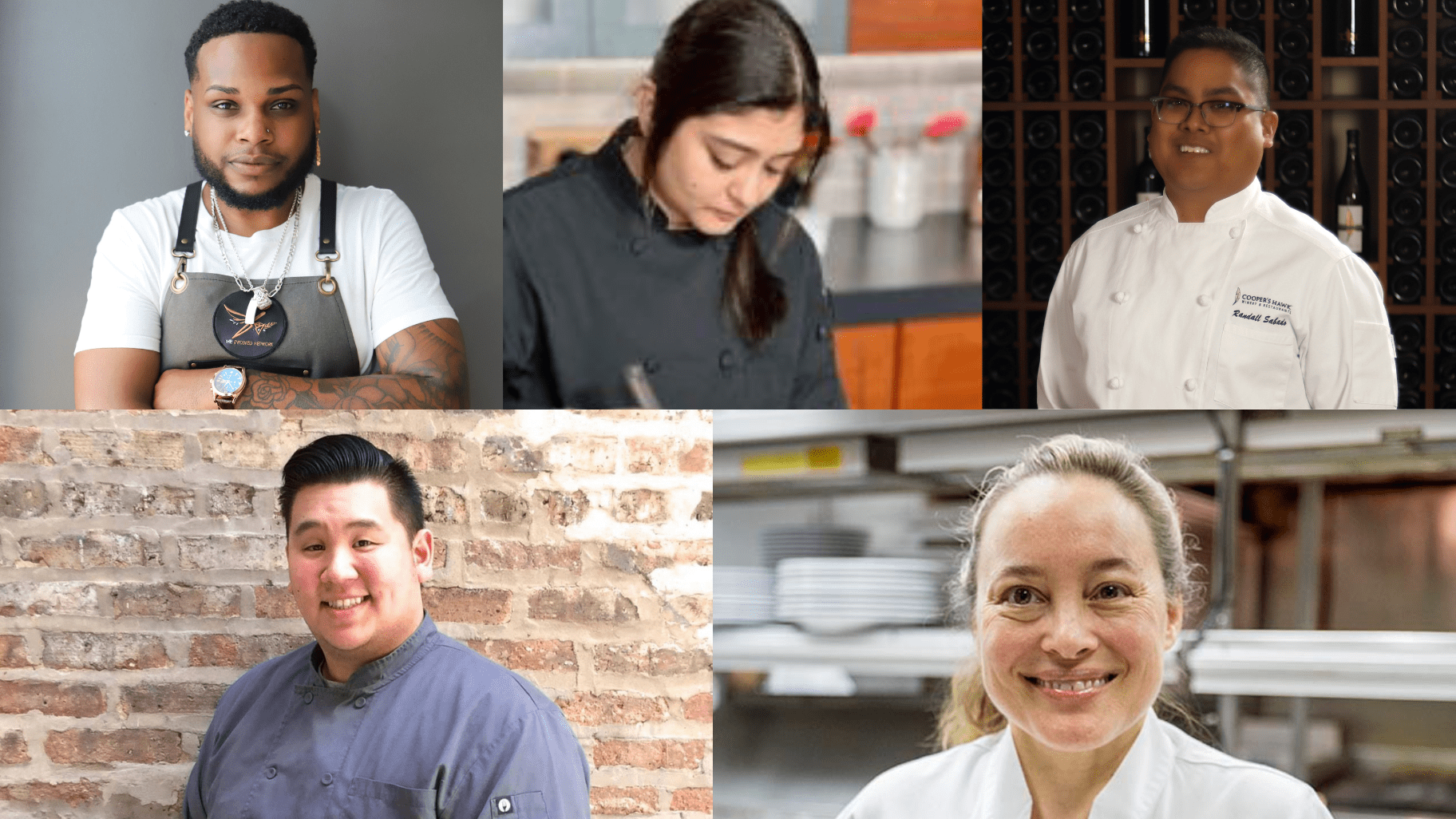 Top row, left to right: Sebastian White of the Evolved Network, Arshiya Farheen of Verzênay Patisserie and Randall Sabado of Cooper's Hawk. Bottom row, left to right: Ricky Sakoda, formerly of Merriman's, and Sarah Stegner of Prairie Grass Cafe. (Sebastian White / Verzênay / Randall Sabado / Ricky Sakoda / Prairie Grass Cafe)
During Ricky Sakoda's three-year stint working as a chef on the island of Maui, he said what especially stuck with him was learning about a Hawaiian word that embodied a way of living: "pono."
"Do what is right, don't take more than you need, and what we do take, we replenish," said Sakoda, the former chef of Merriman's on Maui who is now based in Buffalo Grove.
Sakoda is one of five Chicago-area chefs collaborating on a fundraiser Sunday to support those devastated by the wildfires that swept through Maui two weeks ago.
All of the funds raised during the event will go directly to the Hawai'i Community Foundation—Chef Hui Fund, which supports Maui restaurants, hospitality workers and their families who were displaced due to the fires.
The Maui wildfires have been the deadliest wildfires in the U.S. in over a century, killing at least 115 people. More than 800 people remain unaccounted for, authorities say, and the death toll is expected to climb. One of the areas the wildfires hit included the historic town of Lahaina, which served as a capital of the former Hawaiian Kingdom and holds deep cultural significance for Native Hawaiians.
"It's a true disaster," Sakoda said. "We can't just brush it off like, 'Oh, this is just another disaster,' and move on to the next one."
When Sakoda, who now works as a real estate broker, learned about the Maui wildfires, he said he immediately called to pitch the idea of a fundraiser event to a longtime former colleague: Sarah Stegner of Prairie Grass Cafe in suburban Northbrook.
"There's a lot of chefs in Chicago that understand that as a community, we can support each other and do what's right, not only for our own community but for the larger community of the world," Stegner said.
Stegner is part of a chef collaborative called Chicago Chefs Cook, which works to raise money for various humanitarian relief efforts worldwide. The group is also holding an online auction to raise money for the Chef Hui Maui Relief Fund. Among the auction items include two tickets for the sold-out dinner portion of the fundraiser.
The fundraiser consists of a happy hour event Sunday at Prairie Grass Cafe from 3-5 p.m. Reservations are required, along with a donation of $50 per person. A family-style dinner will take place afterward in the restaurant's private dining room. Reservations for the dinner portion of the fundraiser are already fully booked at $100 per person.
Separate from the Sunday fundraising events, Stegner said organizers have already received about $13,000 in additional donations that will go toward the relief fund.
The other participating chefs are Arshiya Farheen of the French bakery Verzênay Patisserie in Lincoln Park; Sebastian White, who leads the Evolved Network, a nonprofit that provides gardening and culinary training to underserved youth; and Randall Sabado of the restaurant and winery chain Cooper's Hawk.
"The idea of coming together for a dinner, especially for a great cause is just something that's instilled in chefs," said Sabado, who has family living on the island of Oʻahu in Hawaii. "It's the right thing to do: to share our resources and share our talents and create something for the people of Hawaii, the people of Lahaina and Maui."
For more information about the Hawai'i Community Foundation—Chef Hui Fund, the upcoming fundraising event and how to make reservations, click here.
Contact Eunice Alpasan: @eunicealpasan | 773-509-5362 | [email protected]
---