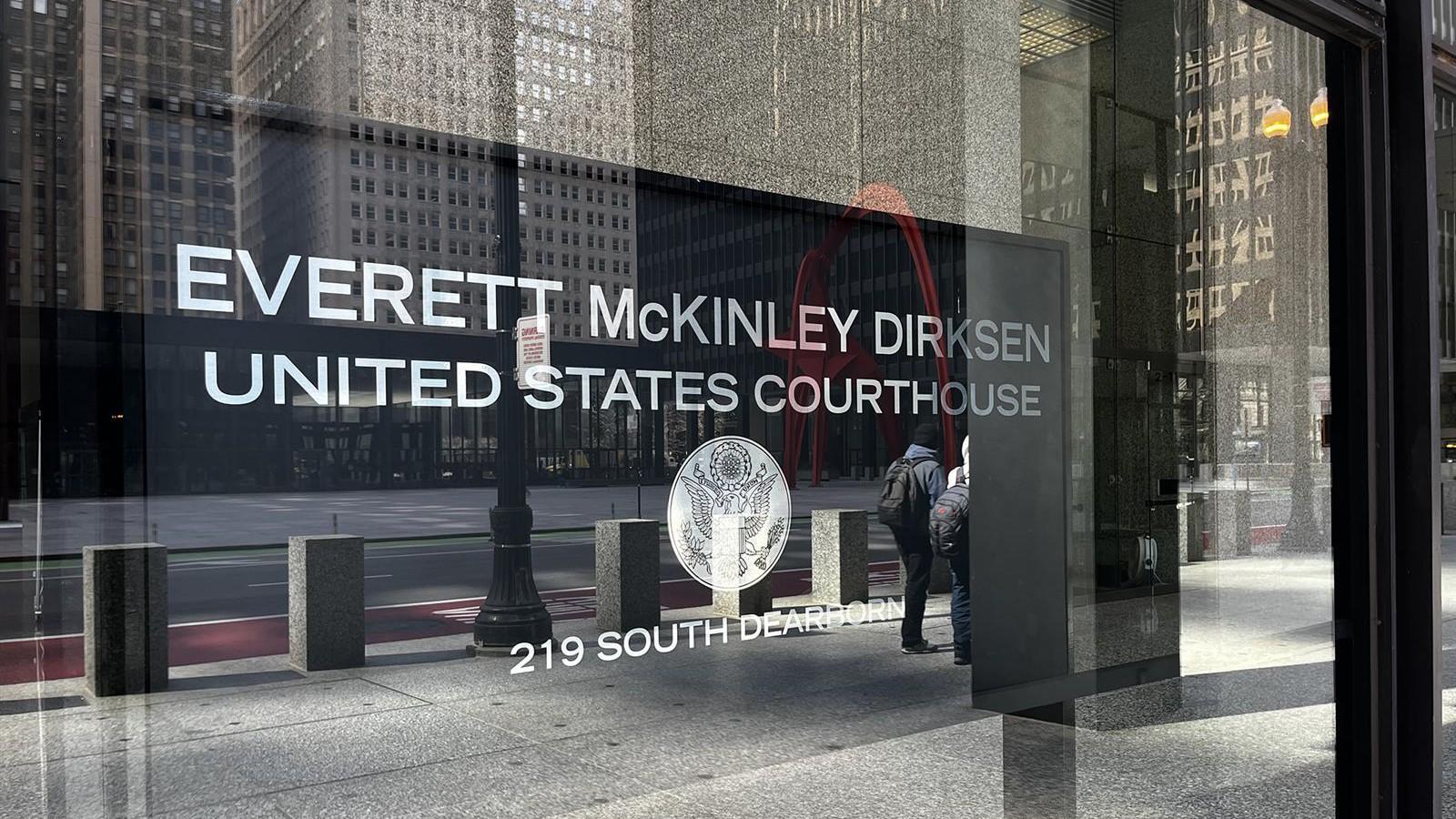 The Dirksen Courthouse is pictured in Chicago. (Capitol News Illinois)
Tim Mapes, Michael Madigan's former chief of staff, was repeatedly recorded on wiretapped phone calls speaking with Madigan confidant Michael McClain about his "assignment" to inform a state representative under fire following sexual harassment allegations that he "has no life in the House anymore."
These calls from late 2018 were played for jurors Thursday in Mapes' perjury trial, where he is accused of lying to a federal grand jury about his knowledge of various tasks and assignments McClain had been conducting on Madigan's behalf from 2017 to 2019.
Mapes has been indicted on a pair of charges: making false declarations before a grand jury and attempted obstruction of justice, both stemming from his alleged false testimony before a grand jury about Madigan's relationship with McClain.
The FBI-recorded calls played in court Thursday related to former state Rep. Lou Lang — who resigned his position in early 2019 amid sexual harassment allegations.
Lang testified Thursday that he received a phone call from McClain in November 2018 in which they discussed his possible resignation once those claims were made public.
Jurors listened to a wiretapped recording of that call, in which McClain told Lang it was "in your best interest to leave while you're strong and not face all that" before adding, "This is no longer me talking. I'm an agent. Someone who cares deeply about you and thinks you should move on."
When asked in court who he believed was making that request, Lang indicated it was Madigan.
Lang said on the call he needed to think things over before making a decision, but thanked McClain for "leveling" with him, stating he would never do anything to "damage my speaker or my caucus."
Following his testimony, jurors heard more recorded phone calls and viewed email exchanges between McClain and Mapes in which they discussed the Lang situation.
In one call from Oct. 26, 2018, McClain said he'd been given an "assignment" to "tell Lou Lang that he has no life in the House anymore." On another call three days later on Oct. 29, Mapes asked McClain if he'd "delivered the bad news" to Lang yet.
In another call from Oct. 31, McClain reiterated that he had to tell Lang "he's gotta move on, he's got no more future in the House."
Weeks later in a call on Nov. 15, McClain informed Mapes that Lang intended to "resign before the end of the calendar year." Mapes then replied that he'd heard Lang was already informing other legislators of that decision.
According to federal prosecutors, Mapes was set to testify before a grand jury in March 2021 that was investigating the former speaker's "efforts to accept and solicit bribes," as well as his connections to McClain and their "participation together in bribe-related activity."
Mapes did so under an immunity agreement, but prosecutors alleged he violated that deal by lying to the grand jury about work McClain had performed for Madigan between 2017 and 2019.
Mapes claimed McClain hadn't told him "what he was discussing with (Madigan) or anything that he was doing on behalf of (Madigan)" and said he didn't recall "any sort of tasks or assignments" McClain would have performed for Madigan from 2017 to 2019.
Transcripts of that grand jury testimony show Mapes was asked, "But after Mr. McClain retired, say, 2017, 2018 and 2019, did you know him to have any contact with Mr. Lang for any purpose?" Mapes responded: "I don't know of any."
Jurors on Thursday also heard testimony from lobbyist Nancy Kimme — who spoke about a state-owned parcel of land in Chinatown and a land transfer deal in Springfield — and Craig Willert, a former advisor and member of Madigan's inner circle.
He testified regarding numerous emails that were sent to and from McClain, Mapes and others in early 2018 about dealing with various issues — from legislative affairs and scheduling meetings, to updating sexual harassment policies in the wake of "MeToo" allegations made against people in Madigan's office.
Mapes has pleaded not guilty, saying that he responded truthfully to what his attorneys have called "vague and imprecise questions about events that allegedly took place many years ago."
During opening statements last week, defense attorney Kathleen Hill likened the grand jury questioning to someone being quizzed about their high school experience before going into a high school reunion.
Testimony will continue Thursday afternoon. The trial, now in its eighth day, is expected to last three weeks.
Contact Matt Masterson: @ByMattMasterson | [email protected] | (773) 509-5431
---