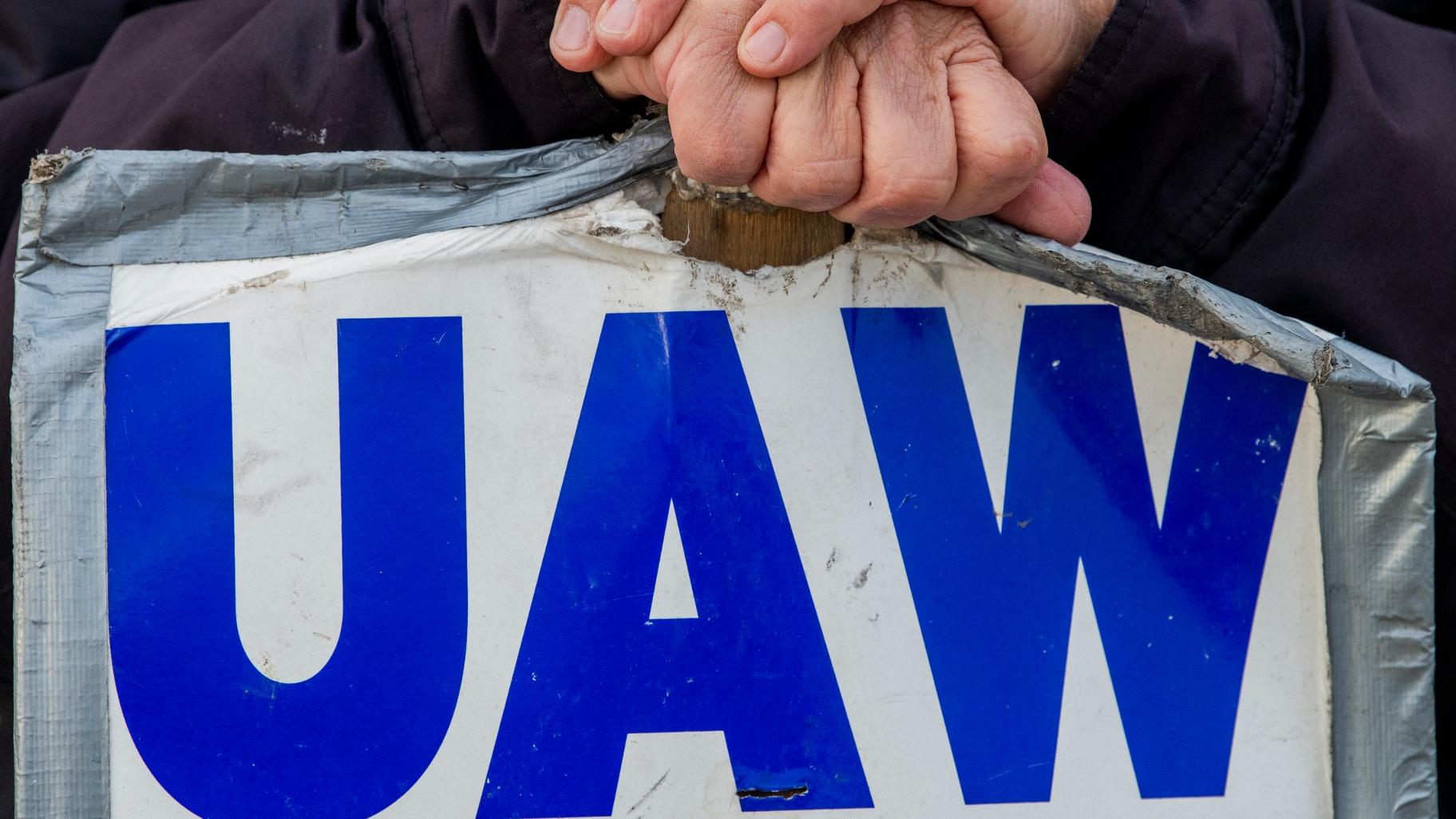 Dean Kennedy blocks an entrance to the Flint Metal Center, Oct. 17, 2019 in Flint, Mich. (Jake May / The Flint Journal via AP, file)
DETROIT (AP) — About 146,000 members of the United Auto Workers union will vote next week whether to authorize their leaders to call strikes against the Detroit automakers.
Union President Shawn Fain told members in a Facebook Live appearance Tuesday that the talks, which started in mid-July, are moving slowly and have yet to get to wages and other economic issues.
The union's contracts with General Motors, Ford and Stellantis expire in about a month, at 11:59 p.m. Sept. 14.
"If we want to make progress at the bargaining table, we need to show the companies that it's not just talk," Fain said of the strike vote.
He told local offices to report the results of their votes to the union headquarters by Aug. 24.
Strike authorization votes are a routine part of contract talks and are often overwhelmingly approved, but Fain said the vote is a sign of the union's strength.
Fain has set high expectations for the contract talks and says the union will seek more than 40% general pay raises over four years, restoration of pensions for newer hires, cost-of-living increases, an end to wage tiers, and other benefits. He has said workers can make big gains but must be ready to strike to get them.
The union also wants guarantees that it will represent workers at 10 U.S. electric vehicle battery plants proposed by the companies. Most are joint ventures with Korean battery companies.
Much of Fain's rhetoric has been focused on Stellantis, the most profitable of the three companies with the highest profit margins. Fain has complained that Stellantis is seeking concessions in the contract when the union wants gains. But a union spokesman said singling out Stellantis doesn't mean the UAW has picked a company as a strike target, and it could choose all three.
He said the union doesn't plan to extend the contracts beyond Sept. 14.
Automakers say they are facing billions of dollars in development costs as the industry shifts from combustion engines to electric vehicles.
In a letter to employees last week, Stellantis Chief Operating Officer Mark Stewart accused Fain of "theatrics and personal insults" that Stewart said will not help to reach a deal. He wrote that the company is committed to an agreement based on "economic realism" that supports the viability of Stellantis' operations while rewarding workers.
The company, he wrote, wants to find solutions to protect Stellantis from nonunion companies with lower costs and additional costs from moving to electric vehicles. "Mr. Fain's demands could endanger our ability to make decisions in the future that provide job security for our employees," the letter said.
Fain called Stewart's letter patronizing and said the company is making billions in profits and spends millions on executive salaries "while the rest of us live paycheck to paycheck." Labor costs, he said, are only 5% to 10% of a vehicle's cost.
GM said Tuesday it's been working hard with the union every day to get the right agreement for all of its stakeholders.
"We continue to bargain in good faith each day to support our team members, our customers, the community and the business," a company statement said.
Messages seeking comment were left with Ford and Stellantis.
---