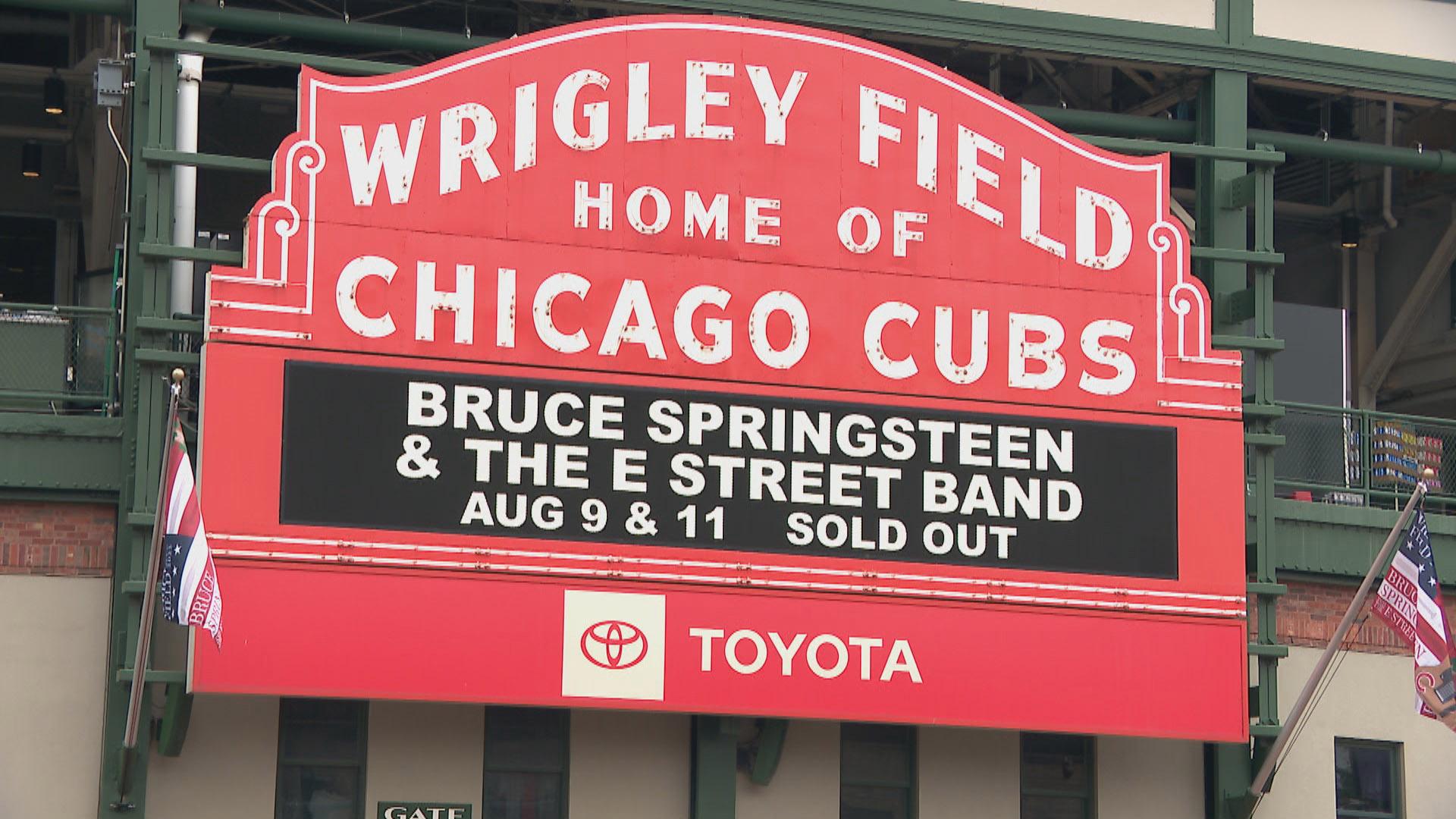 (WTTW News)
For their second sold-out show last week, Bruce Springsteen and the E Street Band set a torrid pace out of the gate on Friday night, with one song beginning as the last one ended.  
The burst of "Night" gave way to a rousing "No Surrender" – and it was no coincidence that the politically-minded Steven van Zandt played a guitar painted in the colors of the Ukrainian flag for "No Surrender."
But this wasn't a political show with speechifying or talk of elections and indictments. Words from the Boss were few as the band barreled through song after song. Newer tunes, including "Ghosts" and "Letter to You," sat comfortably alongside sturdy classics like "Prove It All Night" and "The Promised Land."
If anything, the themes have changed more than the music. Older songs brim with unbridled romanticism ("We can make it if we run..."). Recent songs address mortality and loss with a lifetime of wisdom.  
"Last Man Standing" gained power in a stripped-down acoustic version, preceded by Springsteen's spoken intro about early bandmates who've departed, and that wasn't the only moment of the show dedicated to the dead. Still, there was so much energy onstage that this was a positively life-affirming performance.
The band switched tempos with "Nightshift," the Commodores 1985 hit, which is also about artists who've died. (Marvin Gaye and Jackie Wilson, respectively). Springsteen recorded the tune for his recent recording of soul music covers, "Only the Strong Survive." This number gave an opportunity to spotlight his stellar backup singers, including the truly outstanding Curtis King Jr.
It took some time for guitar great Nils Lofgren to get a featured moment, but he was finally let loose for a wicked solo on "Because the Night" and later on "The Rising." Drummer Max Weinberg anchored the group as he's done for nearly 50 years, and bass player Garry Tallent – who's been with Bruce even longer – stayed locked in, his eyes hidden behind his Ray-Bans.
Even slower songs, like the cover of Jimmy Cliff's "Trapped," burned with the intensity of a band that still wanted to prove something. "Backstreets" remained almost operatic in its emotional outpouring, and "Wrecking Ball" sounded great — another defiant song about raging into the dying of the light.
But then, full disclosure, a funny thing happened. This reviewer wasn't feeling well and had to leave near the end of the show. I had seen 20 of 26 songs and felt faint, so I did something I've never done — left a Springsteen concert early. No regrets – I had a fever, to quote a song. (Also for the record: I was not overserved. $15 for a can of Budweiser can keep a person sober.)
As I left an enthralled group of 40,000 fans, I saw the Chicago Bucket Boys on Addison, waiting their turn for a drum solo and maybe some cash. On Clark Street I saw people in bars comparing manicures and listening to hip-hop.  Police officers looked bored and grateful to be bored.
They all seemed unmoved by what was happening inside the ballpark, where one of rock-n-roll's finest kings was holding court, singing about life and death, just one month before his 74th birthday.
---