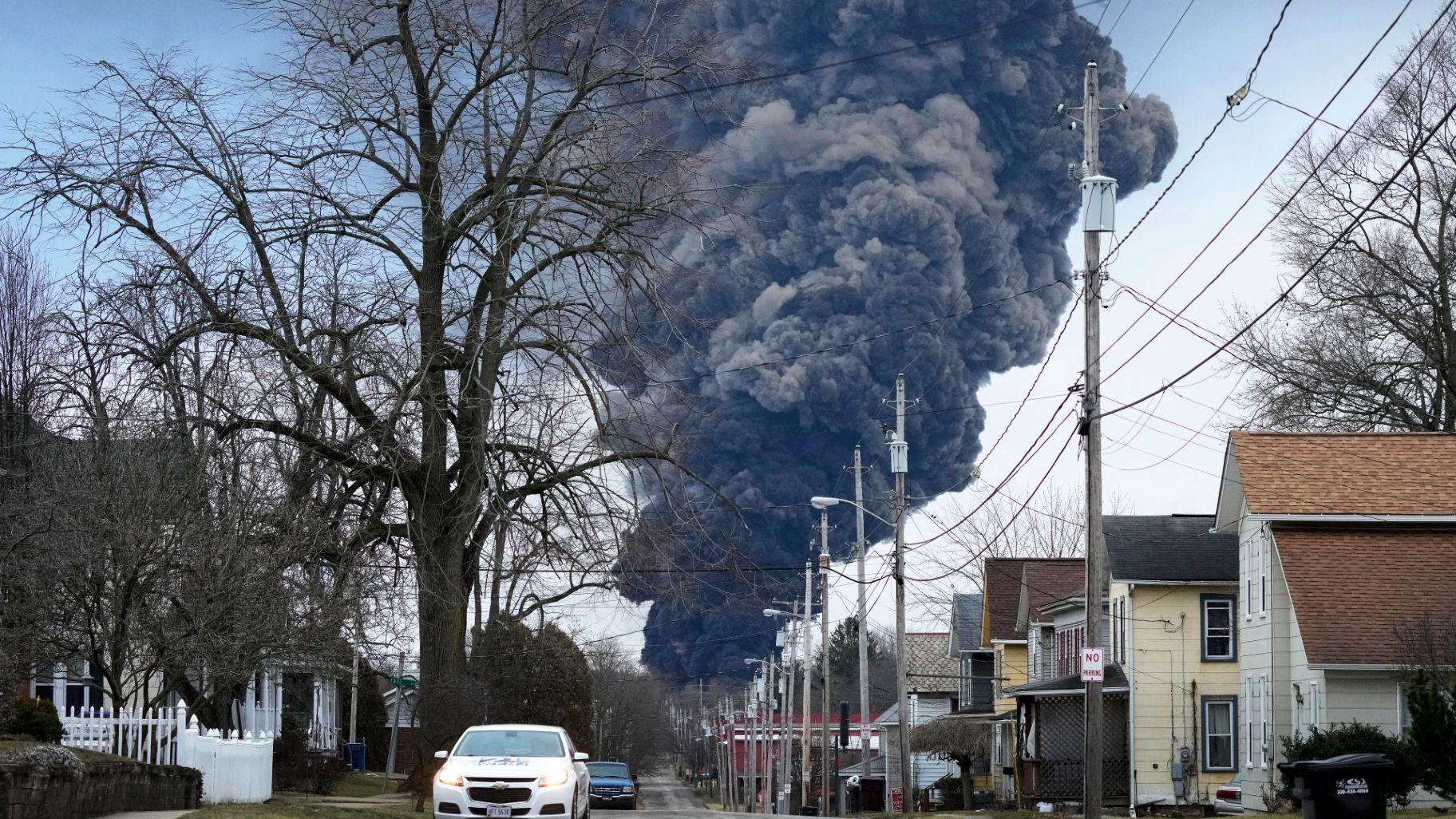 FILE - A black plume rises over East Palestine, Ohio, as a result of a controlled detonation of a portion of the derailed Norfolk Southern trains, Feb. 6, 2023. (Gene J. Puskar / AP Photo, File)
WASHINGTON (AP) — The Biden administration says it could soon launch a formal evaluation of risks posed by vinyl chloride, the cancer-causing chemical that burned in a towering plume of toxic black smoke following the fiery train derailment in East Palestine, Ohio.
The Environmental Protection Agency is set to review risks posed by a handful of chemicals later this year, and is considering chemicals used for plastic production as a key benchmark. Vinyl chloride is among a range of chemicals eligible for review, and "EPA could begin a risk evaluation on vinyl chloride in the near future,'' the agency said in a statement to The Associated Press.
If selected, EPA would study vinyl chloride to determine whether it poses an "unreasonable risk to human health or the environment,'' a process that would take at least three years.
Environmental and public health activists cheered the development, saying EPA should have banned vinyl chloride years ago.
"If one positive thing can come out of the toxic train derailment in East Palestine — and I would argue nothing positive has come out of it so far — it is for the Biden administration to use their existing legal authority to start the process to ban vinyl chloride,″ said Judith Enck, a former regional EPA administrator and president of Beyond Plastics, an advocacy group that seeks to end plastic pollution.
"That accident was a chilling warning that we must act now to ban petrochemicals like vinyl chloride, and keep communities safe from known carcinogens,'' added Heather McTeer Toney, another former regional EPA administrator who leads a separate group called Beyond Petrochemicals.
Vinyl chloride is a flammable gas used to make polyvinyl chloride plastic, better known as PVC. The chemical is found in plastic PVC pipes, as well as vinyl siding, packaging and a range of consumer goods, including furniture, car parts, shower curtains and toys used by children and pets.
Inhalation of vinyl chloride has been linked to liver cancer and other health problems, according to the National Cancer Institute, and its use has long been banned in cosmetics, hair spray and other personal products. PVC plastic is not a known or suspected carcinogen, the agency said.
The Vinyl Institute, a trade group that represents manufacturers, called the effort to ban vinyl chloride misguided.
A July 27 news conference at EPA headquarters, attended by Enck, Toney and other activists, was little more than a "publicity stunt that irresponsibly ignores decades of credible science" showing that vinyl chloride is "safely and responsibly manufactured in the United States," Ned Monroe, president and CEO of the Vinyl Institute, said in a statement.
"Regrettably, Beyond Plastics has chosen to use the tragic events of East Palestine to advance deceptive and disproven claims about our industry that only serve to mislead the public,'' Monroe added.
Vinyl chloride monomer is an intermediary chemical found in PVC products used every day, Monroe said, "including PVC pipes that deliver clean drinking water, vinyl windows, siding for energy-efficient homes and lifesaving medical products like IV blood bags.''
Debate over vinyl chloride has simmered for years, but gained a new urgency after the Feb. 3 derailment of a 50-car Norfolk Southern freight train in East Palestine. Three days later, emergency crews released toxic vinyl chloride from five tank cars and burned it to keep them from exploding.
That sent a billowing plume of black smoke over the town near the Pennsylvania border and prompted the evacuation of about half of its 5,000 residents. Months later, residents are concerned about lingering impacts on health, even though state and federal officials say tests show the town's air and water are safe.
Since an evacuation order was lifted near the derailment site, vinyl chloride has not been found in the community at or above an intermediate screening level, the EPA said. The intermediate level represents an estimate of exposure to a contaminant that is not expected to cause non‐cancer health effects over a period of at least 15 days.
Jessica Conard, an East Palestine resident who lives near the crash site, called the Ohio train derailment "a very grim warning." The crash demonstrates that the rail industry "values profit over human lives and the environment,'' while state and federal regulators "failed to keep the industry in check,'' she said.
Conard faulted what she called "an insatiable demand" by Americans for plastic products that has "driven the need for increased transport of these hazardous substances, placing communities like mine at risk every single day.''
Conard and other activists delivered more than 27,500 signatures to the EPA urging a ban on vinyl chloride.
"We're here today for one reason and one reason only: to tell the EPA that it's time now. We can't wait to ban vinyl chloride. We can't slow-walk this,'' said Daniel Winston, co-executive director of River Valley Organizing, a community group in eastern Ohio.
Winston, who lives 17 miles from the derailment site, said the controlled burn, conducted just three days after the derailment, allowed Norfolk Southern to quickly reopen the tracks "so they could get their profits back up. And now a community and the surrounding area is affected by this in a way that people are still getting sick today.''
The Feb. 6 burn sparked worries that it could have formed dioxins, a known carcinogen created from burning chlorinated carbon materials.
"Vinyl chloride is bad, dioxins are worse as carcinogens and that comes from burning," said Neil Donahue, a chemistry professor at Carnegie Mellon University.
Dioxins are a group of persistent environmental pollutants that last in the ground and body for years and have been one of the major environmental problems and controversies in the United States.
EPA ordered testing for the highly toxic compounds after the derailment and said results so far suggest there's a low chance that dioxins were released following the derailment.
---