CHICAGO (AP) — Ramon Diaz says he was just 17 years old when Northwestern University upperclassmen shaved "Cinco de Mayo" onto the back of his head as the entire football team watched.
"The holiday itself has a significant meaning to me and my family and then the Latino community at large," Diaz told The Associated Press. "I was mocked and ridiculed."
Diaz said he was the only Latino offensive lineman on the team at a time when the athletic department's culture allowed racist and sexual abuse to thrive and caused psychological and emotional damage to athletes of color.
A lawsuit announced on Diaz' behalf Wednesday is the 10th against the prestigious private university since student journalists at The Daily Northwestern published an article on July 8 that suggested head coach Patrick Fitzgerald may have been aware of hazing, leading to his firing after 17 seasons.
---
Read More: The Northwestern Hazing Scandal: A Timeline of Allegations, Investigations and Lawsuits
---
Northwestern announced Tuesday that it has hired former U.S. Attorney General Loretta Lynch to lead an investigation into the culture of its athletic department and its anti-hazing procedures following allegations of abusive behavior and racism within the football program and other teams.
The lawsuits filed since then allege hazing among male and a female athletes across multiple sports that included sexual abuse by teammates and racist comments by coaches to players of color. Diaz, like other former players who have come forward, also described instances of forced nudity and sexual abuse. Diaz's case dates back the furthest so far, meaning mistreatment allegations span more than 15 years, from 2005 to 2022.
Fitzgerald has maintained he had no knowledge of the hazing, and said after being fired that he was working with his agent, Bryan Harlan, and his lawyer, Dan Webb, to protect his legal rights. A statement from his lawyers called the sweeping allegations "imprecise."
"The facts and evidence will show that Coach Fitzgerald implemented and followed numerous procedures and protocols to ensure that hazing would not occur, and he repeatedly emphasized to Northwestern's student athletes that hazing was forbidden and, if anyone was aware — or was the victim — of hazing, that they should immediately report it so that he could stop it," the statement said.
But the perpetrators were not limited to student athletes; the coaching staff also made racist comments that emboldened players to target and bully athletes of color, according to Diaz, who is now a licensed clinical therapist and is pursuing a Ph.D. in neuropsychology.
"As a parent, as a clinician, as a former Division I athlete, I cannot imagine how the athletic department and the coaching staff did not know," Diaz said.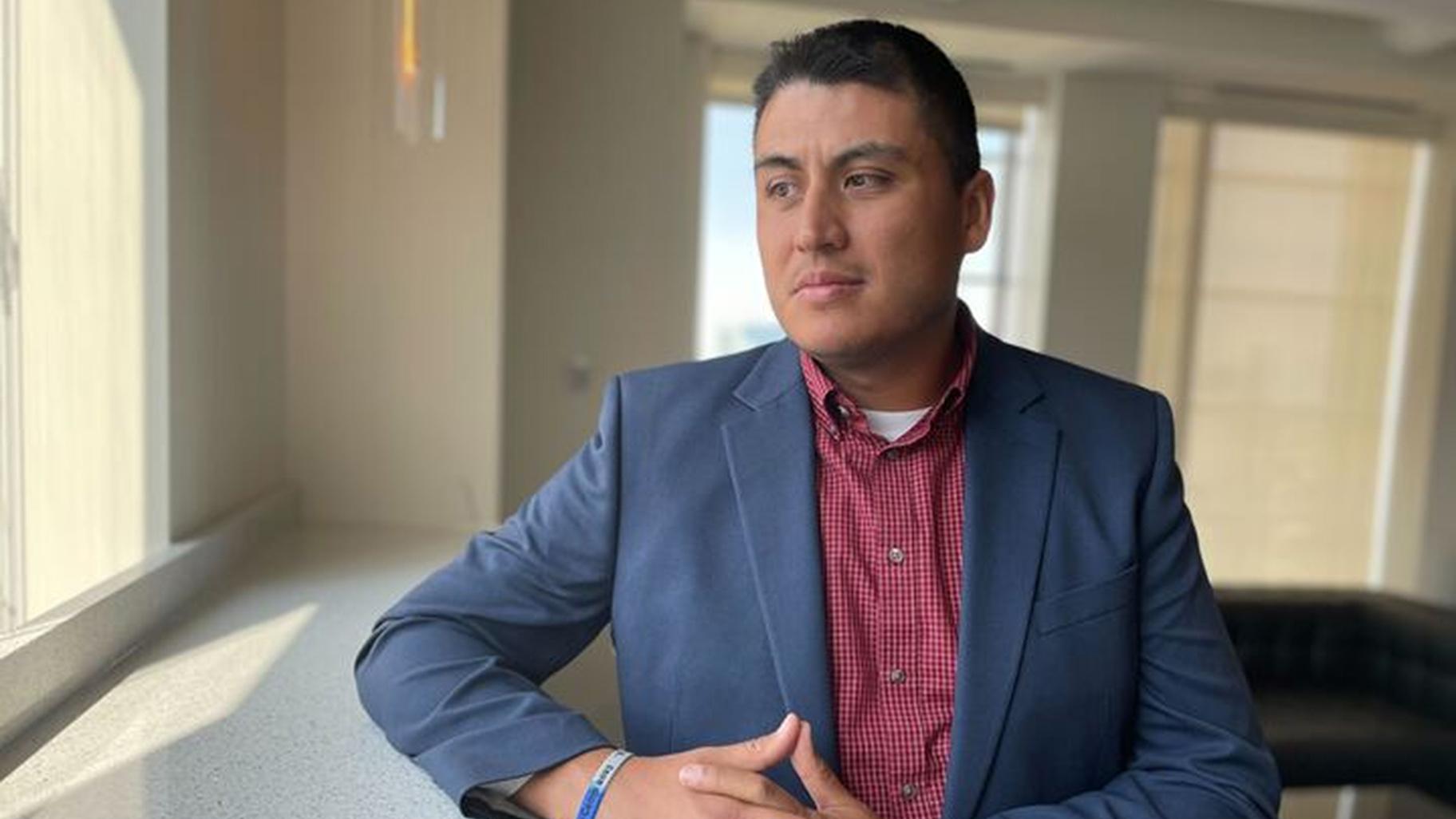 Former Northwestern University football player Ramon Diaz at his lawyers' office in Chicago on Wednesday, Aug. 2, 2023. Diaz's lawsuit alleges widespread hazing among athletes at the school in Evanston, Illinois. (AP Photo/Claire Savage)
Diaz, who needed his football scholarship to afford college, recalled Bret Ingalls, the Wildcats' offensive line coach at the time, telling him: "I know you grew up on dirt floors, but here we try to keep things clean," and "Ramon, you can get a job easily in summer mowing the lawn or painting houses."
Things were even worse for a Black teammate and friend, he said. During a workout, another player told his friend to "do that monkey dance you do." His clothes and even his gait were ridiculed by teammates, who told him: "why are you doing that gangster walk again?" and "I know you might dress that way when you're back in the hood ... but you can't wear that stuff here."
The allegations raised by Diaz, who is being represented by Parker Stinar and Salvi, Schostok & Pritchard, aligns with that of players who graduated more recently, including former quarterback Lloyd Yates, who said the treatment was especially bad for players of color.
Civil rights attorney Ben Crump, who is representing five former Northwestern athletes including Yates, said he plans on filing more than 30 lawsuits involving athletes from "a variety of athletic programs and even mascots."
Diaz said he tried to kill himself at one point because of the racism and bigotry he endured, started seeing a therapist for depression, and still needs treatment to process what happened. He said the psychological damage was significant enough to impair his functioning throughout his time at Northwestern.
"I just remember the laughter. No one stopped it. And the players felt enabled because of the atmosphere created by the coaches," he said.
Now 36 years old and a parent of three, Diaz said he "cannot imagine" what he would do if forced nudity or sexual abuse happened to one of his children, although he said he's not surprised that younger players have reported similar incidents.
"The abuse is increasing and the behaviors are becoming more more severe towards the athletes," and unless the university and the NCAA address the mechanisms enabling a damaging culture, "nothing will change," he said.
The effects endure, Diaz said: His love for football evaporated.
"I have not watched a full football game since I graduated Northwestern University," he said. "Something was taken from me."
EDITOR'S NOTE — This story includes discussion of suicide. The national suicide and crisis lifeline is available by calling or texting 988. There is also an online chat at 988lifeline.org
---