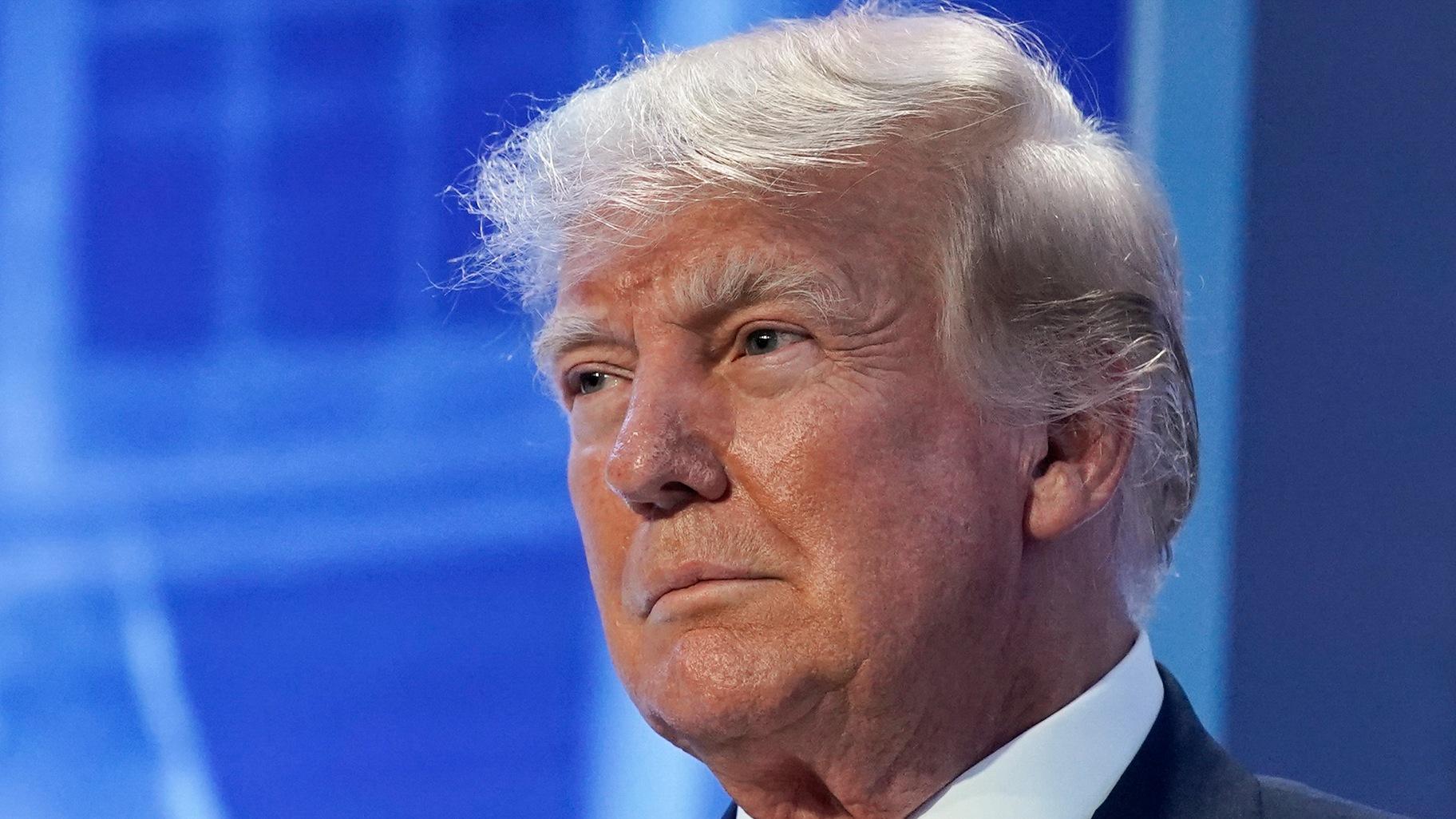 Former President Donald Trump arrives to speak at the Moms for Liberty meeting in Philadelphia, Friday, June 30, 2023. (AP Photo / Matt Rourke, File)
ATLANTA (AP) — A Georgia prosecutor is expected to seek a grand jury indictment in the coming weeks in her investigation into efforts by Donald Trump and his Republican allies to overturn the then-president's 2020 election loss.
Fulton County District Attorney Fani Willis began investigating more than two years ago, shortly after a recording was released of a January 2021 phone call Trump made to Georgia's secretary of state.
Willis has strongly hinted that any indictment would come between Monday and Aug. 18. One of two grand juries seated July 11 is expected to hear the case.
If Trump is indicted by a Georgia grand jury, it would add to a growing list of legal troubles as he campaigns for president. Trump is set to go to trial in New York in March to face state charges related to hush money payments made during the 2016 presidential campaign. And he has another trial scheduled for May on federal charges related to his handling of classified documents. He has pleaded not guilty in those cases.
The Justice Department is also investigating Trump's role in trying to halt the certification of 2020 election results in the run-up to the Jan. 6, 2021, assault on the U.S. Capitol. Trump said he's been told he's a target of that investigation, which likely has some overlap with the one in Georgia.
An attempt by Trump to derail the Georgia case suffered a setback on Monday when a judge rejected his request to bar Willis from prosecuting him and to toss out the final report of an investigative special grand jury that had been seated to aid the investigation. A similar motion to be heard by a different judge is set for a hearing next week.
Details of the Georgia investigation that have become public have fed speculation that Willis, a Democrat, is building a case under the Georgia Racketeer Influenced and Corrupt Organizations Act, which would allow her to charge numerous people in a potentially wide-ranging scheme.
Here are six investigative threads Willis and her team have explored:
THE PHONE CALLS
The Georgia investigation was prompted by the Jan. 2, 2021, phone call Trump made to Georgia Secretary of State Brad Raffensperger, a fellow Republican. Trump suggested the state's top elections official could help "find" the votes needed to put him ahead of Democrat Joe Biden in the state.
"All I want to do is this: I just want to find 11,780 votes, which is one more than we have," Trump is heard saying on a recording of the call, which was leaked to news outlets. "Because we won the state."
Trump has insisted he did nothing wrong and has repeatedly said the call was "perfect."
Trump also called other top state officials in his quest to overturn his 2020 election loss, including Gov. Brian Kemp, then-House Speaker David Ralston, Attorney General Chris Carr and the top investigator in the secretary of state's office.
U.S. Sen. Lindsey Graham, a South Carolina Republican, also called Raffensperger shortly after the November election. Raffensperger said at the time that Graham asked whether he had the power to reject certain absentee ballots, which Raffensperger has said he interpreted as a suggestion to toss out legally cast votes.
Graham has denied wrongdoing, saying he just wanted to learn about the signature verification process.
FAKE ELECTORS
Biden won Georgia by a margin of fewer than 12,000 votes. Just over a month after the election, on Dec. 14, 2020, a group 16 Georgia Democratic electors met in the Senate chamber at the state Capitol to cast the state's Electoral College votes for him. They each marked paper ballots that were counted and confirmed by a voice roll call.
That day, in a committee meeting room at the Capitol, 16 prominent Georgia Republicans — a lawmaker, activists and party officials — met to sign a certificate falsely stating that Trump had won and declaring themselves the state's "duly elected and qualified" electors. They sent that certificate to the National Archives and the U.S. Senate.
Georgia was one of seven battleground states that Trump lost where Republican fake electors signed and submitted similar certificates. Trump allies in the U.S. House and Senate used those certificates to argue for delaying or blocking the certification of the election during a joint session of Congress.
Prosecutors in Fulton County have said in court filings that they believe Trump associates worked with state Republicans to coordinate and execute the plan.
The multi-state effort was ultimately unsuccessful. Despite public pressure from Trump and his supporters, then-Vice President Mike Pence refused on Jan. 6, 2021, to introduce the unofficial pro-Trump electors. After the attack on the U.S. Capitol put a violent halt to the certification process, lawmakers certified Biden's win in the early hours of Jan. 7, 2021.
At least eight of the fake electors have since reached immunity deals with Willis' team. And a judge last summer barred Willis from prosecuting another one, Lt. Gov. Burt Jones, because of a conflict of interest.
FALSE CLAIMS OF ELECTION FRAUD
Republican state lawmakers held several hearings at the Georgia Capitol in December 2020 to examine alleged problems with the November election. During those meetings, former New York mayor Rudy Giuliani and other Trump allies made unproven claims of widespread election fraud.
They alleged that election workers tallying absentee ballots at State Farm Arena in Atlanta had told outside observers to leave and then pulled out "suitcases" of unlawful ballots and began scanning them. The Trump allies played clips of surveillance video from the arena to support their allegations. State and federal officials investigated and said there was no evidence of election fraud at the site.
Some Trump allies also said thousands of people who were ineligible — including people convicted of felonies, people under the age of 18, people who had voted in another state — had cast votes in Georgia. The secretary of state's office has debunked those claims.
ALLEGED ATTEMPTS TO PRESSURE ELECTION WORKER
Two of the election workers seen in the State Farm Arena surveillance video, Ruby Freeman and her daughter Wandrea "Shaye" Moss, said they faced relentless harassment online and in person as a result of the allegations made by Trump and his allies.
Giuliani last week conceded that statements he made about the two election workers were false.
In a bizarre episode detailed by prosecutors in court filings, a woman traveled from Chicago to Georgia and met with Freeman on Jan. 4, 2021. The woman initially said she wanted to help Freeman but then warned that Freeman could go to prison and tried to pressure her into falsely confessing to committing election fraud, prosecutors wrote in court filings last year.
ELECTION EQUIPMENT ACCESSED
Trump-allied lawyer Sidney Powell and others hired a computer forensics team to copy data and software on election equipment in Coffee County, some 200 miles (322 kilometers) southeast of Atlanta, according to invoices, emails, security video and deposition testimony produced in response to subpoenas in a long-running lawsuit.
The county Republican Party chair at the time — who also served as a fake elector — greeted them when they arrived at the local elections office on Jan. 7, 2021, and some county elections officials were also on hand during the daylong visit. The secretary of state's office has said this amounted to "alleged unauthorized access" of election equipment and the Georgia Bureau of Investigation is looking into it at the secretary of state's request.
Two other men who have been active in efforts to question the 2020 election results also visited Coffee County later that month and spent hours inside.
U.S. ATTORNEY RESIGNATION
U.S. Attorney BJay Pak, the top federal prosecutor in Atlanta, abruptly resigned two days after Trump called Raffensperger and a day after a recording of that call was made public. During that conversation, Trump called Pak a "never-Trumper," implying that he didn't support the president.
In December 2020, then-U.S. Attorney General William Barr asked Pak to investigate allegations by Giuliani and other Trump allies of widespread election fraud. Pak, who had been appointed by Trump in 2017, reported back that he had found no evidence of such fraud.
In August 2021, Pak told the U.S. Senate Judiciary Committee, which was investigating Trump's post-election actions, that he resigned on Jan. 4, 2021, after learning from Department of Justice officials that Trump did not believe enough was being done to investigate allegations of election fraud and wanted him gone as U.S. attorney.
---