Video: Joining "Chicago Tonight: Black Voices" is Christopher Benson of the Emmett Till & Mamie Till-Mobley Institute. (Produced by Blair Paddock)
---
When President Joe Biden signs a proclamation on Tuesday establishing a national monument honoring Emmett Till and his mother, Mamie Till-Mobley, it will mark the fulfillment of a promise Till's relatives made after his death 68 years ago.
The Black teenager from Chicago, whose abduction, torture and killing in Mississippi in 1955 helped propel the civil rights movement, will be seen as more than just a cause of that movement, said Till's cousin the Rev. Wheeler Parker Jr.
"We are resolute that it now becomes an American story and not just a civil rights story," Parker told The Associated Press, ahead of a planned proclamation signing ceremony at the White House.
With the stroke of Biden's pen, the Emmett Till and Mamie Till-Mobley National Monument, located across three sites in two states, will be federally protected places. But Till's family members, along with a national organization seeking to preserve Black cultural heritage sites, say their work protecting the Till legacy continues.
They hope to raise money to restore the sites and develop educational programming to support their inclusion in the National Park System.
White House press secretary Karine Jean-Pierre told reporters Monday that the Till national monument will be the Biden-Harris administration's fourth designation that reflects their "work to advance civil rights." The move comes as conservative leaders, mostly at the state and local levels, push legislation that limits the teaching of slavery and Black history in public schools.
The Democratic president's administration "will continue to speak out against hateful attempts to rewrite our history and strongly oppose any actions that threaten to divide us and take our country backwards," Jean-Pierre said.
Brent Leggs, executive director of the African American Cultural Heritage Action Fund, a program of the National Trust for Historic Preservation, said the federal designation is a milestone in a yearslong effort to preserve and protect places tied to events that have shaped the nation and that symbolize national wounds.
"We believe that not until Black history matters will Black lives and Black bodies matter," he said. "Through reckoning with America's racist past, we have the opportunity to heal."
The African American Cultural Heritage Action Fund has provided $750,000 in grant funding since 2017 to help rescue sites important to the Till legacy. With its partners, the Andrew Mellon Foundation and the Lilly Endowment Inc., Leggs said an additional $5 million in funding has been secured for specialized preservation of the sites.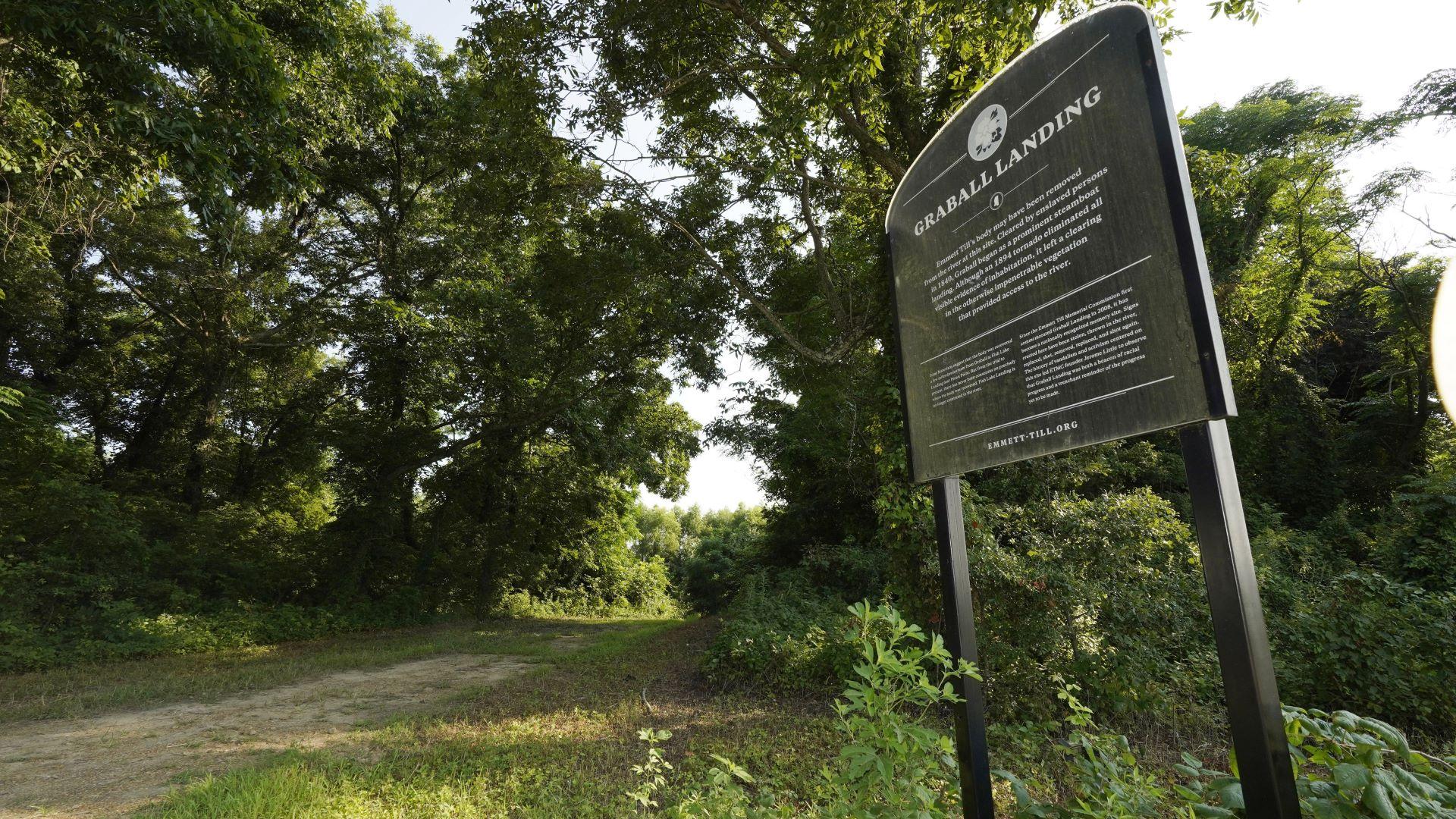 A memorial sign at Graball Landing, the spot where Emmett Till's body was pulled from the Tallahatchie River just outside of Glendora, Miss., is photographed Monday, July 24, 2023. (AP Photo/Rogelio V. Solis)
Biden's proclamation protects places that are central to the story of Emmett Till's life and death at age 14, the acquittal of his white killers by an all-white jury and his late mother's activism.
In the summer of 1955, Mamie Till-Mobley put her son Emmett on a train to her native Mississippi, where he was to spend time with his uncle and his cousins. In the overnight hours of Aug. 28, 1955, Emmett was taken from his uncle's home at gunpoint by two vengeful white men.
Emmett's alleged crime? Flirting with the wife of one of his kidnappers.
Three days later, a fisherman on the Tallahatchie River discovered the teenager's bloated corpse — one of his eyes was detached, an ear was missing, his head was shot and bashed in.
Till-Mobley demanded that Emmett's mutilated remains be taken back to Chicago for a public, open casket funeral that was attended by tens of thousands of people. Graphic images taken of Emmett's remains, sanctioned by his mother, were published by Jet magazine and propelled the civil rights movement.
At the trial of his killers in Mississippi, Till-Mobley bravely took the witness stand to counter the perverse image of her son that defense attorneys had painted for jurors and trial watchers.
Altogether, the Till national monument will include 5.7 acres (2.3 hectares) of land and two historic buildings. The Mississippi sites are Graball Landing, the spot where Emmett's body was pulled from the Tallahatchie River just outside of Glendora, Mississippi, and the Tallahatchie County Second District Courthouse in Sumner, Mississippi, where Emmett's killers were tried.
There is already the Emmett Till Interpretive Center in Sumner, which received philanthropic funding to expand programming and pay staff who interface with visitors.
At Graball Landing, a memorial sign installed in 2008 had been repeatedly stolen and was riddled with bullets. An inch-thick bulletproof sign was erected at the site in October 2019.
The Illinois site is Roberts Temple Church of God in Christ in Chicago, where Emmett's funeral was held in September 1955.
In a statement emailed to the AP, Illinois Sen. Dick Durbin saluted Mamie Till-Mobley's courage to have the nation and the world bear witness to the scourge of racial hatred. The monument, he said, helps "ensure that Emmett Till's story is not forgotten."
The Till national monument will join dozens of federally recognized landmarks, buildings and other places in the Deep South, in the north and out west that represent historical events and tragedies from the civil right movement. For example, in Atlanta, sites representing the life and legacy of the Rev. Martin Luther King Jr., including his birth home and Ebenezer Baptist Church, are all part of the National Park Service.
The designation often requires public and private entities to work together on developing interpretation centers at each of the sites, so that anyone who visits can understand the site's significance. The hiring of park rangers is supported through partnerships with the National Park Foundation, the park service's official nonprofit, and the National Parks Conservation Association.
Increasingly, the park service includes sites "that are part of the arc of justice in this country, both telling where we've come from, how far we've come, and frankly, how far we have to still go," said Will Shafroth, the president and CEO of the National Park Foundation.
That's where Leggs' African American Cultural Heritage Action Fund and the Till family's work remains — to raise enough money so that the sites are properly maintained and have the staffing needed to educate the public.
For Parker, who was 16 years old when he witnessed Emmett's abduction, the Till monument proclamation begins to lift the weight of trauma that he has carried for most of his life. Tuesday is the anniversary of Emmett's birth in 1941. He would have been 82.
"I've been suffering for all these years of how they've portrayed him — I still deal with that," Parker, 84, said of his cousin Emmett.
"The truth should carry itself, but it doesn't have wings. You have to put some wings on it."
Note: This article was first published July 25 and updated with video July 28.
---