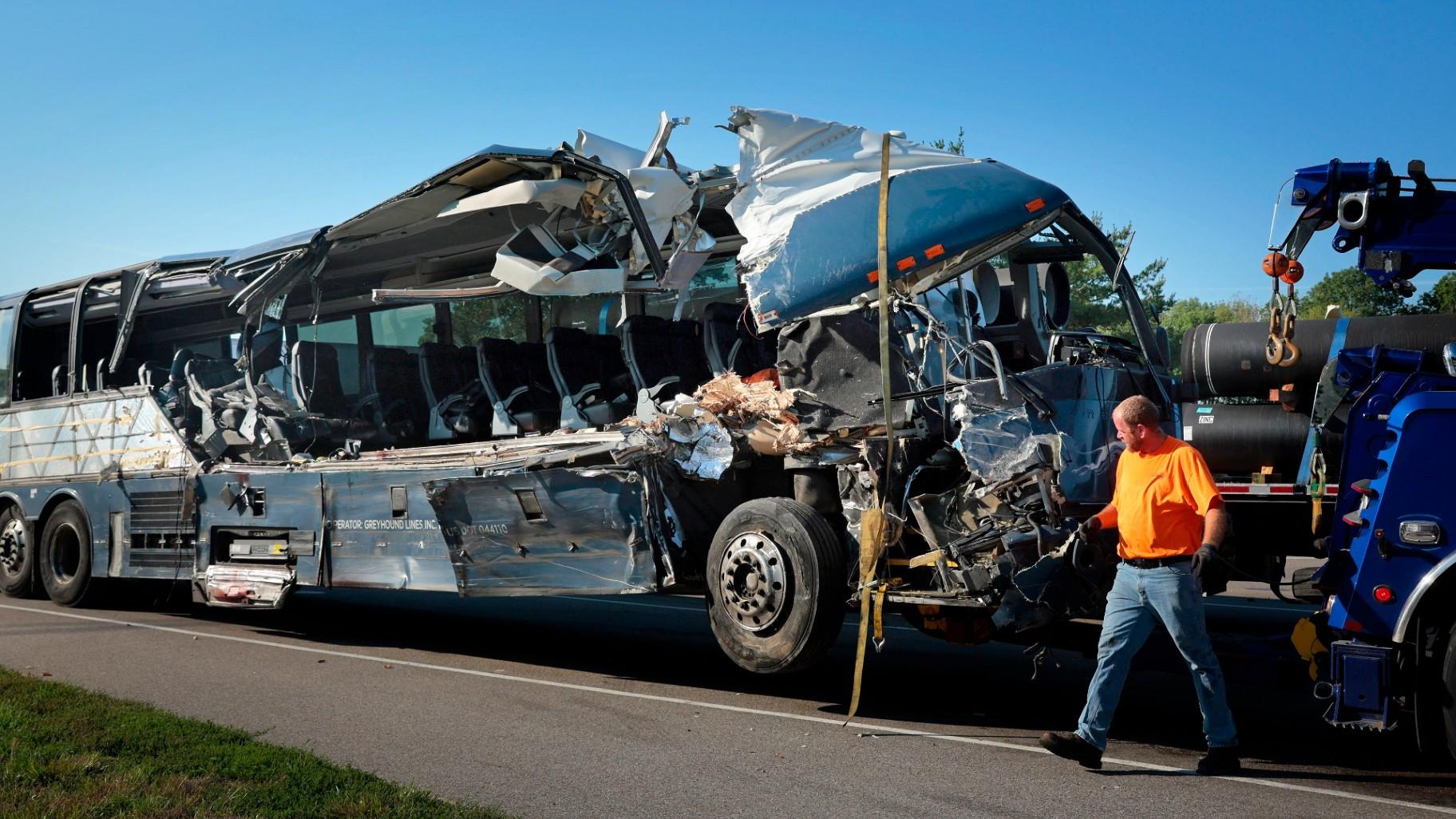 A damaged Greyhound bus is prepared for transport on Wednesday, July 12, 2023, from the scene of a fatal wreck on westbound Interstate 70 after the bus collided with a tractor-trailer near Highland, Ill. (Christian Gooden / St. Louis Post-Dispatch via AP)
ST. LOUIS (AP) — Big rig driver David Cherno was hauling Jimmy Dean sausages on Interstate 70 when he had to stop for the night or risk violating federal regulations limiting driving time for truckers. An Illinois rest area was full, so Cherno parked on the wide shoulder of the exit ramp leading to it — a common practice for truck drivers.
Just before 2 a.m. Wednesday, Cherno was awakened to a frightening jolt that sent him airborne into his dash. He got out and saw the horror: A burning Greyhound bus jammed into his trailer, passengers pushing and kicking at windows trying to get out.
The accident near St. Louis killed three of the 22 bus passengers and left 14 other people, including the driver, injured. The National Transportation Safety Board is trying to determine what caused the bus to strike three parked rigs and will look at factors such as driver fatigue. Investigators also are specifically looking at the safety risks posed by trucks parked on ramps.
"It's absolutely an issue," NTSB board member Tom Chapman said.
An estimated 13 million trucks operate on U.S. roadways, and there aren't nearly enough overnight parking places at rest areas, truck stops or elsewhere to accommodate them. Meanwhile, federal regulations require electronic monitoring that tracks the driver's hours behind the wheel. Violations of "Hours of Service" regulations can result in fines, sometimes reaching thousands of dollars.
As a result, truckers nearing their hourly limits are often forced to find alternative spots to pull off for the night. Many opt for highway off-ramps, especially those at rest areas. The practice is illegal in Illinois and most states but police often look the other way, aware of the plight truckers face. Illinois State Police also are investigating they Greyhound crash and it isn't clear if truckers who were parked near the ramp could be ticketed.
Cherno, who helped pull passengers from the wreckage and extinguish a fire on the bus, insisted he was parked legally because he was far enough on the shoulder and from the highway entrance. He said there were no signs prohibiting parking along the ramp, as there are at some rest stops.
Had his night gone as planned he wouldn't have even been there, he said. Cherno told The Associated Press that he had hoped to make it to Troy, Illinois, to stop Tuesday night, but was at the end of his allowable 11 hours on the road.
"I was 15 minutes from Troy, but these electronic logs will violate you for driving 10 extra minutes to find a parking space," Cherno said.
Some trucking industry advocacy groups say the electronic monitoring has created a situation that compromises safety.
"Drivers run out of time on their clocks and have to find a safe place to park their rigs, and in most cases truck stops are full or they do not have enough time to make it to another location," said Michael Boston, president of the 35,000-member National Owner Operators Association.
Collin Long, director of government affairs for the Owner-Operator Independent Drivers Association, said truckers are often faced with parking on a ramp or finding a remote location off the highway, a spot that has its own dangers.
"We've had instances of drivers assaulted, murdered, robbed because they're parking in places they shouldn't be," Long said. "It puts them in a real no-win situation."
But others say electronic monitoring has helped make roadways safer by requiring rest for truckers. As much as it inconveniences Cherno, he fears that large trucking companies would take advantage of drivers if monitors were removed. But he favors flexibility.
Executive Director Zach Cahalan of the Truck Safety Coalition, which seeks to reduce deaths and injuries resulting from accidents involving trucks, said that before electronic monitoring, paper log books "were referred to as comic books commonly in the industry because they were fiction" and easy to falsify.
"The rules were always there and to blame people holding you accountable for rules that keep you and other people safe is absurd," Cahalan said.
Still, the number of people killed in accidents involving large trucks increased 10% in the first half of 2022 compared to the previous year, according to estimates released in January by the National Highway Traffic Safety Administration.
It isn't known how many accidents nationally involve parked trucks. Studies in two states found alarming numbers.
Last year, the California Department of Transportation released a study showing that from 2014 to 2018, 1,626 crashes in the state involved parked trucks, resulting in 131 deaths. A 2020 study by the Texas Department of Transportation found that from 2013 to 2017, 2,315 accidents involving parked trucks were blamed for 138 deaths.
A statement from the U.S. Department of Transportation acknowledged the truck parking shortage and said more than $70 million has been invested under President Joe Biden's infrastructure law for truck parking facilities. Recent grants have included $22.9 million to Texas, $10.5 million to Louisiana, $15 million to Florida and $22 million to Tennessee.
Republican U.S. Rep. Mike Bost of Illinois sponsored legislation that seeks $750 million over three years to build truck parking spaces across the nation.
As for electronic monitoring, Cherno would like to see some allowance so truckers can find safer parking even if it means going over the time limit by a few minutes. Bost agreed.
"The reality is we need to allow for common sense," Bost said.
---