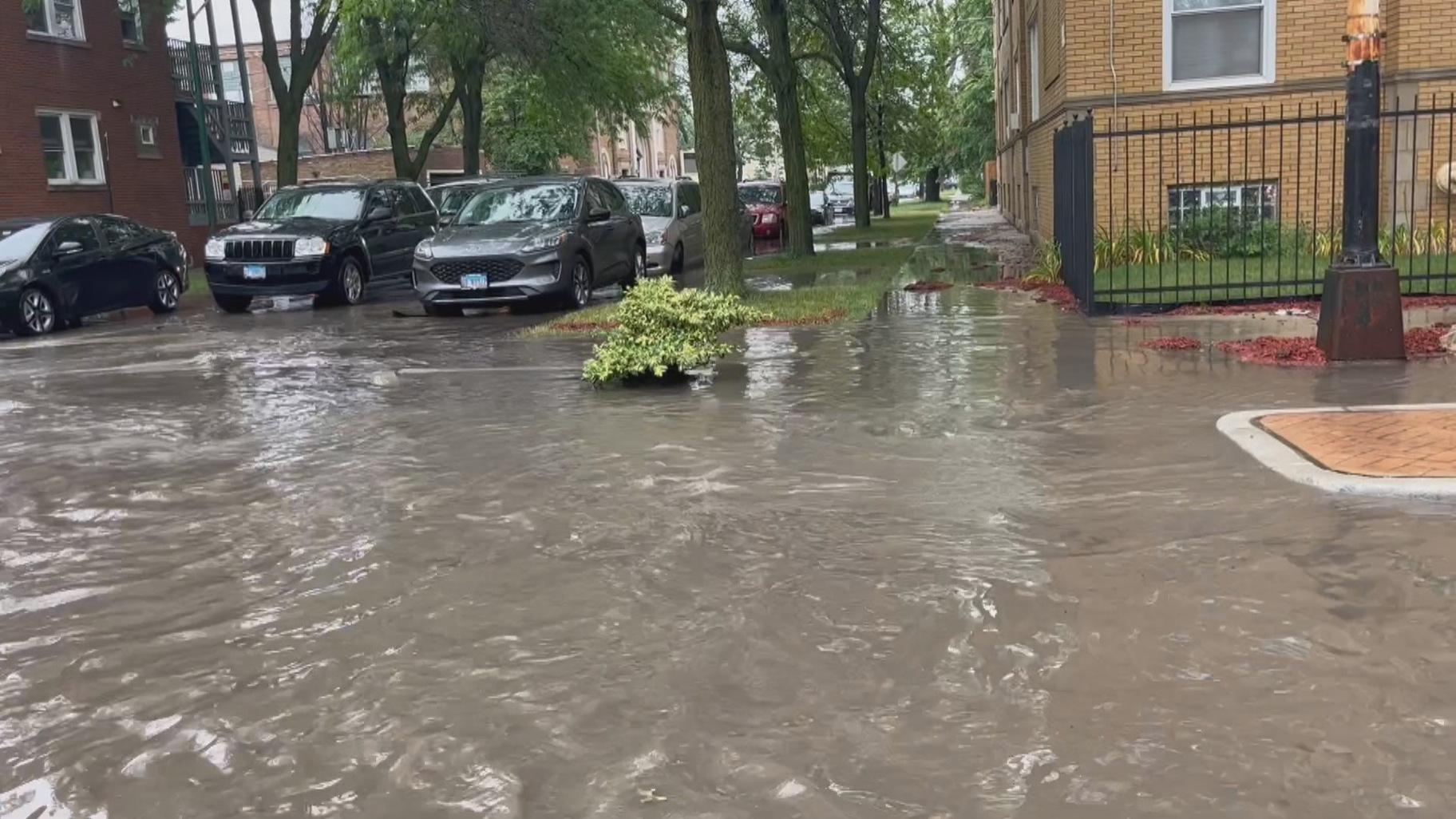 Flooded streets in Chicago are pictured on July 2, 2023. (Paris Schutz / WTTW News)
Gov. J.B. Pritzker issued a disaster proclamation Tuesday covering eight counties across the state that experienced recent flooding, including Cook.
That move gives local municipalities more access to state resources following severe weather and flooding conditions that hit the Chicago area during the July 4 weekend.
The disaster declaration also comes as another flash flood watch is in effect Wednesday across portion of northeast Illinois and northwest Indiana until 7 p.m., according to the National Weather Service. Rainfall may impact roads, low-lying areas and basements, the alert said.  
The governor's office says reports received by the Illinois Emergency Management Agency and Office of Homeland Security found that local resources and capabilities in communities hit by severe storms have been exhausted, calling for state resources in order to assist in recovery efforts.
"To support those impacted across the state, I have signed a disaster proclamation to mobilize every available resource, accelerating the recovery process and providing relief for our residents," Pritzker said in a statement.
Residents on the West Side of Chicago and the surrounding suburbs were hit particularly hard by flooding, leaving some emptying their basements of ruined property and looking at costly repairs.
Some areas saw as much as 8 inches of rainfall on July 2, leading to flash floods and power outages.
"In our community, we have people who live in the basement, who have business in their basement, daycares that they're operating, and to lose everything is just heartbreaking," said Chicago Ald. Emma Mitts (37th Ward) in an interview last week on "Chicago Tonight: Black Voices."
The governor's disaster proclamation also extends to counties in central Illinois, which also experienced several rounds of severe storms followed by flash flooding, hail and tornadoes.
Cook County Board President Toni Preckwinkle also issued a disaster proclamation Tuesday to support continued recovery efforts.
Her office notes that municipalities in suburban Cook County have received more than 3,400 reports of damage to homes and businesses from the severe storms.
The Metropolitan Water Reclamation District of Greater Chicago also had to reverse the flow of the Chicago River for several hours, after storms led river levels to exceed the elevation of Lake Michigan.
"100-year storms are more like 10-year storms at this point," Kevin Fitzpatrick, MWRD assistant director of engineering, said last week.
Contact Eunice Alpasan: @eunicealpasan | 773-509-5362 | [email protected]