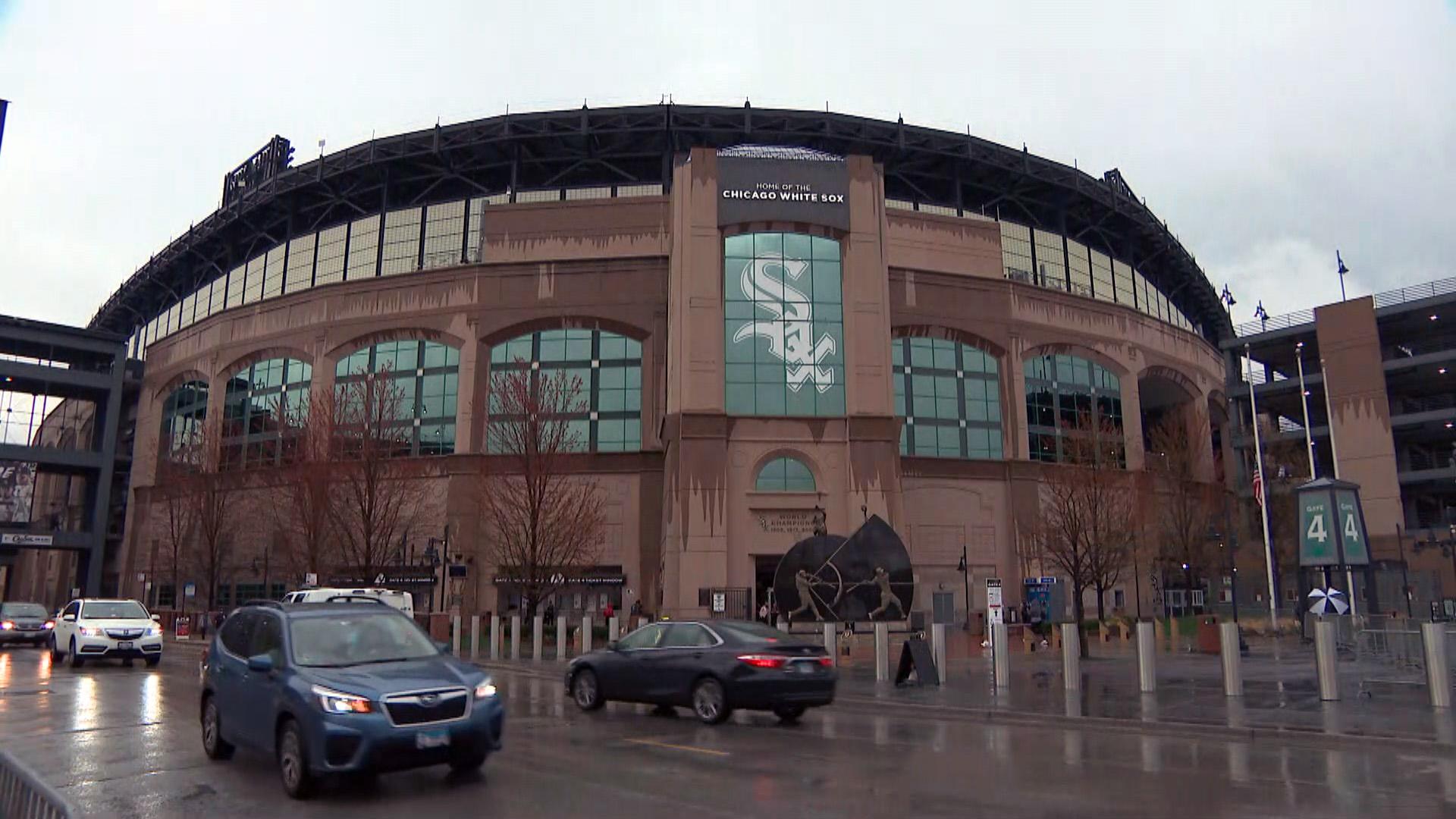 Guaranteed Rate Field (WTTW News)
One of the four pedestrians struck by a vehicle outside Guaranteed Rate Field before a Chicago White Sox game Tuesday remains unresponsive days after the collision, as the alleged driver of the vehicle now faces multiple felony charges.
Condelarious Garcia, 20, faces four counts each of aggravated reckless driving and failure to report an accident, as well as a misdemeanor count of driving on a suspended license and multiple traffic citations.
He was ordered held on a $200,000 D-bond during a hearing Thursday, meaning he must pay 10% of that amount to be released from custody.
The incident occurred around 6:30 p.m. Tuesday in the heavily trafficked 300 block of West 35th Street outside the White Sox stadium.
The four victims were toward the front of a large group of pedestrians crossing the street near the stadium when they were struck by a vehicle heading eastbound allegedly driven by Garcia. When one of those victims, a 64-year-old man, was struck, he was hurled into the air and landed on top of Garcia's vehicle, falling face-first through a sunroof, according to prosecutors.
Another victim flipped through the air multiple times after being struck and was hospitalized with a traumatic brain injury and multiple facial fractures, according to prosecutors. That person remains unresponsive days after the collision.
Garcia allegedly continued driving with the 64-year-old hanging out of the vehicle as officers with the Illinois State Police and Chicago Police Department began a pursuit. Ignoring the emergency lights from those vehicles, Garcia allegedly continued down 35th Street to Wentworth, where he entered a southbound onramp to the Dan Ryan Expressway.
Officers were eventually able to stop Garcia's vehicle as it crashed into a median barrier separating the north and southbound lanes, according to prosecutors, and he was placed under arrest.
A witness who was in the vehicle with Garcia allegedly told investigators there had been no issues during their 30-minute drive before the collision, but that Garcia disregarded warnings from other passengers who yelled at him when they saw pedestrians walking in the street.
Surveillance footage recovered by investigators allegedly showed Garcia's vehicle moving at a high rate of speed past other stopped vehicles, striking a curb and continuing on toward the crosswalk where the victims were walking. Police dashcam footage from immediately after the crash also showed Garcia's vehicle heading from 35th onto Wentworth with the 64-year-old victim's legs and feet visible out of the sunroof, prosecutors said.
The 64-year-old victim suffered two spinal fractures, multiple broken ribs and a dislocated thumb, prosecutors said. Another victim suffered skull, elbow, knee and tibia fractures, while the fourth victim sustained a fractured tibia and dislocated shoulder.
Prosecutors said Garcia does not have a driver's license after it was suspended following previous traffic citations.
During Thursday's hearing, Cook County Judge Charles Beach said the foot traffic around the stadium during Sox games is "painfully obvious" and that Garcia allegedly displayed a "wanton disregard for other individuals."
"The fact that his flight (from the scene) was more important than the safety of the individual lodged in his sunroof, the safety of the people in the car with him," Beach said.
Garcia is due back in court for a June 30 hearing.
Contact Matt Masterson: @ByMattMasterson | [email protected] | (773) 509-5431
---