More than two and a half years after the Jan. 6 attack on the U.S. Capitol, a new study estimates some 12 million Americans would support violence to restore former President Donald Trump to power.
But support for violence is not confined to the extreme right.
Following the overturning of Roe v. Wade by the Supreme Court, 22 million Americans now say force would be justified to restore abortion rights.
Meanwhile, one in 10 American adults believe the U.S. government is run by Satan-worshipping pedophiles.
Those are just some of the latest findings from the University of Chicago's Chicago Project on Security and Threats, or CPOST.
Robert Pape, director of the Chicago Project on Security and Threats and a professor, has been conducting Dangers to Democracy surveys to poll the attitudes of American adults on the use of political violence and their support for conspiracy theories.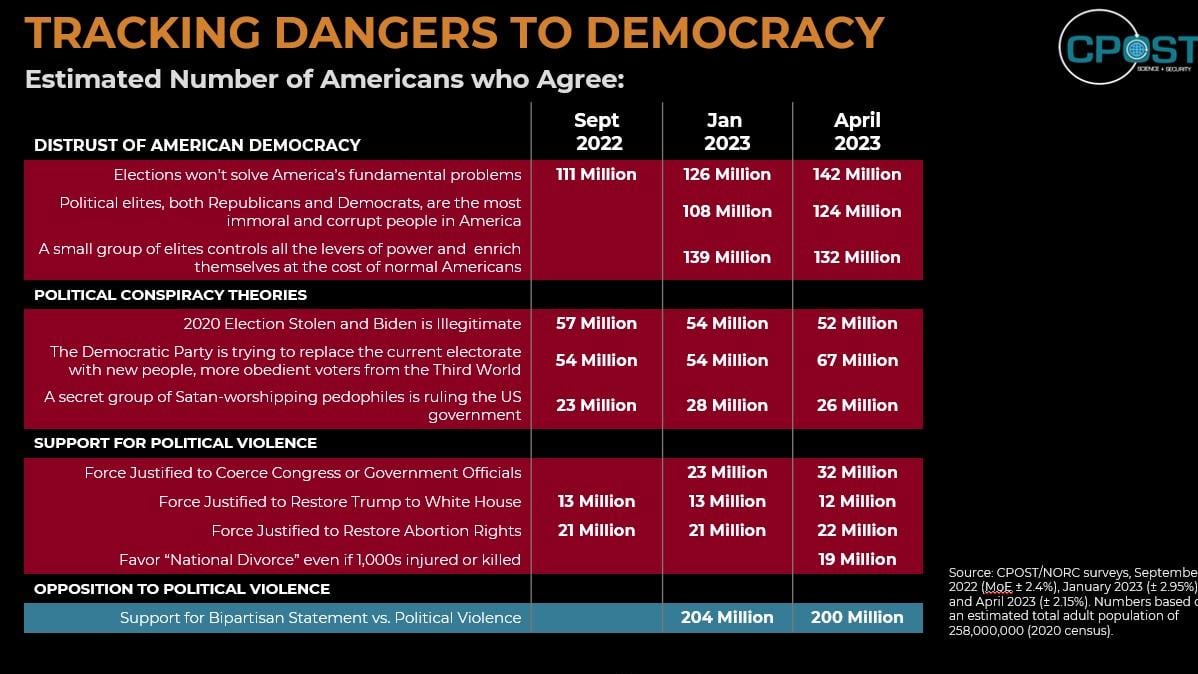 (Credit: CPOST)
The below Q&A has been condensed for length. 
WTTW News: Your latest survey conducted in April found that two and a half years after the Jan. 6 attack on the Capitol you estimate some 12 million Americans still believe violence is justified to restore Trump to power. I suppose the good news is that number is down from a high of 20 million but it is still a very large number.
Robert Pape: The good news is it is down. The bad news is all the decline happened a year ago and it's been flat since.
Talk a little about how you put the survey together. America is so diverse, what gives you confidence you are surveying a representative cross-section of the American public on how they feel about these issues?
So this is the beauty of working with NORC (National Opinion Research Center), which is the leading academic polling agency on the planet. This is one of our crown jewels at the University of Chicago and it's been going since the 1940s. What NORC does is they have a panel of 50,000 people that they refresh every month. That panel of 50,000 is representative of the United States of America's adults. So that's true of demographic factors, geographic factors, that's true of religious factors, ideological factors. And so these surveys are not the, like, $5,000 surveys, think of them as like the $50,000 survey. So you're getting a really representative look at the country.
Your survey also found that 142 million Americans, or 55% of adult Americans, don't believe elections will solve America's most fundamental problems.
That's what you're seeing here. So you ask the question, how can you have a disturbingly high number of people supporting force to restore Trump?
Well, look in the context of the country's confidence in democracy, we have deep distrust of American democracy in the body politic. The use of force to restore Trump is not an outlier. It's an extreme edge, but it's not a fringe.
It is what's missing as the media is trying to interpret the Trump indictment. They just don't understand how deeply Americans have come to distrust democracy.
What is your level of concern as we head toward the 2024 elections?
That we are in a precarious moment for our democracy. And it's because there are millions of Americans who support the use of force rather than agree with election results. But there's also many more Americans who are deeply distrustful of democracy overall.
Our national debate is not making Americans more confident in democracy. It's not just polarization of politicians, it's the stove-piping of our media. It's the lack of ability in the media to have deep and substantive coverage. And that is a huge problem here for our democracy.
There's an underlying large, deep distrust in American democracy that's leading to strong support for conspiracy theories, political conspiracy theories, and leading to support for political violence that's disturbingly high.
---
Note: The findings of the CPOST Dangers to Democracy surveys, which are conducted every three months, are being published by The Guardian. The research is funded in part by the Pritzker Military Foundation, the Anti-Defamation League and William and Penny Obenshain.
---