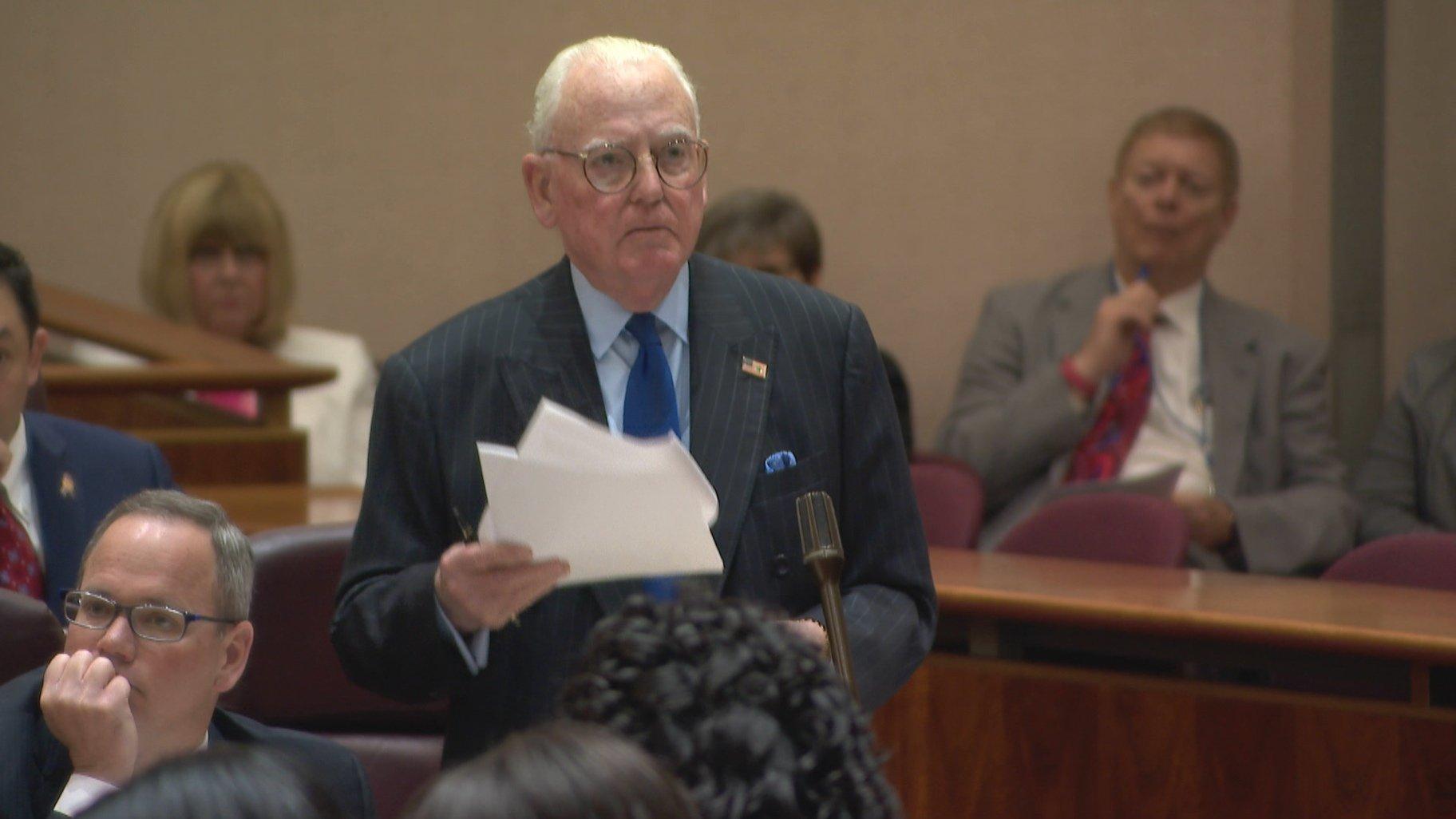 Indicted former Ald. Ed Burke (14th Ward) will collect an annual city taxpayer-funded pension of more than $96,000, even as he awaits trial on federal corruption charges, according to records obtained by WTTW News.
Burke, 79, who did not seek a 15th term on the Chicago City Council, left office after 54 years on May 15.
When he stepped down, Burke was the longest serving member of the City Council, earning more than $120,408 annually.
Burke will start receiving pension payments of $8,027 per month in sometime in August, and they will continue for the rest of his life, according to records obtained by WTTW News from the Municipal Employees' Annuity and Benefit Fund of Chicago.
In all, Burke paid into city pension funds for 62 years. Before becoming the longest serving alderperson in Chicago history, Burke worked for the Chicago Park District and as a detective for the Chicago Police Department. During that time, Burke contributed approximately $300,000 toward his retirement — meaning that he is likely to get that money back in three years. 
Burke is set to stand trial on Nov. 6 on 14 counts alleging the powerful politician repeatedly — and brazenly — used his elected office to force those doing business with the city to hire his private law firm. Burke has pleaded not guilty, and used millions of dollars of stockpiled campaign cash to fund his defense.
If Burke is convicted on those charges, he could lose his pension, since his conduct occurred as part of his official duties as an alderperson.
"Alderman Burke served this city with distinction for well over half a century and has earned his pension," Charles Sklarsky, Burke's lawyer told WTTW News. "He is presumed to be innocent and we expect that he will be acquitted." 
Thirty-seven members of the City Council have been convicted of a crime since 1969. Federal prosecutors have described Burke as "thoroughly corrupt."
Pension benefits for members of the City Council are calculated differently than for any other city employee. While city workers can receive as much as 70% of their average monthly salary, calculated based on their final four years of work, alderpeople can receive up to 80% of their salary after their retirement.
In addition, alderpeople also maximize their pension payments after 20 years of service, while all other city employees must work for 30 years to maximize their pension. 
Tapped to replace his father, Joseph, after his death from cancer in 1968, as the 14th Ward's Democratic committeeperson, Burke went on to win a special election to replace his father when he was just 26.
Burke was sworn into office by former Mayor Richard J. Daley on March 14, 1969 — more than four months before American astronauts would land on the moon and take a giant leap for mankind.
Burke was replaced by Ald. Jeylu Guiterrez, who was born 20 years after he first took office.
Contact Heather Cherone: @HeatherCherone | (773) 569-1863 | [email protected]m
Contact Jared Rutecki: @JaredRutecki | (773) 509-5372 | [email protected]
---