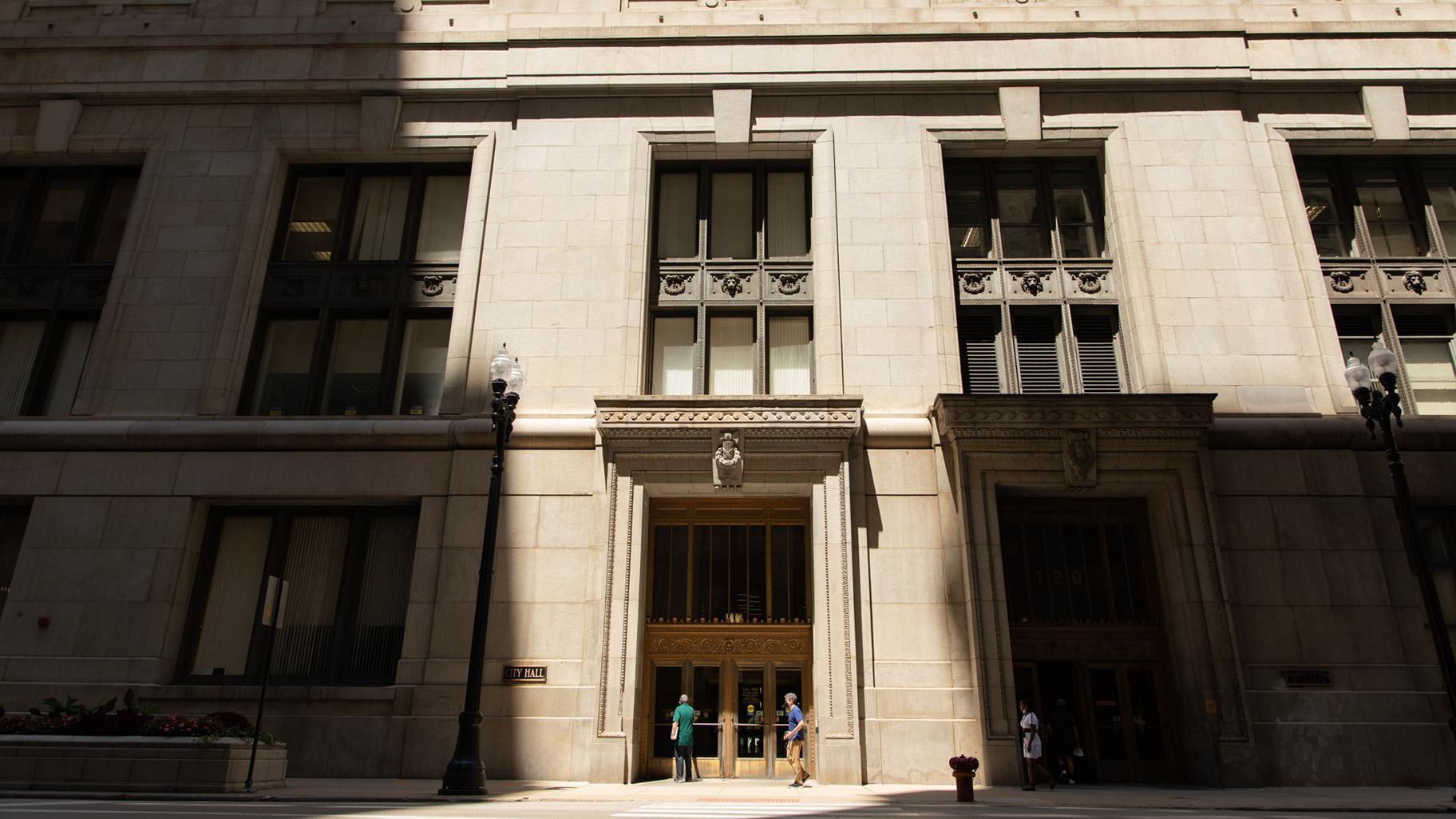 Chicago City Hall. (Michael Izquierdo / WTTW News)
Mayor Brandon Johnson will leap from the frying pan and into the fire on Wednesday when he presides over his first meeting of the Chicago City Council and faces two key votes.
When Johnson picks up the mayor's gavel for the first time, he will have been in office for just 10 days — and if he had a brief honeymoon, Wednesday's meeting of the City Council will signal its end.
Although Johnson had just 41 days to put together his administration and lay the foundation for an ambitious agenda, he spent considerable time negotiating with alderpeople to reach a deal that, if ratified Wednesday, will see the City Council step back from a declaration of independence made five days before Johnson defeated former Chicago Public Schools CEO Paul Vallas in the April 4 runoff.
Johnson's plan asks the City Council to create just one new committee for a total of 20 committees and oust several allies of former Mayor Lori Lightfoot from their plum positions of power as committee chairs, which come with an average budget of approximately $300,000.
That vote could indicate how many of the alderpeople who did not endorse Johnson are nevertheless prepared to support his initiatives and policies — as well as how many are implacably opposed to the new mayor.
The flexible budgets of City Council committees have long been a coveted perk for some of Chicago's most powerful politicians, allowing them to hire political supporters without running afoul of rules that normally prohibit coveted jobs from being awarded to friends and, in some cases, family members.
Ald. Scott Waguespack (32nd Ward) is set to lose his powerful perch as Finance Committee chair after publicly warning Johnson not to attempt to change the plan approved by the City Council, which would have created 28 committees and forced the mayor to negotiate with many of those who opposed his candidacy to even get a hearing on major pieces of legislation.
Waguespack is set to be replaced by Ald. Pat Dowell (3rd Ward), who endorsed Johnson on Feb. 3, giving his campaign a much-needed endorsement from a moderate member of the City Council's Black Caucus. Dowell had also been a close ally of Lightfoot, serving as her budget chair for four years.
Ald. Jason Ervin (28th Ward), who endorsed Johnson in the runoff after backing Lightfoot, is set to become chair of the Budget Committee.
Ald. Michelle Harris (8th Ward) will remain chair of the Rules Committee, even after backing first Lightfoot and then Vallas, only to see Johnson win an overwhelming majority of votes in her South Side ward. Harris also served as Lightfoot's floor leader.
Ald. Carlos Ramirez Rosa (35th Ward) will not only lead the powerful Zoning Committee but also serve as Johnson's floor leader, making Ramirez Rosa the most powerful member of the City Council. That represents a remarkable rise to prominence for Ramirez Rosa, who was just 26 years old when he defeated a powerful incumbent politician tied to the City Council's Democratic machine in 2015, and was once the only Democratic Socialist on the Chicago City Council.
The Chicago City Council now has seven Democratic Socialists, including the newest member of their caucus, Ald. Angela Clay (46th Ward).
Including Ramirez Rosa, five Democratic Socialist members of the City Council are set to lead committees starting in May, a massive expansion of their power at City Hall. Under Lightfoot, no members of the Democratic Socialist Caucus served as committee chairs.
Eleven of the 20 committees are set to be led by City Council members who endorsed Johnson.
Ald. Brian Hopkins (2nd Ward), a prominent supporter of Vallas, is set to lead the City Council's Public Safety Committee.
But others who backed Vallas, including Ald. Walter Burnett (27th Ward), will find themselves on the outside looking in. Burnett, who has led a committee since Daley was mayor, will now serve as vice mayor, a ceremonial position with no real power — or budget.
Wednesday's City Council meeting is also the first for 13 rookie members of the City Council, who have shifted the balance of power at City Hall to the left. Alongside Johnson, they represent a generational shift of political power in Chicago.
Six Black, Latina and Asian American women replaced veteran City Council members, all of them men. Eighteen members of the City Council are women, tying a record.
Nine alderpeople identify as lesbian, gay or bisexual, the most in Chicago's history. The City Council also has 14 Latino alderpeople, an all-time high. There will also be 14 White alderpeople, the fewest in Chicago history. Twenty members of the City Council are Black, a tally that is unchanged since 2019.
For the first time, two Asian American City Council members will take their seats Wednesday. Ald. Nicole Lee (11th Ward) is the first Chinese American to serve on the City Council, and became the first female Asian American alderperson when she was appointed in 2019.
Lee took office alongside Ald. Leni Manna-Hoppenworth (48th Ward), the City Council's first Filipina member.
Once the pomp and circumstance fades on Wednesday, the City Council has real work on its agenda.
The City Council will consider a proposal first introduced by Lightfoot and then backed by Johnson to spend $51 million from the city's 2021 budget surplus to help care for hundreds of migrants who have been sent to the city from Texas, who are now being forced to live on the floor of Chicago police stations.
The city's existing shelter system of approximately 3,000 beds is full, and another 3,000 people are living in emergency shelters, like the one at the former Wadsworth Elementary School in Woodlawn that generated a massive amount of controversy.
Those funds will only be enough to care for the people who have already arrived in Chicago for just another six weeks, according to budget estimates presented to the City Council, ensuring that the issue will remain at the top of Johnson's to-do list and the City Council's agenda.
In all, city officials expect to spend $112 million to care for migrants through the end of June. Despite pleading for help from state and federal officials, the city has received just $30 million from the state and $4.3 million from the federal government since Jan. 1. The city received just $5.5 million from the Federal Emergency Management Agency to care for immigrants who arrived in 2022.
Contact Heather Cherone: @HeatherCherone | (773) 569-1863 | [email protected]
---