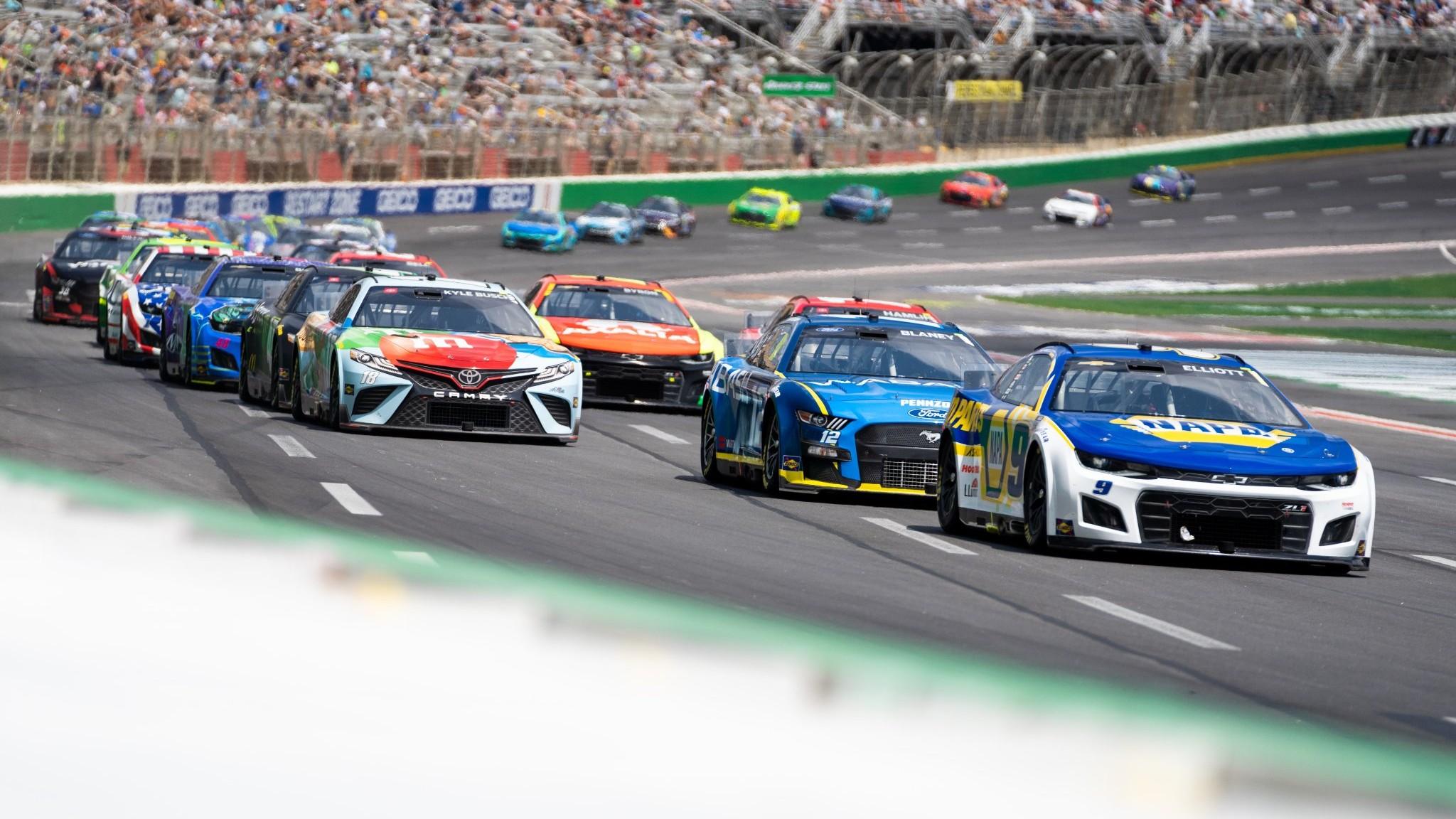 (NASCAR / Facebook)
NASCAR's upcoming Chicago Street Race won't look like any of the sport's other races — the street race is a NASCAR first — and it won't sound like any other one, either.
For only the second time, NASCAR Cup cars will be outfitted with mufflers, just one of the actions being taken by race organizers to head off concerns about noise, Julie Giese, president of Chicago Street Race, said during a presentation Wednesday to the Chicago Park District Board of Commissioners.
Giese's update to commissioners was something of a courtesy call. Though commissioners are now in a position to grant or deny permit approval for large events in Chicago's parks, NASCAR's existing contract with the city preempts the Park District's authority. 
The mufflers are new to the circuit in 2023 and will only be used on short tracks and street courses. They were first tested in January and then added to cars for February's Clash at the Coliseum, held in Los Angeles.
Reviews of the mufflers have been mixed.
A sizeable contingent of diehard NASCAR fans hate the mufflers.
I'm so grateful to @NASCAR for putting mufflers on those loud cars.

Said no real race fan ever.

— Elmo Splivin (@Leonssplivin) February 5, 2023
---
And there are concerns about the heat the mufflers create in the cars' cabins.
Dude NASCAR is going soft. Putting mufflers on their cars to "make it quieter for the fans"…

NO ONE GOES TO NASCAR RACES TO HEAR QUIET CARS. Idiots.

Meanwhile the mufflers turn the cars into ovens because the heat has nowhere to go. Ty Gibbs found that out yesterday so dumb pic.twitter.com/fWV4dRR76K

— Jacob (@ChiefPondHockey) February 6, 2023
---
While on the flip side, others have said the reduction in decibels is negligible.
I love a loud race as long as I've got earplugs. (I sort of like my hearing.) But nothing beats the feeling of sound rattling your bones at the racetrack. Mufflers won't change that. #NASCAR #LAColiseum #BuschClash #mufflershttps://t.co/q8gJNefBYy

— Diandra (@drdiandra) February 2, 2023
---
Alanis King, a contributing editor at Road and Track, attended the L.A. race and gave a thumbs-up to the mufflers, writing: "It made the experience that much more visceral. We could hear — not just see — exactly what the drivers were doing and when they messed up, because the stadium wasn't reverberating a sharp, constant drone the whole time."
"The sound was also manageable when the multi-car heat and feature races began," she said. "We used earplugs simply because we brought them, but I could easily carry a conversation at a mild yell during green flags and a normal tone under caution."
As divisive as the introduction of mufflers has been among the NASCAR faithful, it's nothing compared with the angst the street race has generated among Chicagoans, particularly those who live downtown. 
In addition to noise, neighbors have raised issues including traffic/street closures, safety and the loss of access to Grant Park — not just during race weekend but also set-up and teardown.
Here's how some of those complaints are being addressed.
Access:
— According to the Park District, there will be "usable space" within Grant Park the "vast majority" of days during the summer. Adjacent green spaces such as Millennium Park and Maggie Daley Park will remain open during the NASCAR event, officials added. The city has already arranged a pick-up and drop-off area for day camp participants at Maggie Daley.
— Giese added that Grant Park's dog park and skate park will be open, as well as the pedestrian path to the Museum Campus. Buckingham Fountain will be reopened to the public for the Fourth of July, she said.
— The course build schedule has been reduced by a week, Giese said. A website has been created to house all of the relevant information for locals regarding the timing of the build and street closures.
Noise:
— In addition to the mufflers, Giese said no cars will be on the track before 10 a.m. 
— There will be no post-race concert on Sunday night. "We'll make sure everything is quiet by 10 p.m.," Giese said.
Safety
— According to Giese, first responders from Chicago have visited other NASCAR sites to become familiar with safety practices.
Contact Patty Wetli: @pattywetli | (773) 509-5623 |  [email protected]
---