The upcoming NASCAR Chicago Street Race will test resident Chicago motorists' navigation skills as they look to avoid street closures during the month-long setup and teardown of the race course and viewing stands.
Setup and teardown for the upcoming NASCAR Chicago Street Race in July will take more than a month and block off portions of Michigan Avenue, DuSable Lake Shore Drive, Columbus Drive and Jackson Drive.
City and race officials on Monday detailed their traffic plans for the July 2 race, which will include a 12-turn, 2.2-mile track that will close off several streets around Grant Park beginning June 25 and extending into mid-July.
"The City of Chicago has been working with NASCAR in the planning and execution of the race to minimize disruptions to residents and visitors while making it a safe event for everyone," Rich Guidice, executive director of the Office of Emergency Management and Communications, said in a statement. "Safety is our top priority, and we will help monitor all race activity leading up to the event, through the race weekend, and following the event to help coordinate city resources and expectations."
Here's the schedule of parking restrictions and road closures.
— June 2, 6 a.m.: Parking restrictions along southbound Columbus Drive between Jackson and Balbo drives. 
— June 5: Parking restrictions extended to northbound Columbus Drive between Jackson and Balbo drives.
— June 10: Full closure of Ida B. Wells Drive between Michigan Avenue and Columbus Drive to allow for construction of the main viewing areas.
— June 17: Temporary road closures as track walls are installed.
— June 25: Columbus Drive shut down between Jackson Drive and Roosevelt Road.
— June 28, 10 p.m.: Southbound DuSable Lake Shore Drive will close from Randolph Street to McFetridge Drive.
— June 29: Roosevelt Road will close east of Columbus Drive, as will northbound Michigan Avenue.
— June 30: Southbound Michigan Avenue between Balbo and Jackson drives will shut down.
— July 1, 4 a.m.: Northbound DuSable Lake Shore Drive will close between McFetridge Drive and Randolph Road as an added safety precaution.
Northbound DuSable Lake Shore Drive will reopen upon the race's conclusion July 2, while other roads will begin opening back up by 7 a.m. July 3. But teardown of the race course is expected to take several days, with all activities slated to be concluded by July 15.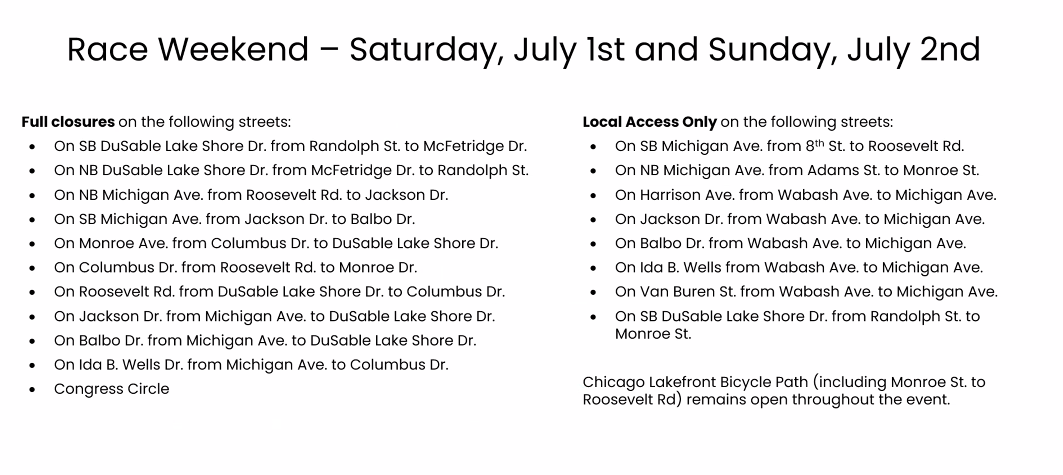 (City of Chicago)
Businesses along the affected roads will remain open, according to officials, as will public access to Buckingham Fountain, the Lakefront bike trail and the Museum Campus.
City officials suggest the following routes for getting around the closures:
North/south access:
State Street
Dearborn Street
LaSalle Street
Wells Street
Franklin Street
Upper Wacker Drive
East/west access:
Upper Wacker Drive
Randolph Street
Washington Street
Madison Avenue
Roosevelt Road
18th Street
22nd Street/Cermak
A virtual community engagement meeting to discuss the traffic plans with residents is scheduled Wednesday. Details on how to participate in the meeting will be released Tuesday, officials said.
City officials expect 50,000 people to attend race activities July 1 and July 2.
Contact Matt Masterson: @ByMattMasterson | [email protected] | (773) 509-5431
---