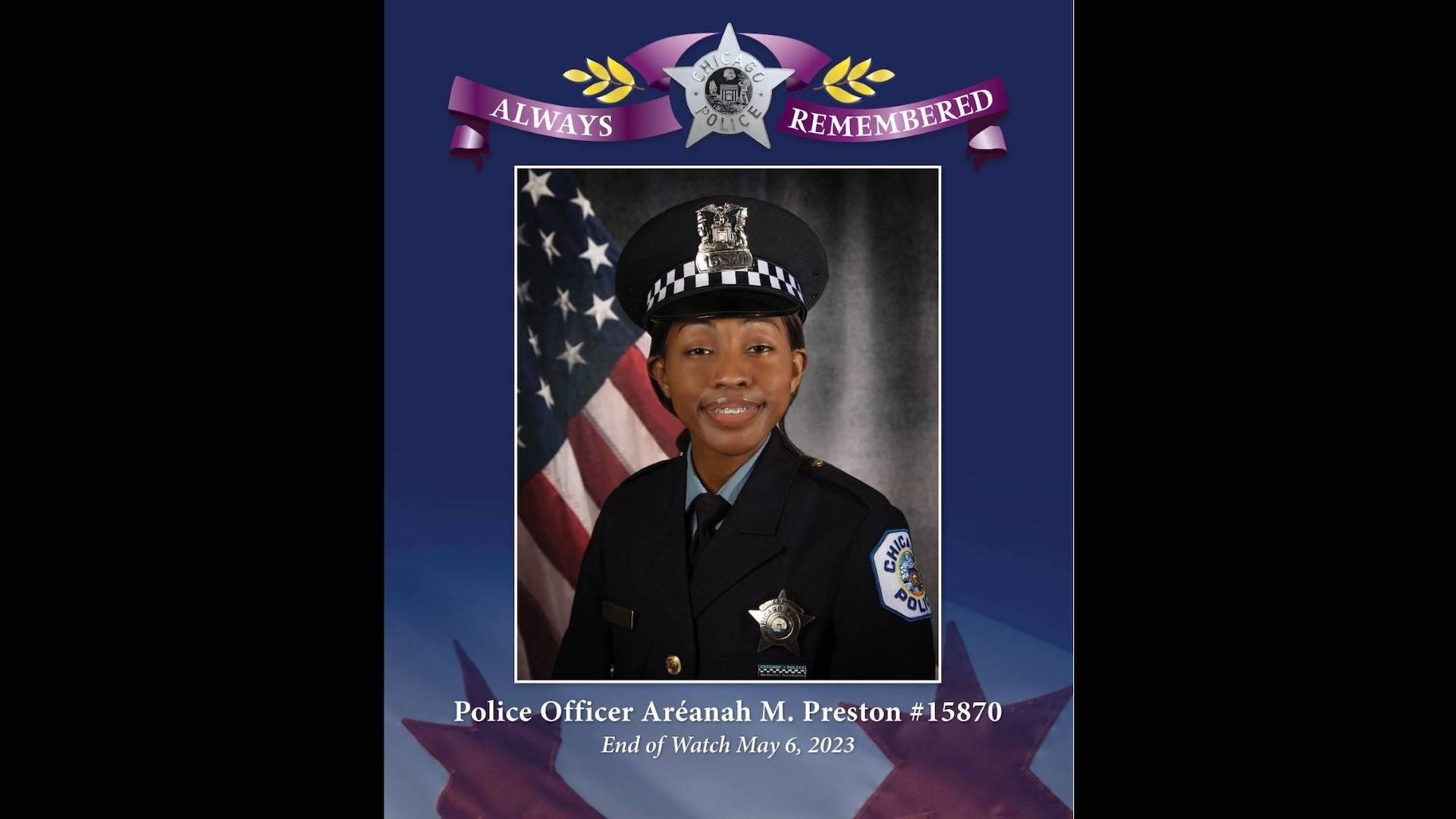 Officer Aréanah Preston (Chicago Police Department)
One of the teens charged with the murder of Chicago police Officer Aréanah Preston allegedly admitted that he and three others intended to rob her, but he fatally shot Preston when she reached for her own firearm as they approached.
Interim Police Superintendent Eric Carter announced that four teens have been charged with murder stemming from the fatal shooting early Saturday morning: Trevell Breeland, 19, Joseph Brooks, 19, Jakwon Buchanan, 18, and 16-year-old Jaylan Frazier, who has been charged as an adult.
Carter called Preston a "beloved daughter, sister and friend who wanted to make a difference in this world."
"Those who knew her would tell you that's exactly what she did," Carter said.
Each of the four defendants faces at least a half-dozen felony charges, including counts of first-degree murder, felony murder, armed robbery and burglary. Breeland, Buchanan and the juvenile also face arson charges.
Brooks allegedly admitted to investigators that he fatally shot Preston.
Carter said the teens were also believed to be involved in numerous armed robberies that occurred just before the fatal shooting.
All four defendants were held without bail during a hearing Wednesday afternoon. During that hearing, Cook County Judge David Kelly said it appeared the defendants were involved in a "violent crime spree" and said that prosecutors presented a "mountain of evidence" to support those allegations.
The four allegedly robbed multiple people at gunpoint beginning around midnight Saturday before attempting to rob Preston outside her Avalon Park home around 1:45 a.m. after she returned from her shift.
The first alleged robbery occurred in the 900 block of East 46th Street, where a 33-year-old woman parked her vehicle and began walking toward a restaurant. According to Assistant State's Attorney Anne McCord Rodgers, all four defendants were carrying firearms and wearing face coverings when they approached her and stole her credit cards and phone, as well as some clothing items, from the woman.
Less than an hour later, the defendants allegedly stole a red Kia Forte from the 4700 block of South Indiana Avenue and then drove that to the 10000 block of South Wallace Street, where they then robbed two women who had been talking outside of a home just after 1 a.m.
Around 1:30 a.m., the four drove the Kia to the 9100 block of South Merrill Avenue, where they allegedly robbed a man who had just parked his vehicle on the street. McCord Rodgers said they took the man's keys and phone, but both were later recovered blocks away.
About 15 minutes later, the Kia was seen on video driving past Preston as she walked to her home in the 8100 block of South Blackstone Avenue, McCord Rodgers said. The vehicle circled around the block and came back before the vehicle pulled over and three people could be seen exiting and running toward Preston — who was still wearing her police uniform.
As they approached, McCord Rodgers said, muzzle flashes could be seen both from the area where the defendants were and from where Preston was standing. The three teens then allegedly ran back to the Kia, but one returned to Preston and allegedly took her firearm before finally leaving.
Preston was struck twice, one time in the face and once in the neck, and was pronounced dead at the University of Chicago Medical Center.
McCord Rodgers said cell phone data put the defendants at each of the alleged crime scenes at the time the various crimes occurred, and witnesses who were with the defendants earlier in the evening identified them in photo arrays.
The teens allegedly abandoned the Kia in the 7200 block of South Eberhart Avenue and set the vehicle ablaze.
McCord Rodgers said Frazier called a friend later on Saturday and admitted that he was involved in Preston's shooting. That friend then contacted police and called Frazier back in front of officers, at which point he allegedly made further admissions of his involvement, which included details that had not been released publicly.
Buchanan was arrested Sunday after ordering an Uber to take him to an ex-girlfriend's home where he intended to "lay low," McCord Rodgers said. As Buchanan was being taken into custody, he allegedly yelled to Brooks and Breeland, who were in a residence nearby. They were each subsequently arrested following an hours-long standoff.
While in custody, Brooks admitted that he was with the other defendants during the early morning hours of Saturday and that they were robbing people, according to McCord Rodgers. He also allegedly admitted that he opened fire on Preston because she reached for her gun.
Breeland, Brooks, Buchanan and Frazier are all due back in court for a hearing May 30.
Contact Matt Masterson: @ByMattMasterson | [email protected] | (773) 509-5431
---