Last fall, artist Amanda Williams and a small army of friends and neighbors participated in an act of faith and reclamation in the Washington Park neighborhood. In the footprint of nearly two dozen lost buildings, they planted 100,000 red tulip bulbs around the intersection of 53rd Street and Prairie Avenue. The project, titled "Redefining Redlining," is now in full bloom.
"Just from a color standpoint, red is always going to be arresting and — to get very dorky — it's the compliment of green," Williams said. "So in a field of green, that red is the color that's going to pop the most. So just from an aesthetic standpoint, you know that it will always work. And then from a conceptual standpoint, it was a must to kind of emphasize the idea of redlining and give people other images to think about in relationship to that term."
Williams said she lives nearby enough that she is able to visit the project often while it's in bloom, and she's received positive feedback from the community.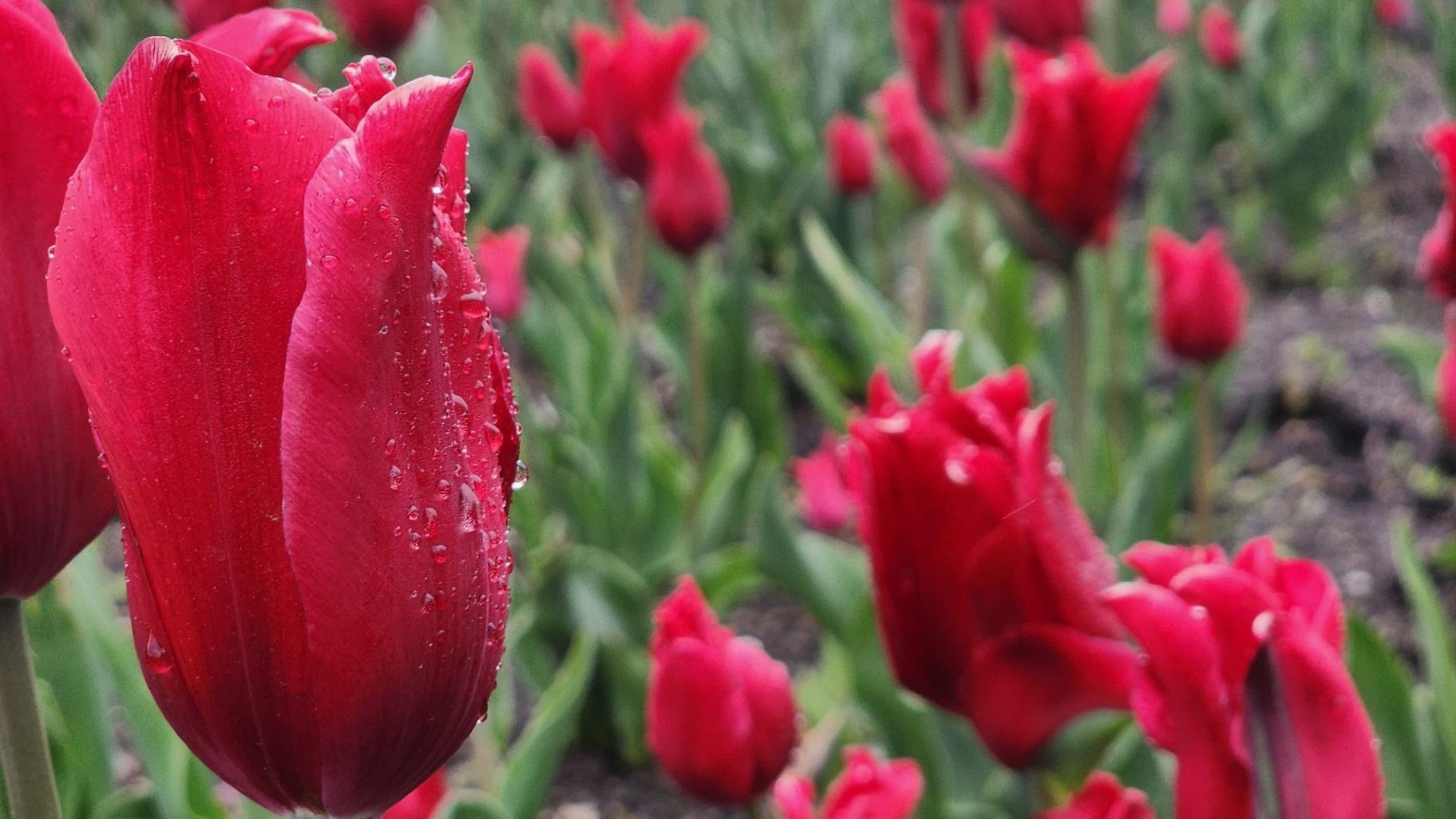 (Erica Gunderson / WTTW News)
"Sometimes I'll come upon a vantage point of it that I didn't expect or didn't realize intersects with it," Williams said. "So I'll pull over, I'll stop and someone will say, 'Can you believe it?' or 'Isn't that beautiful?' or 'I love that red that you can see in the distance.' I had a woman yesterday actually come and introduce herself and say, 'I walk out of my door, and I see this and it just changes my whole day.'"
Williams said the vacant lots are a mix of public and privately owned land, but she's not too worried that development is coming anytime soon.
"I don't really see any rush on any of their parts to develop it, but there is an ephemerality about it that then also means if that were to happen, do people feel empowered to push back in a way that they wouldn't had something just started this spring?" Williams said. "It's also really interesting to think about who people think good things are for. Who is good design for? Who are interesting art projects for? Who is beauty for? This answers that, but it also brings to the fore that people still feel a discomfort or still feel a suspicion, rightfully so, because they've spent their whole lives being lied to or disappointed or not invested in. So this is one tiny step that then needs the proof, right, of coming back and coming back and coming back and then we can start the conversations about how to improve these conditions."
Williams also developed a robust set of educational resources related to this project, all available for free download on the "Redefining Redlining" website.
---