"Chicago Tonight" is hitting the streets to speak with your neighbors, local businesses, agencies and leaders.
Construction often means disruption.
That's certainly been true in Edgewater and Uptown as the CTA's been working to rebuild century-old tracks and stations as part of its Red Line and Purple Line modernization project. And with that project kicking off just as the COVID-19 pandemic hit, the challenges have been felt even more acutely.
Two of the four stations along a stretch of Edgewater and Uptown are entirely shut down: Berwyn and Lawrence.
Interactive map: More from our community reporting series
Tammy Chase, a spokeswoman with the CTA, said the agency is about midway through rebuilding more than a mile stretch of tracks between Lawrence and Bryn Mawr avenues. In addition, the CTA is building four new Red Line stations in the area.
The Bryn Mawr Red Line stop is pictured on May 4, 2023. (Michael Izquierdo / WTTW News)
At the Bryn Mawr stop, there's a temporary station for riders. The continuing construction means big shifts in the foot traffic businesses in this neighborhood are used to.
A year ago this week, Mark Towns and his partner signed a lease to open Edgewater Candles on Bryn Mawr Avenue. Living nearby, they knew about the struggles businesses on Bryn Mawr have faced over the last three years.
"Opening up in this gorgeous building on this cute little corner with all this light, I think, was only possible because of the opportunities presented because of all the vacancies," Towns said.
The store sells candles, incense and Edgewater-themed swag and hosts candle-making classes. Towns said community members are supporting the business — and he sees that as the key to keeping Bryn Mawr vibrant.
"It's great if your neighborhood has a bunch of little cute things," Towns said. "It's important for the people that live in the neighborhood to shop in their neighborhood."
Towns said he knows of a couple other storefronts on Bryn Mawr that will soon be vacant. The street has had a challenging three years, between the Red and Purple Line construction and the COVID-19 pandemic.
But the Edgewater Chamber of Commerce's Christina Pfitzinger said business owners have stayed nimble.
"They're constantly changing menus, changing options, looking for ways to attract new people and bring people back who maybe don't dine in as often as they used to," Pfitzinger said. "A lot more thinking on your feet than maybe you used to do."
Pfitzinger expects to see a couple new businesses crop up soon. Despite the upheaval of the construction, she credits the CTA with clear communication about what to expect and assistance promoting local businesses.
"You can now actually see those tracks starting to come to fruition," Pfitzinger said. "You can kind of feel that excitement on that side of the street really bringing people back out, I hope over the next couple of years."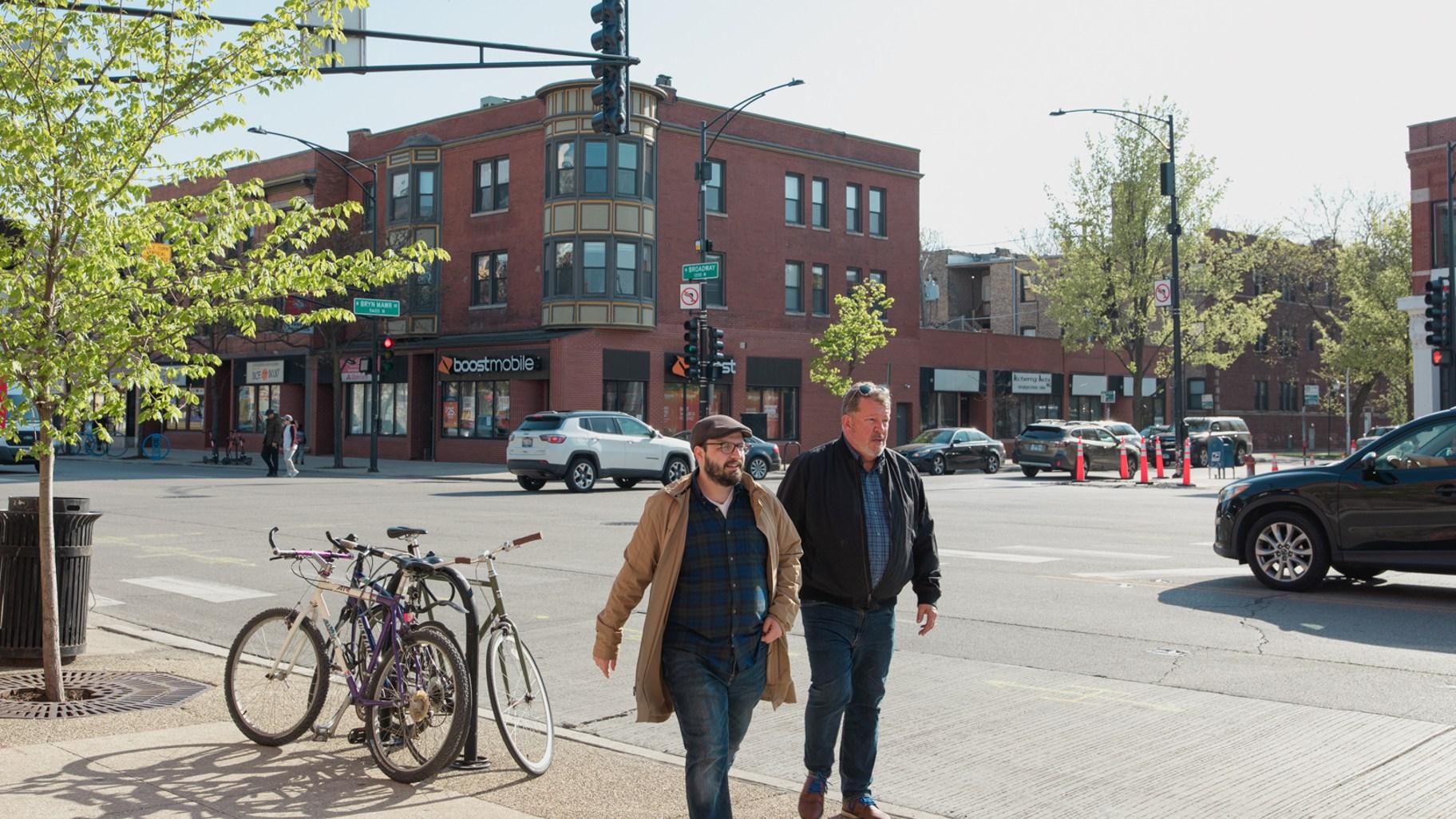 (Michael Izquierdo / WTTW News)
Maria Sigman is a third-generation business owner on Bryn Mawr and has seen plenty of ups and downs. She opened Salon Echo in 2005.
"We were doing really well, growing," Sigman said. "We had a really busy salon. 2008 came, and I had to think on my feet."
Sigman's salon held on through that recession and more recently through COVID-19 and Red Line reconstruction. She said the community makes the challenges worthwhile.
"The diversity of the neighborhood, the other business owners, the community itself, it's very inviting, very welcoming," Sigman said.
With work on the northbound train tracks set to wrap up soon and new stations on the way, Sigman is hopeful about the new phase.
"We just don't get that same amount of foot traffic that we have," Sigman said. "I'm excited about the prospect of the pedway."
That pedway Sigman is referring to is about a mile of newly open public space under the train tracks — space that for the last century has been blocked off by solid embankment walls under the "L."
Video: Watch our full interview with CTA spokeswoman Tammy Chase.
---
"Underneath the tracks there's going to be this brand-new space that hasn't existed for 100 years since this railroad was built," Chase said.
There will be community input for residents to have a say in what goes under the tracks near their block. Chase said that could range from parking to spaces for community markets.
"In what city can you offer brand-new space to offer people who live there?" Chase asked.
---
Community Reporting Series
"Chicago Tonight" is expanding its community reporting. We're hitting the streets to speak with your neighbors, local businesses, agencies and leaders about COVID-19, the economy, racial justice, education and more. See where we've been and what we've learned by using the map below. Or select a community using the drop-down menu. Points in red represent our series COVID-19 Across Chicago; blue marks our series "Chicago Tonight" in Your Neighborhood.
---