Jurors have convicted the so-called "ComEd Four" in their high-profile political bribery case, finding they worked to corruptly influence former Illinois House Speaker Michael Madigan.
Ex-ComEd CEO Anne Pramaggiore, former ComEd lobbyist Mike McClain, retired ComEd executive John Hooker and ex-City Club of Chicago president and former ComEd consultant Jay Doherty were each found guilty Tuesday afternoon of bribery conspiracy, bribery and willfully falsifying the company's books.
"The state of Illinois unfortunately has a deep seeded public corruption problem — corruption that erodes and eats away at people's confidence in their government and in their elected officials," Acting U.S. Attorney Morris Pasqual said. "Rooting out and prosecuting those who participate in corruption has been, is and will continue to be a top priority of the United States Attorney's Office."
Pramaggiore, 64, and McClain, 75, were each convicted on nine counts, while Hooker, 74, and Doherty, 69, were found guilty on six charges. The verdicts came after jurors deliberated over five days beginning last week.
Federal prosecutors have painted the defendants as a close knit group of "conspirators" who plotted to give "a continuous stream of benefits" to "corruptly influence and reward Madigan" in order to get his support on Springfield legislation that would benefit the utility company.
"Madigan wanted, ComEd gave and ComEd got," Assistant U.S. Attorney Diane MacArthur repeated throughout her closing arguments last week.
When Madigan said jump, MacArthur said, the defendants asked "how high."
Prosecutors argued the four did this through a number of means, including paying Madigan allies as ComEd subcontractors, who in turn would actually do little or no work for the utility company. They also allegedly offered a lucrative contract to a law firm run by Madigan ally Victor Reyes and fought to get Juan Ochoa appointed to the ComEd board of directors at the former speaker's behest.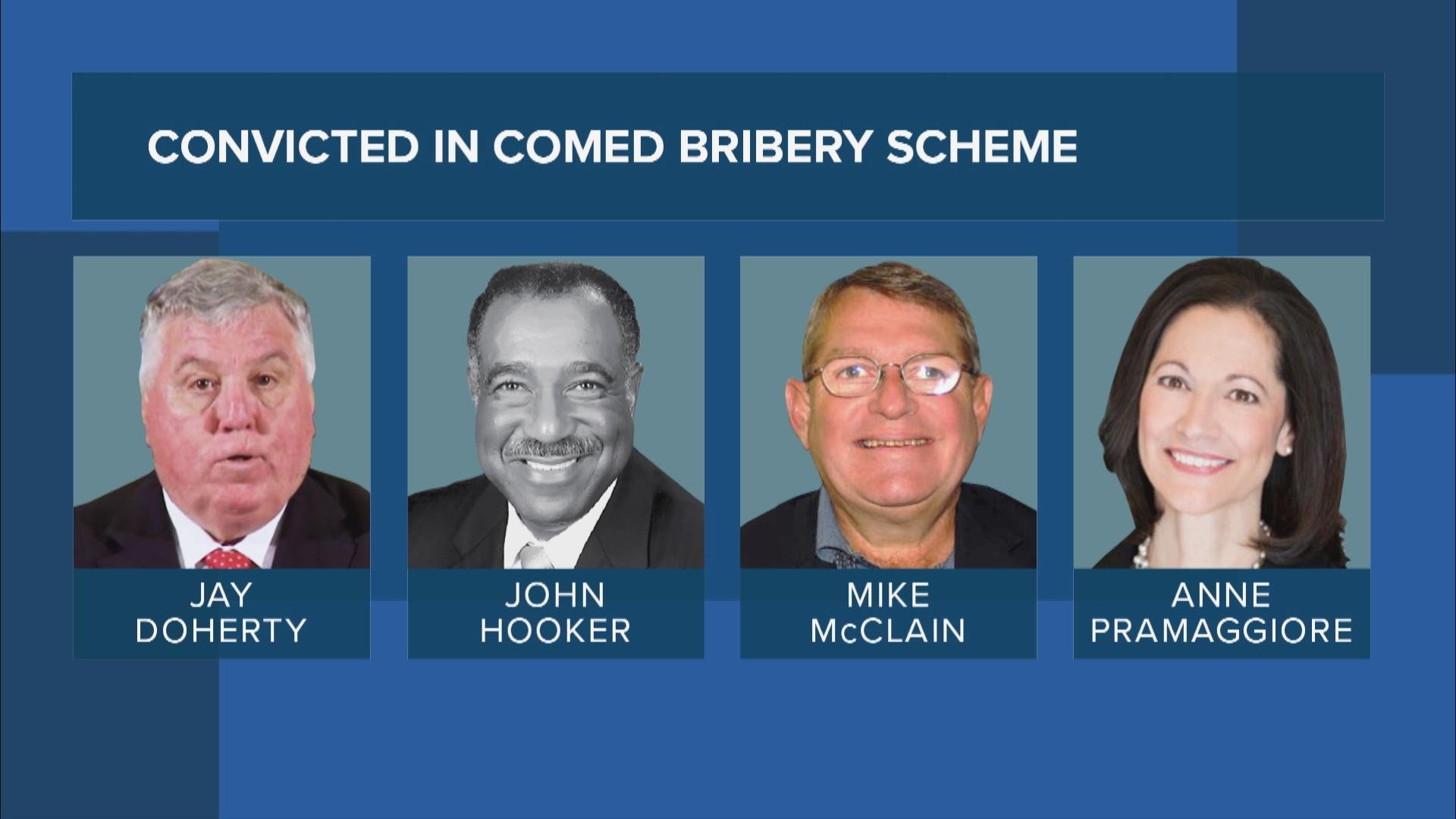 Ex-City Club of Chicago president and former ComEd consultant Jay Doherty, retired ComEd executive John Hooker, former ComEd lobbyist Mike McClain and ex-ComEd CEO Anne Pramaggiore were found guilty. (File photos)
Madigan was not charged in this case, but faces a separate racketeering and bribery trial next year alongside McClain.
Following the verdict, juror Amanda Schnitker Sayers told reporters that the jury tried to avoid talking about Madigan during their deliberations. But even so, she said their perception was that Madigan "really did cause this all to happen."
Schnitker Sayers, a veterinarian from Logan Square, said jurors are tired of the political corruption seen throughout Illinois over the years, and hopes this verdict can be seen as a "landmark" moment.
"I certainly hope so," she said. "I want things to change. There are big reasons why this state and this city are deeply in debt and this should be a landmark where we start to do better for ourselves, for our children and have pride in our city and our state and not make any shady deals to get things done because we don't need to."
Defense attorneys claim these actions were hardly untoward, and actually represented nothing more than legal lobbying efforts to curry Madigan's support.
During the lengthy trial, jurors heard from numerous witnesses including Fidel Marquez, ComEd's vice president of government affairs turned government mole after he secretly recorded numerous conversations with the defendants and later pleaded guilty to a bribery charge.
In one of those conversations from early 2019, Marquez asked Doherty about the subcontractors: "Do they do anything or what do they do? What do you have them doing?"
Doherty replied: "Not much." He then goes on to warn Marquez, saying he wouldn't "tinker" with the specifics of the contract.
"Your money comes from Springfield, ComEd money," Doherty said in the recording. "My bottom line advice would be, if it ain't broke, don't fix it with those guys."
One of those subcontractors, former precinct captain Ed Moody, testified that while he received a ComEd paycheck, he did minimal work for the company and believed he was actually being paid to continue working as a political operative on Madigan-connected campaigns.
Jurors also heard from Pramaggiore, who testified that she was not particularly close to Madigan, whom she said was not seen as an ally of ComEd. She denied being part of any conspiracy to influence the former speaker.
During closing arguments, McClain's attorney Patrick Cotter said while jurors may find some of what they heard distasteful, and while they may not like politics or lobbyists in general, it was all above board and legal.
"Lobbying and politics are not illegal," Cotter said. "Don't let what some of you may have as a natural dislike for politics and politicians and lobbying and lobbyists interfere with your ability to judge this case. This case isn't about lobbying or politics."
Cotter contended that Marquez was tantamount to a liar in that he was a "really good actor" who cooperated with the government "out of fear" he would otherwise be facing a 33-year prison sentence.
After the verdict, Pramaggiore's attorney Scott Lassar said he was "disappointed" in the outcome and plans to file an appeal, though he wouldn't provide any details about the grounds for that appeal.
A sentencing date has not yet been set.
The defendants face up to five years in prison on the bribery conspiracy charge. They also face up to 20 years in prison on each count of falsifying records and up to 10 years on each bribery charge.
Amanda Vinicky contributed to this report.
Contact Matt Masterson: @ByMattMasterson | [email protected] | (773) 509-5431
---