"Chicago Tonight" is hitting the streets to speak with your neighbors, local businesses, agencies and leaders.
More than 7,000 migrants have arrived in Chicago via buses and planes since late August. They were sent by Texas' governor after arriving at the U.S.-Mexico border from countries like Venezuela and Peru.
Meanwhile, it's been almost three months since some of those migrants were moved into the shuttered Wadsworth Elementary School in the Woodlawn community following objections from some nearby residents.
Others have joined forces to help integrate their new neighbors into the community as a way to build cultural bridges.
Interactive map: More from our community reporting series
Senior pastor Kenneth Phelps at Concord Missionary Baptist Church, located just a few blocks from the former school, is opening his doors to the migrants.
"We literally camped outside and passed out flyers to people coming out and just said, 'Hey, listen, we are having a bilingual service on this day, and we would love to have you,'" Phelps said.
Along the way, a coalition of religious leaders, neighbors and organizations came together to form Chicago4All. They're collaborating to provide bilingual services, English classes, sports, warm meals and more.
"This initiative is to offer a space of peace and hope and do what we can with what we have," said pastor Yolanda Cruz of Father's Heart Church. She's been helping translate Phelps' sermons on Sundays into Spanish for migrants to understand.
Changing the narrative is what Phelps hopes will happen as community members meet their newest neighbors.
"I invite the community to come in and to volunteer, to come and see for themselves," Phelps said.
More than 100 asylum seekers have moved into the former Wadsworth Elementary School. Despite backlash from some residents over what they call a lack of transparency from the city and frustration over the lack of services for community residents, these pastors have a vision to move forward.
"We just elected to put more energy into serving this community as opposed to arguing with protesters," Phelps said.
Ronald Cortez is taking free ESL, or English as a second language, classes inside Concord Missionary Baptist Church.
"I like that they are helping me learn English," Cortez said in Spanish. "It's been hard to learn. Since school, I haven't practiced it. Now I'm here in the United States, a country where everyone speaks English."
Cortez made the long journey from Peru. He's far from home but said he is grateful as he looks forward to learning more about the neighborhood.
"It just takes time to get to know a person," Cortez said. "If you want to get to know us, come visit and talk with us. You'll see we aren't bad people."
Along with ESL classes, Chicago4All includes Sunday soccer games outside of Wadsworth, run by Street Soccer USA.
"Soccer and every kind of sport brings people together and having that little piece where they can play together and get away from the stress they are dealing with here currently," said Otto Rodriguez, Chicago director of Street Soccer USA.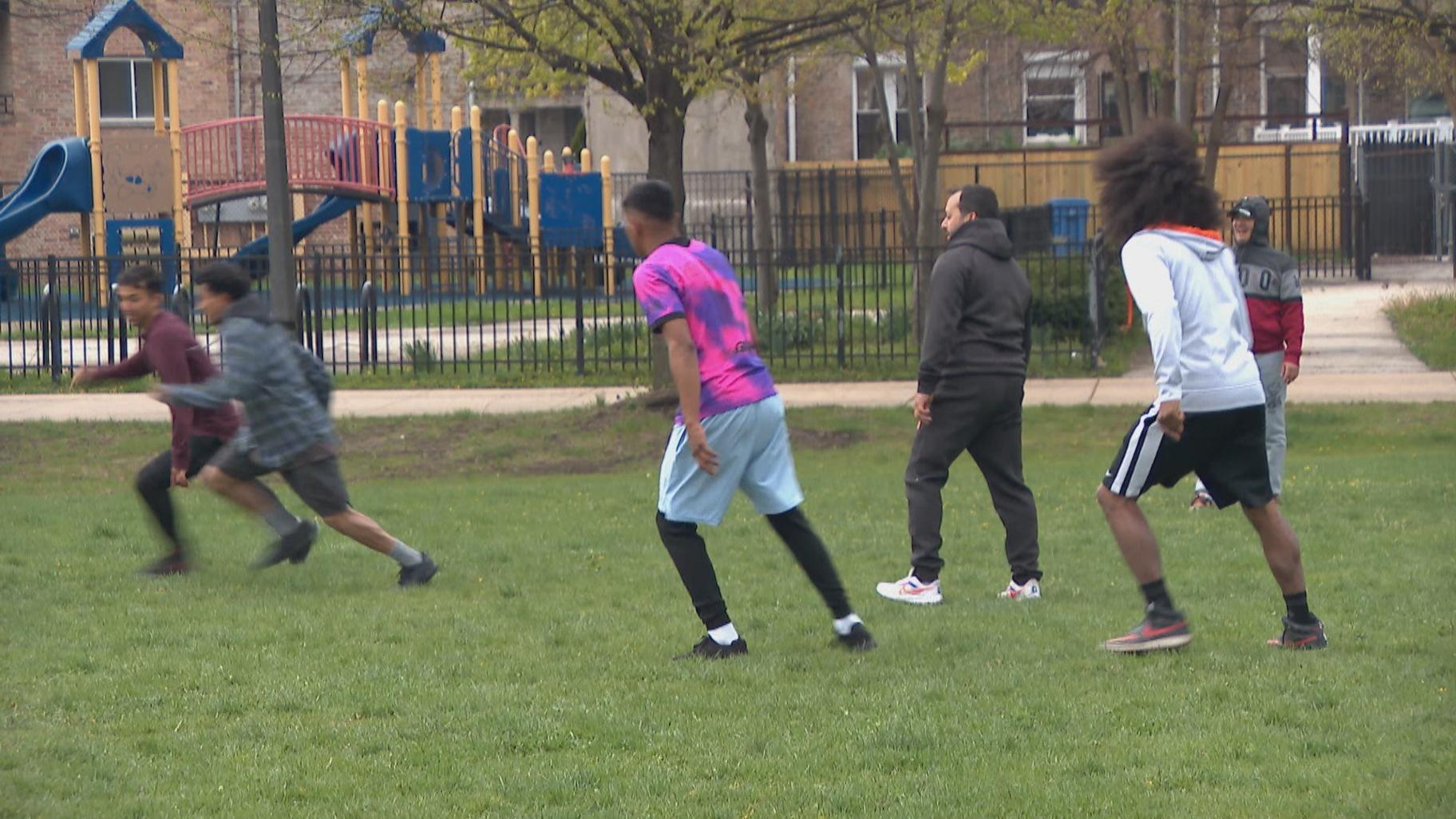 A group of asylum seekers plays soccer outside of the former Wadsworth Elementary School on April 25, 2023. (WTTW News)
Every Sunday afternoon, anyone from the community is invited to join.
"The Venezuelan, South American community is so vibrant and has so much culture," Rodriguez said, "and I think if we can mix that with the African American community here, it would be great to see how we can mesh together."
Meshing cultures is a mission Phelps and Cruz said they've been working on for years. As the initiative grows, Phelps is raising funds to renovate the church's kitchen to give people an opportunity to cook their native food.
"What we learned is that in our group there's some really talented people," Phelps said. "We've got some cooks, barbers, we got lawyers, we got doctors."
And he's calling out to his community members to open their hearts.
"I want to say to my community to get involved and to get a chance to know your neighbor and also to help us."
Organizers with Chicago4All are currently taking donations for men's tennis shoes for "Soccer on Sundays," sports socks and baseball equipment. To get involved, email [email protected].
People can also drop off donations at Concord Missionary Baptist Church.
---
Community Reporting Series
"Chicago Tonight" is expanding its community reporting. We're hitting the streets to speak with your neighbors, local businesses, agencies and leaders about COVID-19, the economy, racial justice, education and more. See where we've been and what we've learned by using the map below. Or select a community using the drop-down menu. Points in red represent our series COVID-19 Across Chicago; blue marks our series "Chicago Tonight" in Your Neighborhood.
---