Video: The WTTW News Spotlight Politics team breaks down the biggest headlines of the day. (Produced by Paul Caine)
---
Mayor-elect Brandon Johnson faced a tidal wave of attacks during his campaign for Chicago mayor over his support for a more "holistic" approach to public safety, as first Lori Lightfoot and then Paul Vallas accused him of wanting to defund the police.
But that onslaught failed to be the political kryptonite Johnson's foes and many political observers believed it would be, as Chicago voters rejected efforts by moderate Democrats and Republicans to turn Johnson's support for what he sees as criminal justice reform into a fatal liability.
Johnson told WTTW News Tuesday that he hoped his victory would reshape the national debate over policing that has raged since the murder of George Floyd in May 2020 triggered massive racial justice protests and unrest. Johnson's margin of victory over Vallas stood at approximately 3 percentage points, according to unofficial returns released by the Chicago Board of Elections.
"What was remarkable about this journey was that people saw public safety in a more holistic way," Johnson said. "Bringing people together around a holistic approach of how we address public safety that will be the test of my leadership."
Johnson said he was determined to unite Chicagoans around a public safety plan that takes a new approach to the surge of crime and violence that began during the peak of the COVID-19 pandemic and has yet to fully recede.
That push carried Johnson, 47, to victory on the city's South and West sides, home to Black and Latino Chicagoans who live in neighborhoods that are among the city's most violent and have the highest rates of crime. By contrast, Vallas won large majorities on the city's Northwest Side, Southwest Side and downtown, where rates of crime and violence are significantly lower.
There was robust support for his plan to address the root causes of crime and violence by increasing funding for youth employment programs and expanding mental health services across the city, even among those who had lost loved one to violent crime, said Johnson, who has also promised to solve more crimes by adding 200 detectives to the Chicago Police Department.
Shortly after the protests during the summer of 2020, Johnson, a Cook County commissioner representing the West Side of Chicago and adjacent suburbs, authored a resolution to "redirect funds from policing and incarceration to public services not administered by law enforcement that promote community health and safety equitably."
While Johnson never wavered in his support for those changes, he did change the way he talked about the push to defund the police, which he once called a "real political goal" during a radio interview. Asked about those remarks during a March 14 forum focused on public safety, Johnson said: "I said it was a political goal. I never said it was mine."
As the race entered the homestretch, Johnson vowed not to cut the police department by even "one penny" and promised to redirect $150 million within the police department's budget. That includes an additional $50 million to fund reform efforts and comply with the consent decree, according to Johnson's campaign.
That shift did nothing to stop Vallas from repeatedly saying that while Johnson would "defund the police" he would fill as many of the vacant positions in the police department as quickly as possible, while redeploying officers as part of a community policing strategy.
Johnson used those attacks, which echoed a charge frequently lobbed at Democrats like President Joe Biden by Republicans and former President Donald Trump, to bolster his message that while Vallas might be campaigning as a "lifelong Democrat," he was really a member of the GOP at heart.
"If we are going to unite this city, Democrats in particular should not hide from our values," Johnson said. "If anything, we proved that we can unite the city of Chicago around real Democratic values, values that working people have."
Johnson promised he would be upfront with Chicagoans about the challenges facing the city.
"Telling people the truth is something else that brings people together," Johnson said. "We don't give people enough credit, we just don't. That's something I'm looking forward to building, a more united front around values that everyday people experience."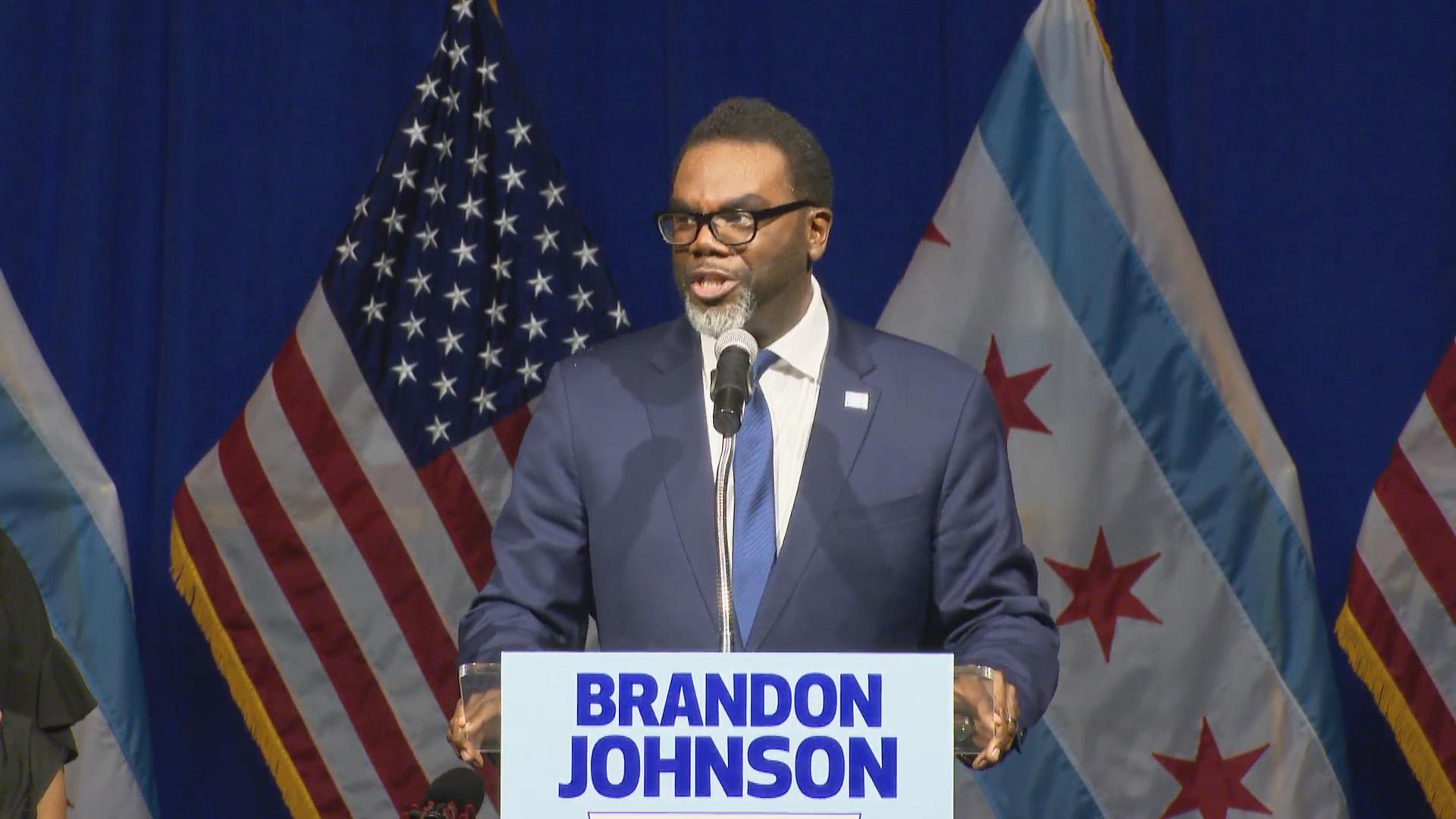 Brandon Johnson delivers his victory speech after clinching the Chicago mayoral election. (WTTW News)
Ground Game Proves Critical
Johnson's campaign withstood buckets of criticism over his stance on policing in part by following the template created by U.S. Rep Delia Ramirez, who won her seat representing the 3rd Congressional District after enduring much of the same criticism as Johnson. Ramirez backed Johnson from the start of his campaign, splitting from her mentor U.S. Rep. Jesús "Chuy" García, who ran for mayor, only to finish fourth.
While Ramirez was confronted with signs calling her "Defund Delia," her campaign focused on her opponent's vote to support Lightfoot's decision to use $281.5 million in federal COVID-19 relief funds to cover the cost of salaries and benefits for Chicago Police Department officers during the initial waves of the COVID-19 pandemic.
After Ramirez's victory, United Working Families Executive Director Emma Tai told WTTW News that progressive groups across Chicago had learned the power of robust "grass-roots organizing" and a candidate with "a visionary agenda."
What Tai called the recipe for success devised by Ramirez's victory helped make Johnson mayor-elect – and on May 15, Chicago's 57th mayor.
A key component of that recipe was a large and persistent outreach effort. 
Johnson, a former middle school teacher who worked as an organizer for the Chicago Teachers Union, saw his campaign buoyed by a massive get-out-the-vote effort funded by the union, his campaign's largest contributor, and United Working Families, the union's political arm.
United Working Families volunteers sent 2 million text messages, made 1 million phone calls and knocked 500,000 doors in an effort to mobilize voters for Johnson and the group's slate of endorsed candidates for the Chicago City Council, said Executive Director Emma Tai.
Many of those volunteers were "true believers" ready to convince voters that while no one thinks police officers have no role to play as part of efforts to increase public safety in Chicago, the solution is not just to hire more police officers, as Vallas promised, Tai said.
"People have a right to expect more, and a fully functioning city," Tai said.
That effort helped boost the share of younger voters who cast ballots in Tuesday's runoff, which could have been enough to lift Johnson to victory.
Contact Heather Cherone: @HeatherCherone | (773) 569-1863 | [email protected]
---