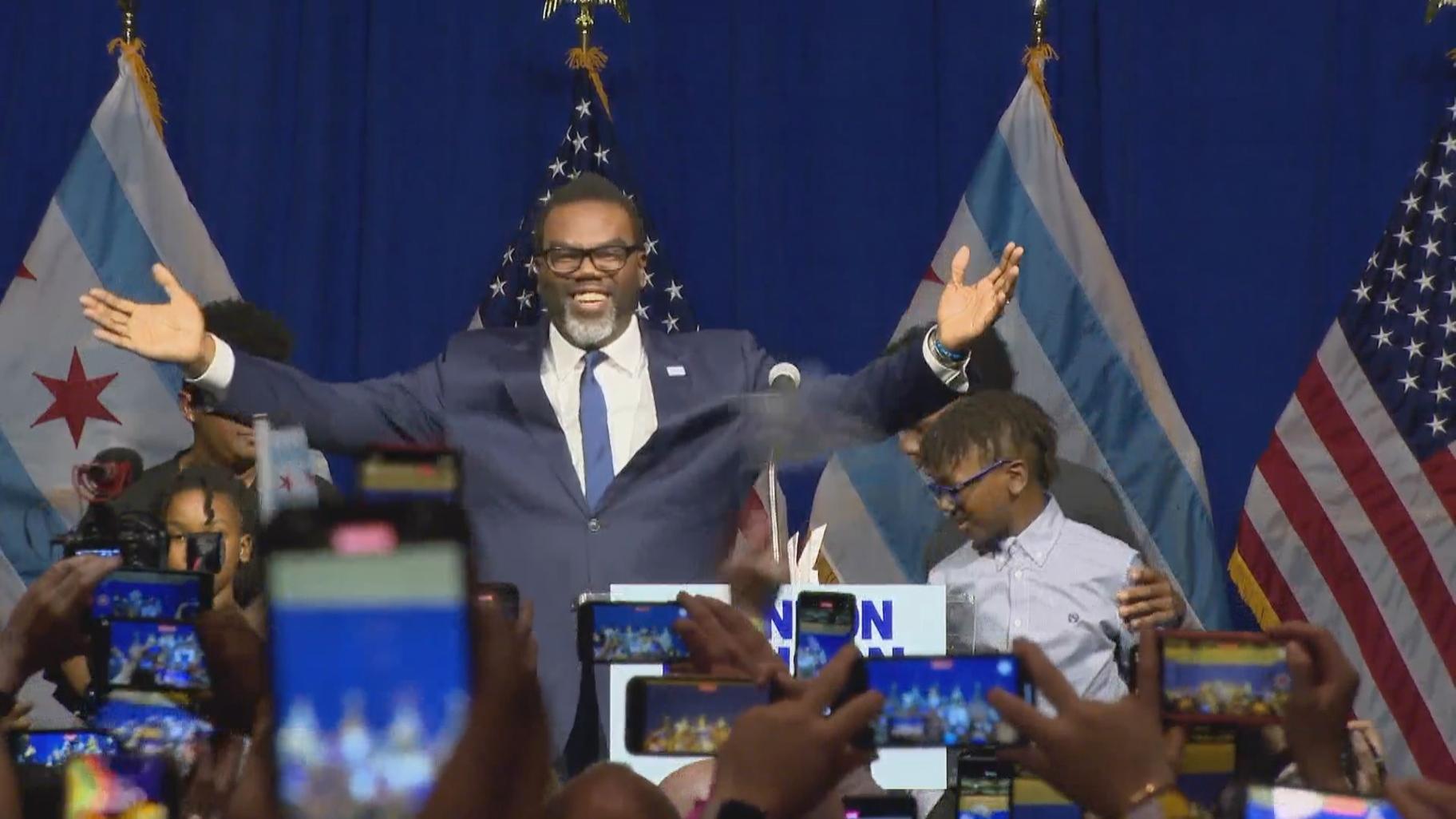 Brandon Johnson celebrates after winning the Chicago mayoral election on April 4, 2023. (WTTW News)
Cook County Commissioner Brandon Johnson was elected Chicago mayor on Tuesday, becoming the second Black man elected to lead the nation's third largest city.
Paul Vallas, the former Chicago Public Schools CEO, conceded defeat, saying he expects Johnson to be the next mayor. Vallas ran for mayor after a surge in crime roiled Chicago as the city struggled to emerge from the aftermath of the COVID-19 pandemic's peak and racial justice protests that turned violent.
Johnson will replace Lori Lightfoot, whose bid for a second term was soundly rejected by Chicago voters in the Feb. 28 election. Lightfoot will be the first Chicago mayor since Jane Byrne to serve just four years in office.
The result of the runoff contest is likely to serve as a referendum on public safety, with the rivals offering wildly different solutions to the seemingly intractable problem of crime and violence.
Johnson had a 51.42% lead over Vallas, who was coming in at 48.58%, according to early, unofficial returns from the Chicago Board of Elections.
There are more than 90,000 mail ballots yet to be returned to the Chicago Board of Elections, but the Associated Press called the race for Chicago's 57th mayor for Johnson. 
---
More Election Coverage:
---
In his victory speech to supporters, Johnson thanked his campaign volunteers and a list of unions that backed his bid. 
"Make no mistake about it, Chicago is a union town," Johnson said.
Johnson emphasized the importance of coalitions in his campain and pointed toward the need to continue building coalitions across the city moving forward. He appealed to those who did not vote for him and promised to work together. 
"The heart of this movement has always been about investing in people. I'll be honest this is personal for me … I've seen what disinvestment looked like," he said. 
Making repeated references to Martin Luther King Jr. and his dream, Johnson ended his speech looking forward to his next four years in office.
"Today we celebrate the revival and the restoration of the city of Chicago," Johnson said. "It is time for Chicago to come alive, come alive Chicago. My name is Brandon Johnson and I can't wait to be sworn in as the next mayor of the greatest city in the world."
In his concession speech, Vallas told supporters he was honored and humbled by their support. He thanked his family for their "unwavering support and sacrifice" and said he was proud of the diverse coalition his campaign built.
"I ran for mayor to bring the city together," Vallas said, "and it's clear from the results tonight that the city is deeply divided. So tonight, even though of course we believe every vote should be counted, I called Brandon Johnson and told him that I absolutely expect him to be the next mayor of Chicago."
"It's critically important that we use this opportunity to come together," Vallas continued, "and I've offered him (Johnson) my full support on his transition. … I look forward to working with him."
As mayor, Johnson has promised to take a more "holistic" approach to public safety by addressing the root causes of crime and violence by increasing funding for youth employment programs and mental health services, and redirecting $150 million within the police department's budget, including an additional $50 million to fund reform efforts and comply with reforms ordered by a federal judge.
That presented a stark contrast with Vallas' promise to restore what he called "proactive" policing in Chicago by filling as many of the vacant positions in the police department as quickly as possible, while redeploying officers as part of a community policing strategy that ensured they patrolled the same area of the city regularly while working a regular schedule.
Johnson, 47, is the second Black man to be elected Chicago mayor, following in the footsteps of former Mayor Harold Washington, who won a second term in office in 1987. After Washington died in office, he was replaced by former Mayor Eugene Sawyer, who lost his bid for a full term in office to former Mayor Richard M. Daley, who would serve for the next 22 years.
Johnson lives in Austin with his wife and three children, all of whom attend Chicago Public Schools.
Lightfoot issued a statement Tuesday night congratulating Johnson.
"It is time for all of us as Chicagoans, regardless of our zip code or neighborhood, our race or ethnicity, the creator we worship, or who we love, to come together and recommit ourselves to uniting around our shared present and future. My entire team and I stand ready to collaborate throughout the transition period," the statement reads in part. 
Johnson's victory was fueled by the progressive movement that formed in opposition to former Mayor Rahm Emanuel's decisions to close half of the city's publicly run mental health clinics as well as 50 schools across the city.
It is also a culmination of more than a decade of efforts by the Chicago Teachers Union to seize citywide political power and advocate on a whole host of issues to benefit Chicago's children, including the expansion of affordable housing and mental health care.
In addition to public safety, Johnson and Vallas clashed over school policy, making the results of the contest a referendum between the Chicago Teachers Union – where Johnson works as an organizer and the largest contributor to his campaign – and those who want to expand the number of charter schools.
Vallas is a longtime supporter of efforts to expand charter schools and backs programs that use public funds to pay tuition at private schools.
A former teacher, Johnson put support for traditional, neighborhood public schools at the center of his campaign for mayor, and vowed to appoint like-minded people to the Chicago Board of Education until it transitions to an elected board.
But Johnson will face issues beyond public safety and schools, including a more progressive City Council determined to function for the first time in Chicago history as an independent legislative body and an estimated budget shortfall of nearly three times the size of the city's gap in 2023.
At Johnson's campaign event at the Marriott Marquis near McCormick Place, cheers and applause erupted when he first pulled ahead slightly in the returns Tuesday night. Supporters huddled in front a TV showing election results.
It wouldn't be a Chicago party without "The Percolator" and the "Cha Cha Slide," and the Johnson crowd was on its feet and dancing as his lead grew. 
Former rival turned supporter Kam Buckner said of Johnson's win over Vallas: "We're very excited. We knew from the get-go this was going to be a close race, a race where literally every vote was going to count."
This election, Buckner said, was about "whether we wanted more of the same or an entree into what the future of Chicago is going to be."
Johnson supporter Claire Newby, 23, said she's excited that people her age visited the polls today. 
"When I was voting today, I mentioned my birth year and the election judge said, 'We've had so many 1999 voters come through today,'" Newby said. "I think that's really exciting that young people are showing up, and I truly think it's because there's someone that people actually want to vote for."
Earlier in the night before the race was called, supporters were hopeful that the outstanding mail-in ballots and a slight increase in voters under 45 would help Johnson pull through.
"Although Chicago always loves to be an outlier, based on what is generally known about elections and voter turnout, younger voters prefer progressive candidates," said supporter Stephanie Skora of the popular progressive voting guide Girl, I Guess. "There is, of course, the possibility that these are all yuppies from the 41st Ward and they voted for Vallas, and that'd be awful."
Ald. Jeanette Taylor (20th Ward) said she's excited to meet her "new co-worker."
"I feel great because the people in our city, from the top on down, finally have the opportunity to live the lives we've always been fighting for," Taylor said.
Wallace Wilbourn Jr., a CTU school delegate, expressed excitement about the potential of a Johnson administration. A native of Johnson's own West Side neighborhood Austin, he said it's "great to have a teacher in that position, but also as a model, and someone who's from the West Side in the Austin area too."
When the polls closed at 7 p.m., the Vallas campaign party official began. Ald. Walter Burnett (27th Ward) was among guests at the Regency Ballroom at the Hyatt on Wacker Drive.
Burnett said he's worked with Vallas a long time: "He gets the job done, his word is good. He makes things happen. What people are looking for is stability."
Burnett said he'd work with Johnson should he win, but said Johnson has a lot to learn. Burnett described Vallas as a "numbers guy" who knows "how to make things happen."
Jane Brayboy, who works in crowd control at CPS's Office of Safety and Security, lives in South Shore. She first met Vallas while he was CEO of Chicago Public Schools as a parent of children in CPS.
"Safety for our children was not an issue when he was CEO of the school system," Brayboy said. "So I trust him when he says that he's going to make it safe. I trust him when he says that he's going to have after school and weekend programs."
Theodore Bonau, an infectious disease epidemiologist at the Chicago Department of Public Health, said he's disheartened as he watches results come in. He supported Vallas.
Bonau said he worked under four commissioners during his time at the department. He pointed to Johnson saying that he would fire Commissioner Allison Arwady as a reason for his decision to support Vallas.
The at-times bitter race presented voters with a stark choice that will determine the next four years in a city struggling to emerge from the aftermath of the COVID-19 pandemic's peak and to cope with a surge in crime, amid unfulfilled demands for racial justice and economic equity.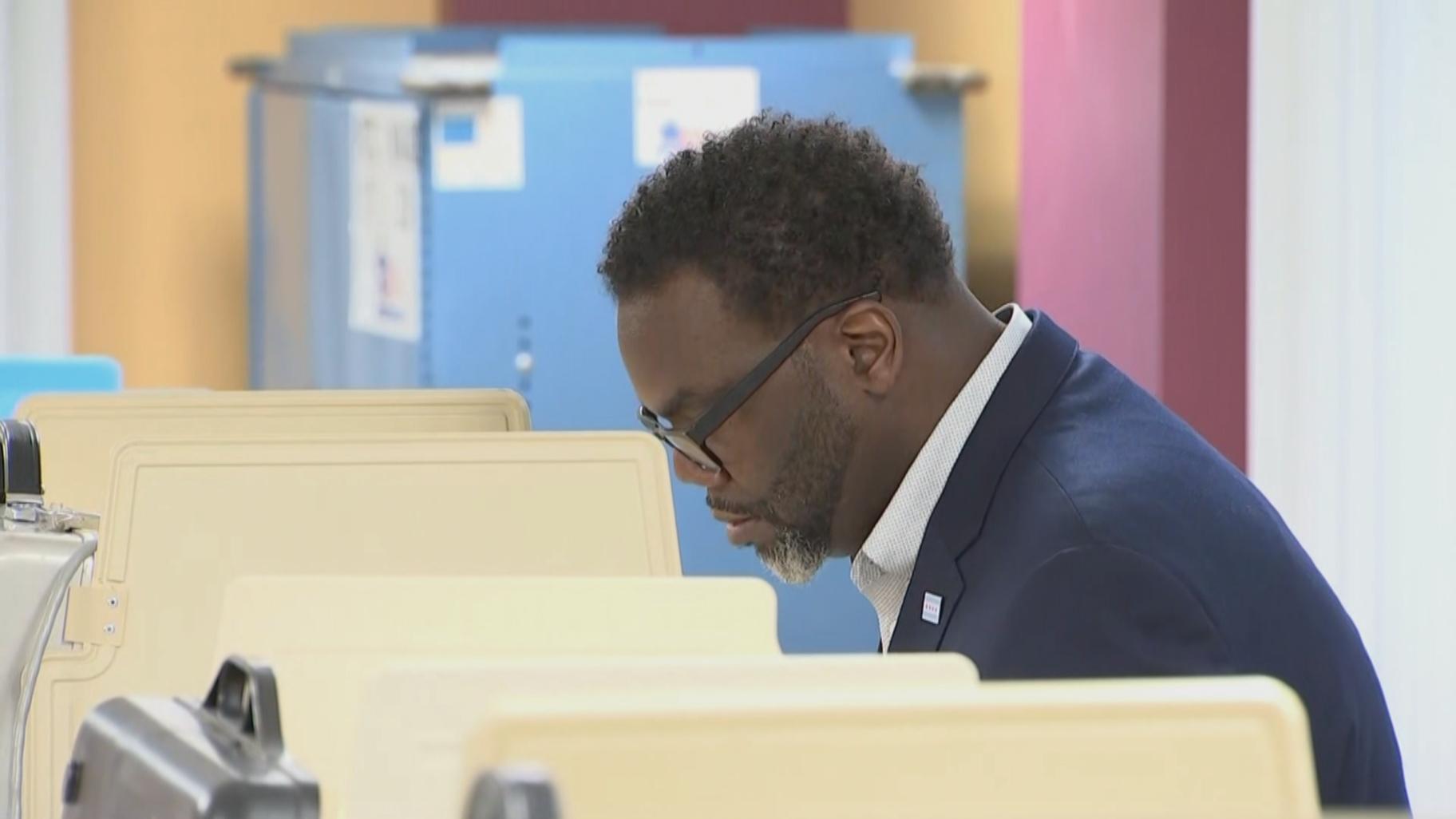 Brandon Johnson votes in the April 4, 2023, Chicago municipal runoff election. (WTTW News)
An organizer with the Chicago Teachers Union, Johnson first came to prominance helping to lead the effort to create new political organizations determined to serve as a counterweight to not just Emanuel and his policies but also Chicago's business community.
Those same organizations, including United Working Families and labor organizations affiliated with the Service Employees International Union, would provide the bulk of the funds for Johnson's campaign.
But that effort faltered in the wake of Emanuel's decision in 2018 not to run for third term and a corruption scandal that swept Mayor Lori Lightfoot into the suite of offices on the fifth floor of Chicago's City Hall.
With Lightfoot failing to advance to Tuesday's runoff, Johnson found himself locked in a battle with Vallas, who quickly consolidated the city's moderate and conservative voters by running on a platform that vowed to crack down on crime and violence that won the backing of the city's biggest police union.
Vallas saw his campaign swell with massive contributions from some of Chicago's wealthiest residents, who said they were concerned that rising crime and violence downtown and in other wealthy North Side neighborhoods would stymie development and force Chicago's economy to a grinding halt without an increase of new Chicago police officers.
Vallas' campaign was also buoyed by the support of high-profile Democrats, many of whom also had ties to former Mayor Richard M. Daley. Before running Chicago's school district, Vallas served as Daley's budget director, forging alliances with Arne Duncan, who would take Vallas' job at the helm of Chicago's schools before serving as former President Barack Obama's education secretary.
The two candidates have also clashed over school policy, making the results of the contest a referendum between teachers' unions and those who want to expand the number of charter schools.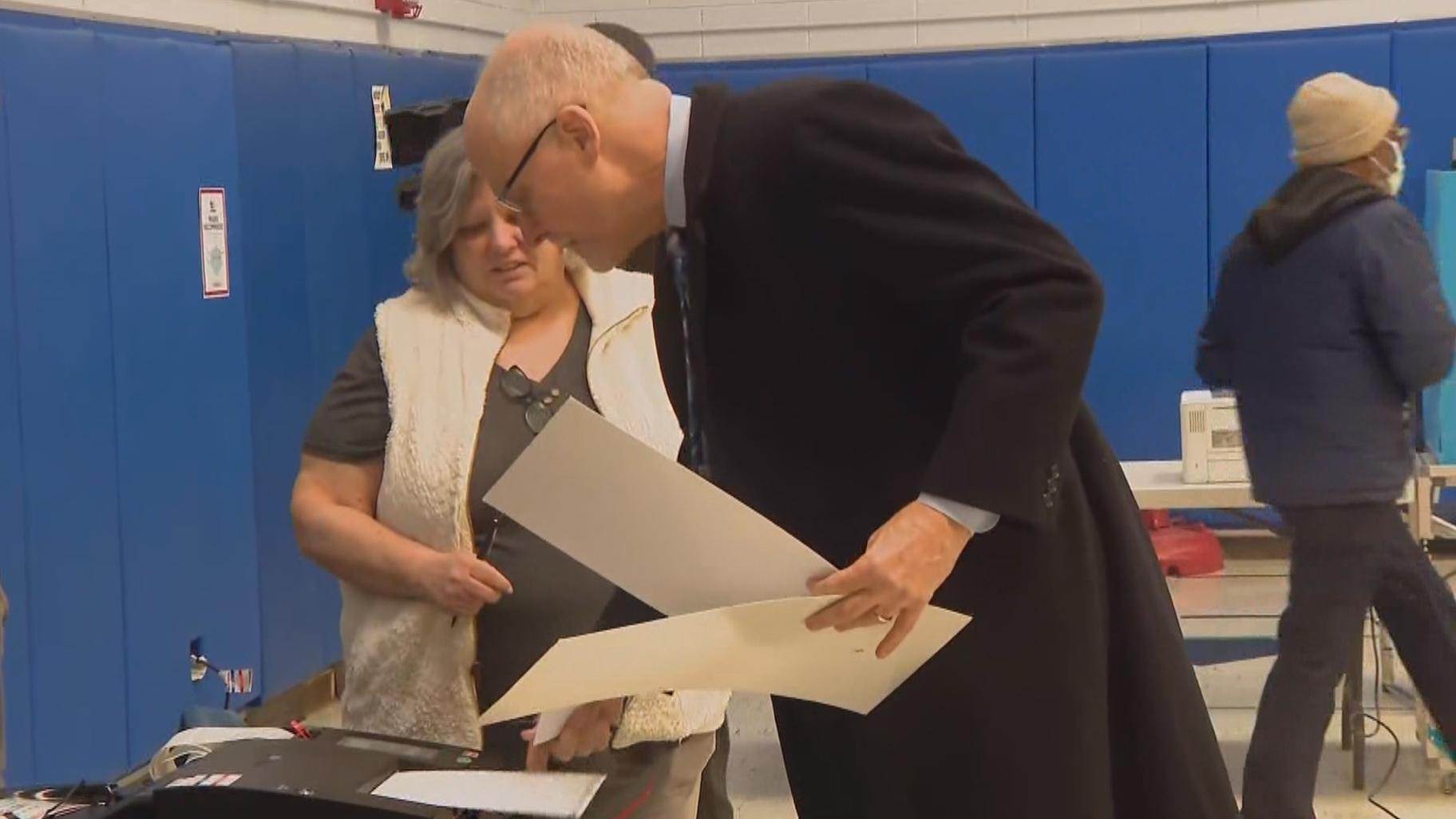 Paul Vallas votes in the April 4, 2023, Chicago municipal runoff election. (WTTW News)
The election is also the first to reflect the ward map drawn by members of the City Council to reflect the results of the 2020 census.
WTTW News reporters Heather Cherone, Amanda Vinicky, Eunice Alpasan, Nick Blumberg and Acacia Hernandez contributed. 
Contact Heather Cherone: @HeatherCherone | (773) 569-1863 | [email protected]
---