Chicago's Invest South/West project is underway in the Back of the Yards. It's part of Mayor Lori Lightfoot's citywide plan aimed at revitalizing underserved communities.
A $58 million mixed-use development, known as United Yards, will include retail, a health clinic, brew pub and affordable housing.
It took two years of planning before this month's groundbreaking. The development calls for transforming empty storefronts into locally owned businesses: a coffee shop, a bakery, an apparel store and a barber shop.
That'll be a change from what the once-bustling corridor off of 47th Street and Ashland Avenue looks like now.
Interactive map: More from our community reporting series
"This right here was our shopping district," Back of the Yards Coffee owner Jesse Iñiguez said as he pointed to an old department store. "Golblatt's had everything. The basement had stereos, toys. Multiple levels of furniture, clothing."
Iñiguez grew up in Back of the Yards and is now at the forefront of the neighborhood's reinvention. If all goes as planned, by the end of summer he'll be selling fresh-roasted beans and lattes on the ground floor of the department store he once shopped at as a kid.
One of the overall goals for this project is to create jobs.
"We're gonna help reinvigorate this corner of the neighborhood," Iñiguez said. "Before the pandemic, there were over 4,500 young people out of school and unemployed in Back of the Yards alone. When you compare that to neighborhood violence and youth unemployment, it goes hand in hand … so being able to provide those jobs to the community."
Developer Blackwood Group said the United Yards program will create about 300 construction jobs and about 40 permanent jobs once the project is complete.
That's something longtime resident Esmeralda De La Rosa said is much needed.
"For many of the people who live here, their jobs are one to two hours away," De La Rosa said in Spanish. "I say that on a personal level. My family members that live here sometimes have to travel to Bolingbrook for jobs or sometimes even father."
Lack of job opportunity wasn't always an issue. Immigrant families moved to Back of the Yards because of the jobs available in Chicago's massive meat packing industry. But when the slaughterhouses closed, the jobs left, too.
De La Rosa just hopes these new jobs will be well paid.
"We're in the second level of poverty," she said. "In our neighborhood, you don't find jobs for $20 an hour. It's always the bare minimum."
Organizers also worry the project could lead to displacement, noting that development often drives people out of a community.
"One of the concerns we have about Back of the Yards, just like Bronzeville and everywhere else, is if this is to benefit the people living here now, or with rising property taxes and pushing people out, will this end up being a really cool thing for other people?" questioned Leone Jose Bicchieri, executive director of Working Family Solidarity. "If that may happen, what are we doing now together to slow gentrification so Esmeralda and others can be here in ten years."
Businesses that are part of the project must commit to signing a Community Benefits Agreement, a promise they'll pay fair wages, hire locally and use sustainable practices, according to Iñiguez.
Kevin Johnson Jr., organizer at Working Family Solidarity, believes it's a matter of keeping that promise.
"Do I believe that it can be a great thing? Absolutely," Johnson said. "Am I excited for locally owned residents to be able to house their businesses here within their community? Absolutely. But we also hope that they would like to hire locally, buy locally and also serve the neighborhood at a local and fair price."
This first phase of the project includes a brand new building for SomosMonos Cerveceria, a Back of the Yards startup. For the past five years, owner Victor Santoyo has been running his beer business through pop-ups and festivals. Now he gets a chance at running a brick-and-mortar operation.
"Our vision is to have a place for the community to come and enjoy themselves, where they can say, 'This is our spot,'" Santoyo said.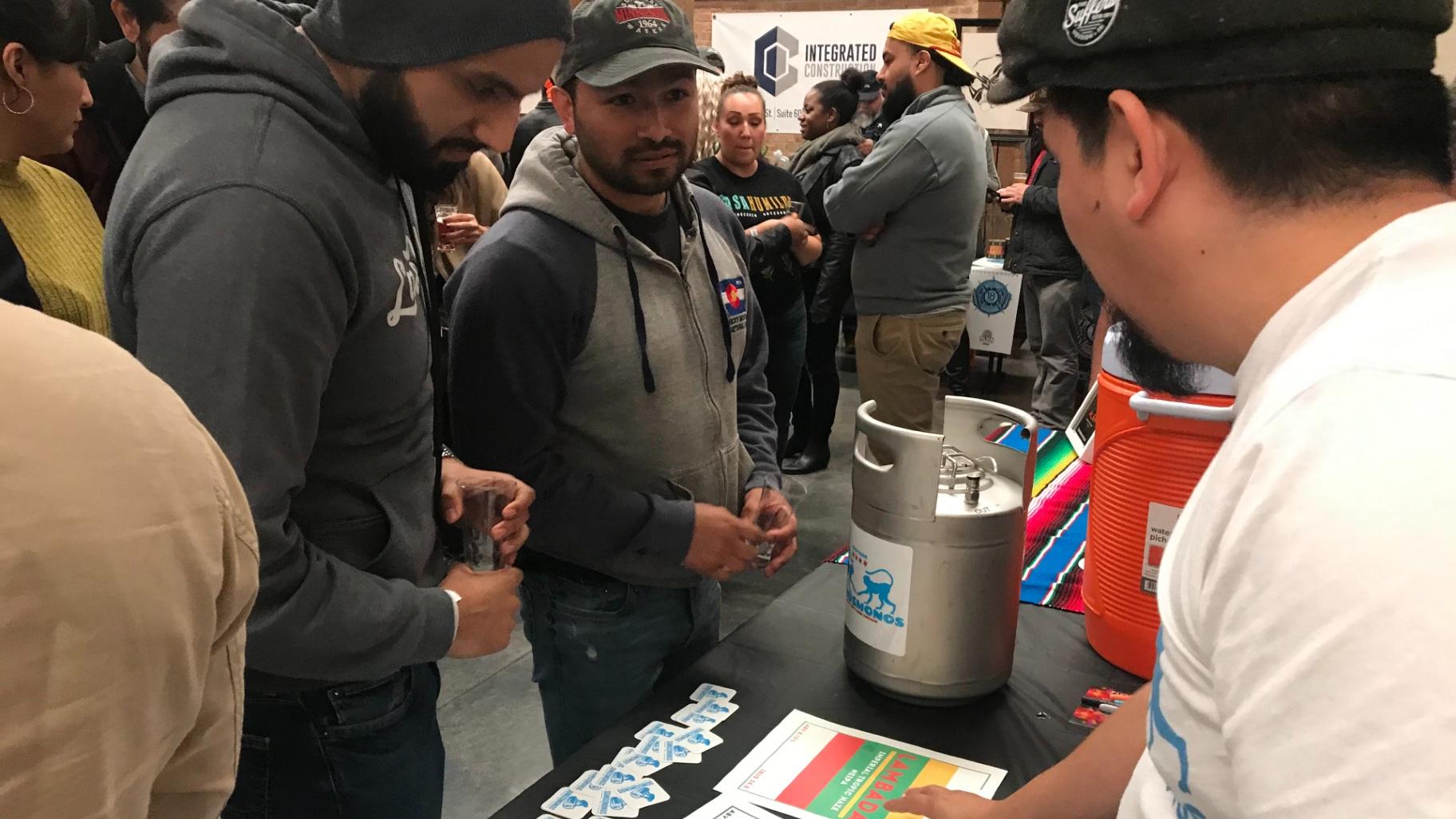 SomosMonos Cerveceria hopes to open its building by summer of 2024. (Courtesy of Victor Santoyo)
Santoyo was struggling to find a place for his brewery until this project came about; he was even considering finding somewhere outside of the city to set up shop.
"It's important for us because being from Back of the Yards, I've lived here since I was 5 years old," Santoyo said. "I do want to make this neighborhood better for everybody."
De La Rosa is looking forward to that possibility — that the project will lead to a heightened sense of belonging for residents.
"You feel a different sense of confidence when you go and drink a cup of coffee from a place where you recognize the owner," De La Rosa said in Spanish. "You know you'll feel welcomed."
Iñiguez said it won't be sink or swim for these new local business owners.
"They're doing a cohort with these small businesses so that they could learn what are some of the things they need to do to prepare before opening," Iñiguez said, "and also meeting with each specific business to give them specific tools or resources and guide them in the right direction."
With Lightfoot exiting City Hall, the future of one of her signature programs could be in jeopardy.
Jose Duarte, a Blackwood Group developer, believes Chicago's future mayors will have to continue at least some version of it.
"It's gonna be hard for them to deny the benefits that the Invest South/West program brings to these communities," Duarte said. "I suspect that it's going to continue. It might be rebranded, it might be tweaked, improved, but the model of sending those investment dollars to the community that needs these dollars, I don't think you can turn that back."
The new Goldblatt storefronts are hoping to open by the end of summer, while construction for the affordable housing units isn't expected to start until the end of the year.
---
Community Reporting Series
"Chicago Tonight" is expanding its community reporting. We're hitting the streets to speak with your neighbors, local businesses, agencies and leaders about COVID-19, the economy, racial justice, education and more. See where we've been and what we've learned by using the map below. Or select a community using the drop-down menu. Points in red represent our series COVID-19 Across Chicago; blue marks our series "Chicago Tonight" in Your Neighborhood.
---