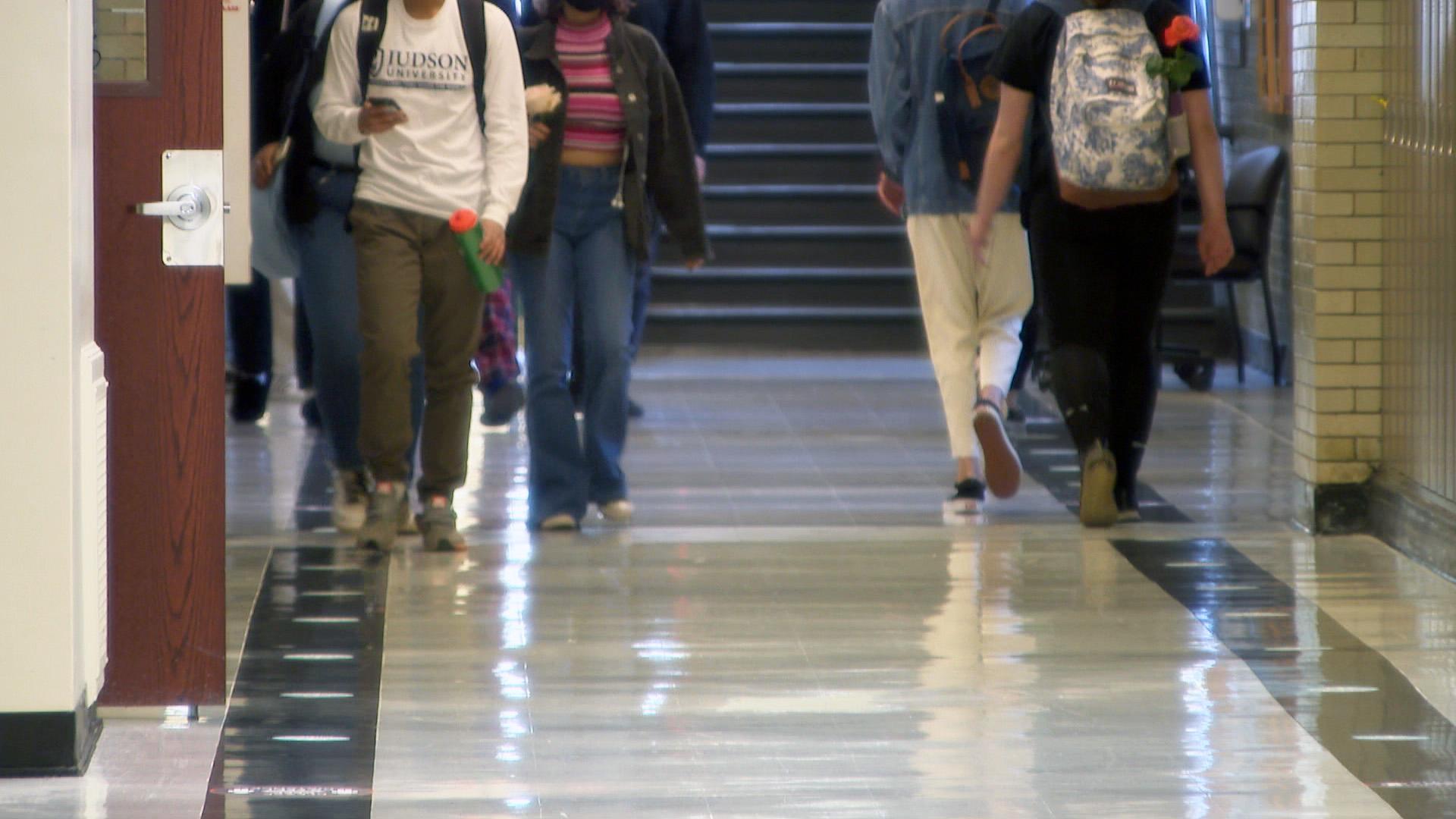 (WTTW News)
A statewide advocacy organization designed to promote charter schools spent $617,000 to oppose Brandon Johnson's campaign for mayor of Chicago, records filed with the Illinois State Board of Elections show.
The independent expenditure by the INCS Action Independent Committee, funded by the Illinois Network of Charter Schools, paid for $258,000 in cable television advertisements on March 16 and $359,000 in digital advertising on March 15, records show. Election Day is April 4, and early voting is underway.
Before the first round of voting took place, the INCS Action Independent Committee spent an additional $63,000 to oppose Johnson's campaign. In addition to their spending on the mayoral race, the committee has spent at least  $107,000 to support City Council candidates in runoff elections, according to records.  
Representatives for INCS told WTTW News President Andrew Broy was unavailable for comment Monday.
There is no record of either the independent expenditure committee or the group's political action committee paying to boost the campaign of Paul Vallas, Johnson's rival, according to state records. By law, independent expenditure committees are barred from coordinating directly with campaigns, but they can — and often do — tailor their messaging to align with efforts directed by the candidate.
Vallas is a longtime supporter of efforts to expand charter schools and backs programs that use public funds to pay tuition at private schools. Vallas' education platform vows to lift the cap on enrollment in "high-performing charters," favors allowing charter schools to locate in empty or near-empty public school buildings if "they serve neighborhood children" and backs programs that use public funds to pay tuition at private schools, according to his website.
A spokesperson for Vallas did not respond to requests for comment from WTTW News. In recent debates, Vallas has said he thinks Chicago has enough charters. Current rules allow charter schools to grow by adding campuses in Chicago.
Johnson, a Cook County commissioner, is backed by the Chicago Teachers Union, where he works as an organizer. A former teacher, Johnson put full-throated support for traditional, neighborhood public schools at the center of his campaign for mayor. Johnson has said he will not lift the cap on enrollment for charter schools and will appoint like-minded people to the Chicago Board of Education until it transitions to and elected board.
The Chicago Teachers Union is the largest donor to Johnson's campaign, contributing $1.35 million since Johnson made it into the runoff against Vallas. In addition, the American Federation of Teachers contributed an additional $619,000 to Johnson's campaign, state records show.
Support for charter schools in Chicago has waned since Vallas served as CEO of the Chicago Public Schools from 1995 to 2001, amid a steep decline in enrollment in Chicago's public schools and a concerted effort by the teachers' union and their supporters to cast funding for charter schools as a drain on public schools.
As CEO, Vallas opened the first charter schools in Chicago and expanded the number of high schools that admit students based on test scores. Vallas has long been a proponent of "school choice," and his platform promises to empower parents and allow them to make decisions for each school.
Vallas also expanded the number of charter schools in Philadelphia and in New Orleans while he led those cities' school districts.
As an educational consultant, Vallas has opened a dozen charter schools with an emphasis on military training, and has touted ROTC programs as a way to provide new recruits for the Chicago Police Department.
Vallas owns the Vallas Group, a professional services firm that focuses exclusively on government and the public sector, according to his public LinkedIn Page. 
In 2021, Vallas worked as a consultant for the Bronner Group, according to the 2022 statement of financial interest he filed with the Chicago Board of Ethics on June 31 as he launched his campaign for mayor of Chicago. 
City rules require candidates for public office and elected officials to identify sources of income greater than $1,000, and to indicate whether they earned less than $5,000, more than $5,000 but less than $25,000 or more than $25,000. Vallas indicated he earned more than $25,000, according to the form.
Vallas did not report any other sources of income to the Chicago Board of Ethics.
Battle for City Council Continues
In addition to opposing Johnson in the mayoral race, the independent expenditure fund funded by INCS has also spent $107,000 to boost the campaigns of five candidates for City Council in the April 4 runoff: Kim Walz in the 46th Ward, Ald. Gilbert Villegas in the 36th Ward, Lamont Robinson in the 4th Ward, Martina "Tina" Hone in the 5th Ward and Ald. Monique Scott in the 24th Ward race.
In the first round of voting, INCS made approximately $277,000 worth of independent expenditures on behalf of Villegas, Ald. Emma Mitts (37th Ward), Ald. Felix Cardona (31st Ward) and Ald. Stephanie Coleman (16th Ward) as well as Jessica Guiterrez, running to replace Ald. Ariel Reboyras in the 30th Ward.
Villegas and Guiterrez were the only candidates backed by INCS not to win outright on Feb. 28.
Villegas faces Lori Torres Whitt, a teacher backed by the Chicago Teachers Union in the runoff. In all, INCS has spent nearly $72,000 boosting Villegas's campaign while two political action committees affiliated with the teachers' union have contributed more than $120,000 to Torres Whitt's campaign, including more than $40,500 during the runoff, according to state records.
The only other candidate INCS has spent more to boost is Guiterrez, the daughter of former U.S. Rep Luis Guiterrez. Her opponent, Ruth Cruz, has not been endorsed by the Chicago Teachers Union.
Spending by Other PACs Also Fast and Furious
Political funds fueled by some of Chicago's wealthiest business leaders continued to spend significant sums of money to push against efforts by progressive political organizations to remake the Chicago City Council after a wave of retirements and departures.
Much of that effort has been focused on the 46th Ward race, where Angela Clay, an activist, has the backing of the Chicago Teachers Union as well as the Chicago chapter of the Democratic Socialists of America in her battle against Walz to represent Uptown. The teachers' union contributed $30,000 to Clay during the runoff, records show.
Walz, whose campaign was boosted with $23,500 worth of independent expenditures from INCS, has also gotten more than $109,000 from a political fund run by the Illinois Realtors, which advocates for "private property rights." That lifted the state-imposed campaign contributions on both candidates in the runoff.
Clay has also been targeted by the Get Stuff Done PAC — an independent expenditure committee chaired by Michael Ruemmler, an adviser to former Mayor Rahm Emanuel. That committee has spent $37,775 urging voters to reject Clay, the only challenger endorsed by the Chicago DSA to make it into the runoff after all five DSA-backed City Council members were reelected, according to state records.
The Get Stuff Done PAC has also targeted Torres-Whitt, spending $7,500 to oppose her candidacy and $7,500 to boost Villegas, records show.
Chicago DSA has contributed $17,000 to Clay, who would be the sixth member of the Democratic Socialist Caucus on the City Council if elected, since she advanced to the runoff.
In all, the Realtors PAC has spent approximately $175,000 to boost eight candidates in the April 4 runoff who would likely be reliable centrist votes during the City Council's next term. In the first round of voting, the fund spent more than $588,000, records show.
Progressive Groups Split Focus Between Races for Mayor, City Council
Even as groups work to increase the size of the City Council's Socialist and Progressive caucuses, they are being outspent in those runoffs, just as they were in the first round of voting, thanks to the decision by some of Chicago's most prominent business leaders to stay out of the mayor's contest and focus on City Council elections.
In all, the Chicago Teachers Union contributed approximately $157,000 to five City Council candidates in the runoff, a fraction of the $1.35 million the union has sent to Johnson for his battle against Vallas.
Johnson has been endorsed by four labor organizations affiliated with the Service Employees International Union. The labor organization has given Johnson a combined $2.3 million during the runoff, including $750,000 in a single contribution from the SEIU International PAC reported Monday, according to state records.
By comparison, the SEIU organizations have given nine City Council candidates a combined $455,500, records show.
Contact Heather Cherone: @HeatherCherone | (773) 569-1863 | [email protected]
---