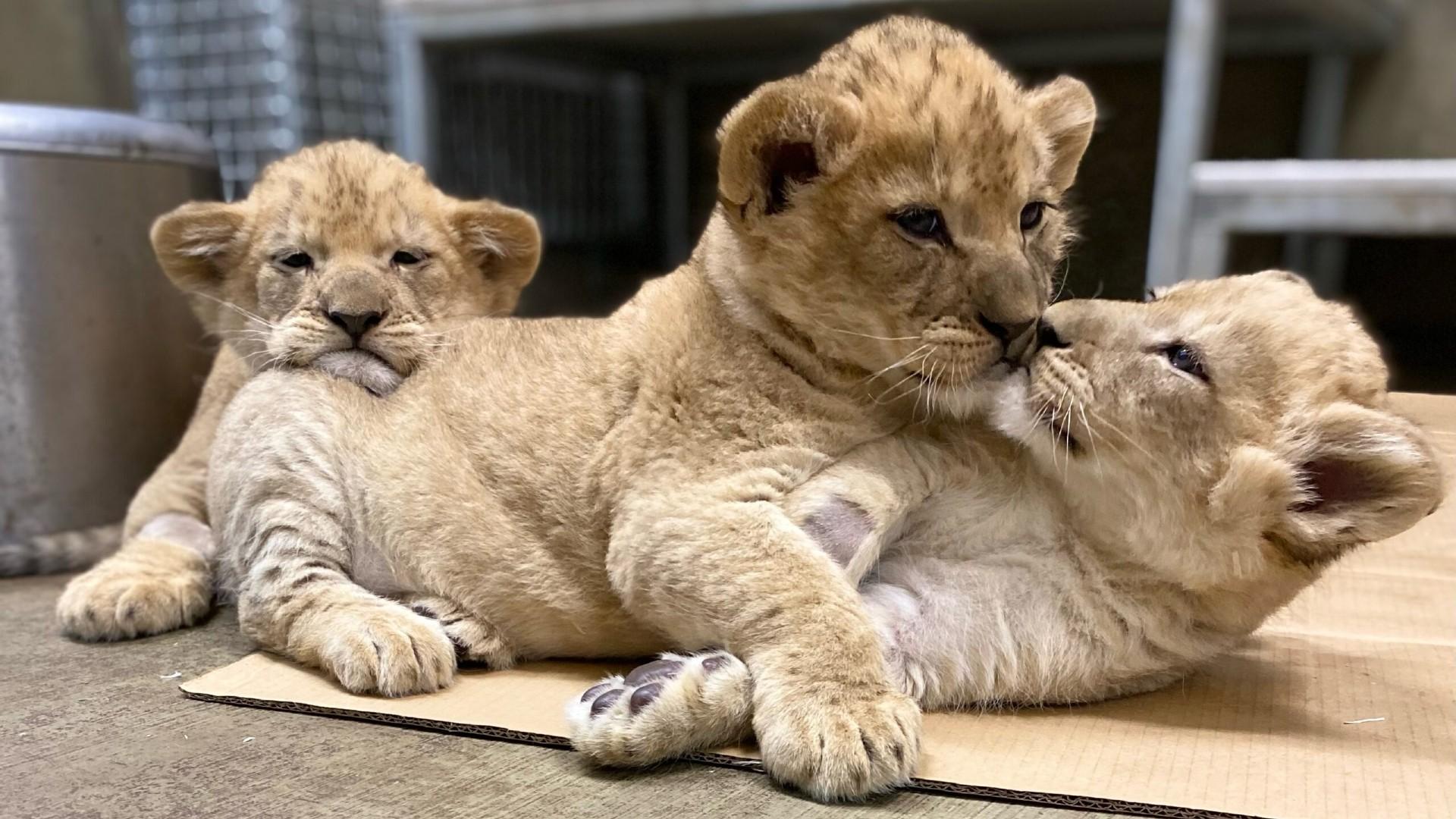 Sidai, Lomelok and Pesho — African lion cubs born at Lincoln Park Zoo. (Lincoln Park Zoo / Jill Dignan)
Lincoln Park Zoo has revealed the names of its new lion cubs: Meet Pesho, Sidai and Lomelok.
The names were chosen by Maasai "lion guardians" (Ilchokuti) in Tanzania, who work with Lincoln Park Zoo's conservation partner, KopeLion. Each name has a special meaning in the Maa language:
— Pesho (pe-sho) translates as an "unexpected gift."
— Sidai (see-dye) means good. 
— Lomelok (low-mey-lock) means sweet.
The cubs were born Jan. 9, and a health checkup in February revealed all three were males. They joined big brother Pilipili, who was born in March 2022, the zoo's first African lion cub in 20 years.
"Pesho, Sidai and Lomelok remind us that we are all connected and need to work together to build a future where humans and wildlife coexist," Maureen Leahy, the zoo's vice president of animal care and horticulture, said in a statement. "From the zoo's animal care team, and zoo and partner scientists to communities around the globe like the Maasai in Tanzania or anyone who has tuned into #lionwatch — lions are depending on us to help preserve them."
African lions' numbers have declined by 50% over the last 25 years due to habitat loss, loss of prey and human-lion conflict, according to the zoo.
KopeLion works to foster human-lion coexistence in the Ngorongoro Conservation Area in northern Tanzania and create a corridor allowing safe movement of lions to and from the greater Serengeti ecosystem.
"These are more than little lion cubs," said Sunny Nelson, vice president of conservation and science at the zoo. "They represent hope for the future, a commitment to saving lions in the wild, and also the local communities who are doing this work every day."
Contact Patty Wetli: @pattywetli | (773) 509-5623 |  [email protected]
---