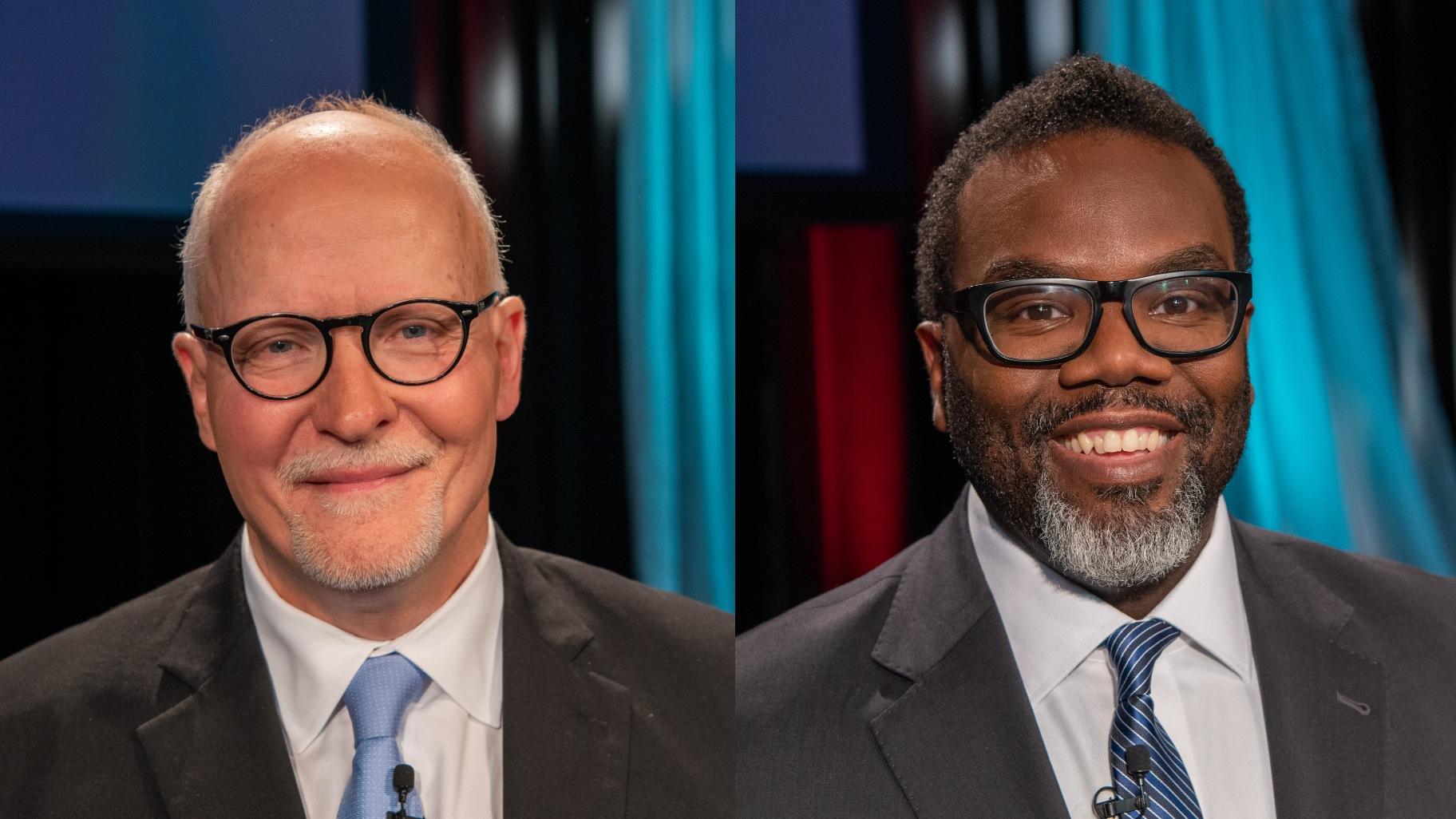 Paul Vallas and Brandon Johnson will compete in the mayoral runoff. (WTTW)
U.S. Sen. Bernie Sanders endorsed Brandon Johnson in the Chicago mayor's race Thursday, as the firefighters' union and five Black City Council members backed Paul Vallas.
Sanders, an independent senator representing Vermont, joined fellow progressive U.S. Sen. Elizabeth Warren, D-Massachusettes, in backing Johnson, a Cook County commissioner. U.S. Rep. James Clyburn, D-South Carolina, also endorsed Johnson on Thursday. Clyburn, a prominent supporter of President Joe Biden, hails from the moderate wing of the national Democratic Party.
Sanders said he backed Johnson because the Chicago Teachers Union organizer "understands the struggle of working people."
"(Johnson) is not afraid to stand up for strong unions and make big corporations and the rich pay their fair share to invest in affordable housing, quality health care, better schools and good jobs," Sanders said in a statement.
State Rep. Kam Buckner, who earned less than 2% of the vote in the Feb. 28 election for mayor and finished sixth, also backed Johnson on Thursday. After harshly criticizing Johnson before the first round of voting, Buckner praised Johnson's "vision and integrity."
"This election is our chance to separate ourselves from the status quo of the past that's locked this city in a cycle of violence and disinvestment," said Buckner, the first of the seven vanquished mayoral candidates to back Johnson, who also has the endorsement of Illinois Attorney General Kwame Raoul.
Former candidates Ja'Mal Green, Willie Wilson and Ald. Roderick Sawyer have endorsed Vallas.
Eighteen City Council members reelected on Feb. 28 have endorsed Vallas, including Ald. Michelle Harris (8th Ward), Ald. David Moore (17th Ward), Ald. Derrick Curtis (18th Ward), Ald. Anthony Beale (9th Ward) and Ald. Emma Mitts (37th Ward), who backed Vallas, the former CEO of the Chicago Public Schools, on Thursday.
All had endorsed Mayor Lori Lightfoot before the Feb. 28 election, and she won all of their South and West Side wards but finished third overall. Harris served as Lightfoot's City Council floor leader and Rules Committee chair, and Mitts chairs the License and Consumer Protection committee. Beale was one of Lightfoot's harshest critics.
Ald.-elect Bennett Lawson (44th Ward) and 11th Ward Ald. Nicole Lee, who faces a runoff on April 4, have also endorsed Vallas.
Chicago Fire Fighters Union Local 2, which represents Chicago's rank-and-file paramedics and firefighters, joined the Fraternal Order of Police Lodge 7, the union that represents Chicago's rank-and-file police officers, in backing Vallas.
"Local 2 endorses Paul Vallas for mayor because he will put the needs of Chicago's firefighters, paramedics and all first responders first," said Local 2 President Jim Tracy. "We know he understands the challenges our firefighters and paramedics face given his experience in government and as the proud father of a Chicago firefighter."
In addition to the firefighters and police unions, Vallas has the support of Plumbers Local 130, Operating Engineers Local 150, IBEW Local 134 and IBEW Local 9.
Johnson has the support of three unions affiliated with the Service Employees International Union, as well as the American Federation of State, County and Municipal Employees Council 31, known as AFSCME, and the Chicago Teachers Union.
Contact Heather Cherone: @HeatherCherone | (773) 569-1863 | [email protected]
---