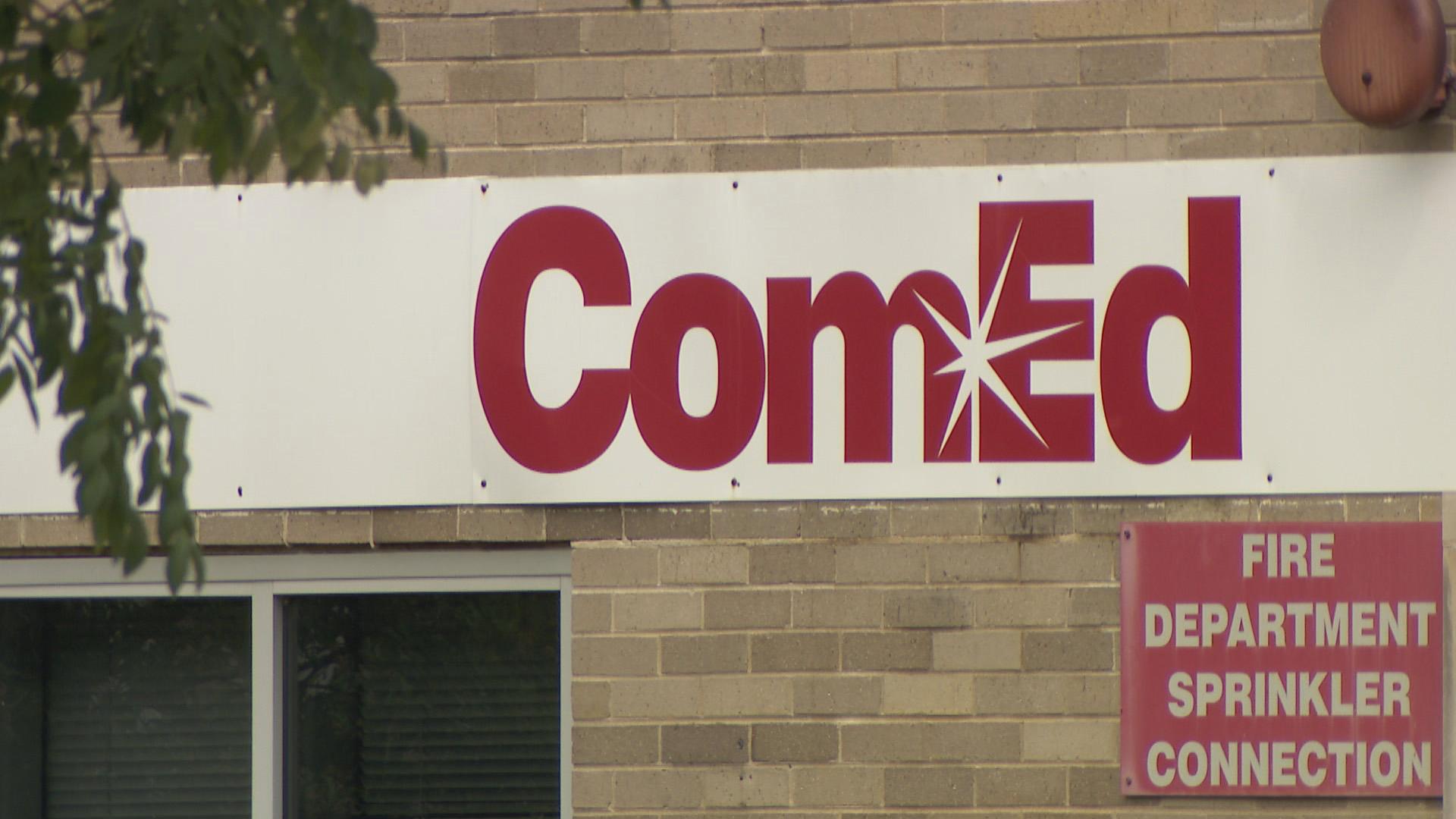 (WTTW News)
For years, Commonwealth Edison officials illegally curried favor with longtime Illinois House Speaker Michael Madigan — allegedly providing his allies with lucrative contracts and no-work jobs — in order to further the utility company's legislative agenda in Springfield, according to federal prosecutors.
​​"In short, Madigan wanted, the defendants gave, and the defendants got," Assistant U.S. Attorney Sarah Streicker said. "It's that simple."
Opening statements in the trial of the "ComEd Four" — ex-CEO Anne Pramaggiore, ex-ComEd lobbyist Mike McClain, retired ComEd executive John Hooker and ex-City Club of Chicago president and former ComEd consultant Jay Doherty — began Wednesday, more than two years after they were charged with bribery conspiracy, bribery and willfully falsifying the utility's books and records.
Pramaggiore and Hooker are accused of cooking ComEd's books as they conspired to pay Madigan loyalists for doing little or no work, while Doherty was allegedly used as the pass-through.
McClain allegedly helped to make the arrangements and otherwise worked with ComEd's leadership to butter up to Madigan — whom the defendants allegedly referred to as "our friend" or "a friend of ours" — by getting ComEd to hire interns from the 13th Ward.
"We had to hire these guys because Mike Madigan came to us," McClain allegedly said in a wiretapped phone call, according to prosecutors.
According to Streicker, jurors will hear from the defendants "in their own voice carrying out the bribery scheme in real time and when they thought no one was listening." These wiretapped phone calls — more than 100 of which are expected to be played at trial — will also include conversations between the defendants and Madigan himself.
Federal prosecutors on Wednesday walked jurors through the extensive, yearslong bribery scheme the defendants are accused of carrying out in order to advance ComEd's legislative agenda worth hundreds of millions of dollars.
From 2011 to 2019, the defendants allegedly caused ComEd to pay around $1.3 million to Madigan's "political cronies," Streicker said, in exchange for jobs that included little to no work.
The defendants paid subcontractors to make this work appear legitimate, but those were not real subcontractors and this was not real work, according to Streicker.
"These were bribes intended to benefit Mike Madigan," she said.
These subcontractors allegedly included 13th Ward precinct captains Ray Nice and Ed Moody, and former Chicago alderpeople Frank Olivo and Michael Zalewski, each of whom were paid thousands of dollars by ComEd each month while being required to do no work for the utility company.
Prosecutors said the men were instead expected to keep working for Madigan's political organization.
Another former ComEd executive, Fidel Marquez, has already pleaded guilty to a bribery charge and is expected to testify at trial that ComEd hired and paid a series of subcontractors who did little or no work to corruptly influence and reward Madigan.
During one recorded phone call between Doherty and Marquez in 2019, Marquez allegedly asked Doherty if ComEd needed to keep paying these subcontractors if they weren't expected to do work.
Doherty allegedly replied: "ComEd's money comes from Springfield, right? If it ain't broke, don't fix it with these guys."
Streicker said that was Doherty's way of reminding Marquez that ComEd's electricity rates were set by the state, and the utility company needed to keep Madigan happy.
Beyond the subcontractors, the defendants also allegedly pushed for ComEd to approve a lucrative contract with a law firm run by Madigan ally Victor Reyes, and fought to get Juan Ochoa — another Madigan associate — appointed to the ComEd board of directors.
According to prosecutors, Madigan did not own a cellphone and didn't use email, but instead used McClain as a mouthpiece to make his demands known. For instance, when an intern's resume was presented to ComEd by McClain for consideration, it wasn't a request, "it's a demand," Streicker said.
"These were not mere recommendations," she said. "The evidence will prove that these were demands and the defendants acted on them."
McClain's defense attorney Patrick Cotter framed his client's actions as nothing more than legal lobbying.
"When you have a problem that you need to resolve with your elected representative, … it might make sense, if you can, to hire somebody to help you do that," Cotter said. "It's not a crime, and it's not a conspiracy, and you know what, it's not even suspicious."
Cotter argued that McClain and Madigan have remained friendly since their time together in the state legislature, and that conversations between the two weren't representative of a conspiracy, but rather friends offering each other help and advice. He also claimed that over the eight years of this alleged scheme, prosecutors have no evidence of conversations where the defendants reference Madigan having done anything to help pass legislation benefiting ComEd.
Pramaggiore's defense team similarly argued Wednesday that she never bribed or even asked Madigan for help passing any legislation. Her attorney Scott Lassar argued Pramaggiore believed Madigan was no friend to ComEd and that he was only concerned with staying in power atop the Democratic party in Illinois.
Cotter accused prosecutors of zeroing in their investigation on Madigan — who is not charged in this case, but faces a separate racketeering and bribery trial next year — and claimed they began to "see what they wanted to see" — that the defendants "somehow were part of some nefarious conspiracy."
"The government's theory is wrong," Cotter said. "It's too simple."
Following a full day of jury selection Tuesday, a 12-person jury and four alternates were finalized quickly Wednesday morning. Opening statements concluded after approximately five hours Wednesday afternoon, and prosecutors called their first witness: former Illinois state Rep. Carol Sente, who now works as a consultant and commissioner in Vernon Hills.
The trial is expected to last up to two months.
Contact Matt Masterson: @ByMattMasterson | [email protected] | (773) 509-5431
---