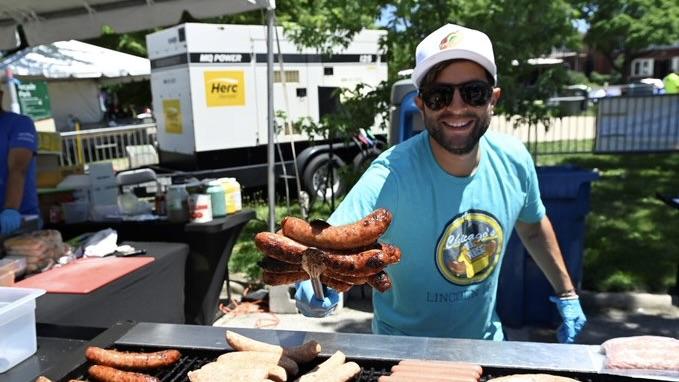 Taste of Chicago. (Courtesy City of Chicago)
With concerts and a NASCAR race set to close at least some of Grant Park nearly every day between May 18 and Aug. 13, the Taste of Chicago will not take place until after Labor Day, city officials said.
The Taste — started in 1980 — is set to take place in its traditional Grant Park home Sept. 8-10, one week after the Labor Day holiday weekend that traditionally marks the end of summer.
"Moving this iconic event to the tail end of summer will prolong our vibrant festival season and spur additional tourism and economic activity downtown," the city's Department of Cultural Affairs and Special Events, known as DCASE, said in a statement.
Three neighborhood-centric versions of the Taste will take place in Humboldt Park on June 24, Pullman on July 15 and Marquette Park on Aug. 5, officials said. The Chicago House Music Festival will also take place on June 24 on the lawn of the Humboldt Park boathouse, officials said.
At least a portion of Grant Park will be closed every day between June 5 and July 15 to allow NASCAR to stage a street race through downtown Chicago as a part of its championship series, according to the schedule released by the Chicago Park District.
That will make it impossible for the Taste to return to its traditional home in Grant Park on the weekend after the 4th of July holiday.
The plan to hold the Taste of Chicago after Labor Day represents an about-face for Mayor Lori Lightfoot, who asked the Chicago City Council's Special Events committee on March 7 to approve a plan to move the Taste to the park in front of Navy Pier on July 1 and July 2. Committee members objected to that proposal, and the measure failed to get a vote. The new plan announced Monday must also be approved by the City Council.
Portions of Grant Park will also be closed from May 18 to June 1 to allow the Sueños festival to take place on May 27 and May 28. Lollapalooza, which takes place Aug. 3-6, is also scheduled to close portions of Grant Park starting July 17 through Aug. 13, according to the Park District schedule.
The Chicago Blues Festival will take place June 8 through June 11 and the Chicago Gospel Fest will take place June 3 at Millennium Park. The Jazz Festival will take place Aug. 31 through Sept. 3, also at Millennium Park.
Contact Heather Cherone: @HeatherCherone | (773) 569-1863 | [email protected]
---