The line of mourners stretched for blocks in Oak Lawn on Thursday as hundreds came to pay their final respects to fallen Chicago police Officer Andrés Mauricio Vásquez Lasso. The 32-year-old was shot and killed last week while responding to a domestic violence call on the city's Southwest Side.
"We gather to honor our brother," said the Rev. Dan Brandt, Chicago Police Department chaplain. "We give thanks to God for the years he allowed us to share in his life."
Vásquez Lasso's family and brothers in blue came together for funeral service at St. Rita of Cascia Shrine Chapel. 
"Andrés was one of the bravest and most selfless individuals I have ever known," cousin and fellow CPD Officer Jhon Vasquez said.
Vasquez held back tears describing his cousin as a passionate officer who always put others first.
"We say farewell, but we will never forget you," Vasquez said. "We will never forget the sacrifices you made, and more than anything, the memories that you leave behind."
Vásquez Lasso served five years with the Chicago Police Department. His commander in the 8th District, Bryan Spreyne, said the young officer dreamed of becoming a detective one day.
"He would've achieved it," Spreyne said. "Anyone who knew him noted the pride in his appearance, his professionalism and his dedication to fitness and his passion for football."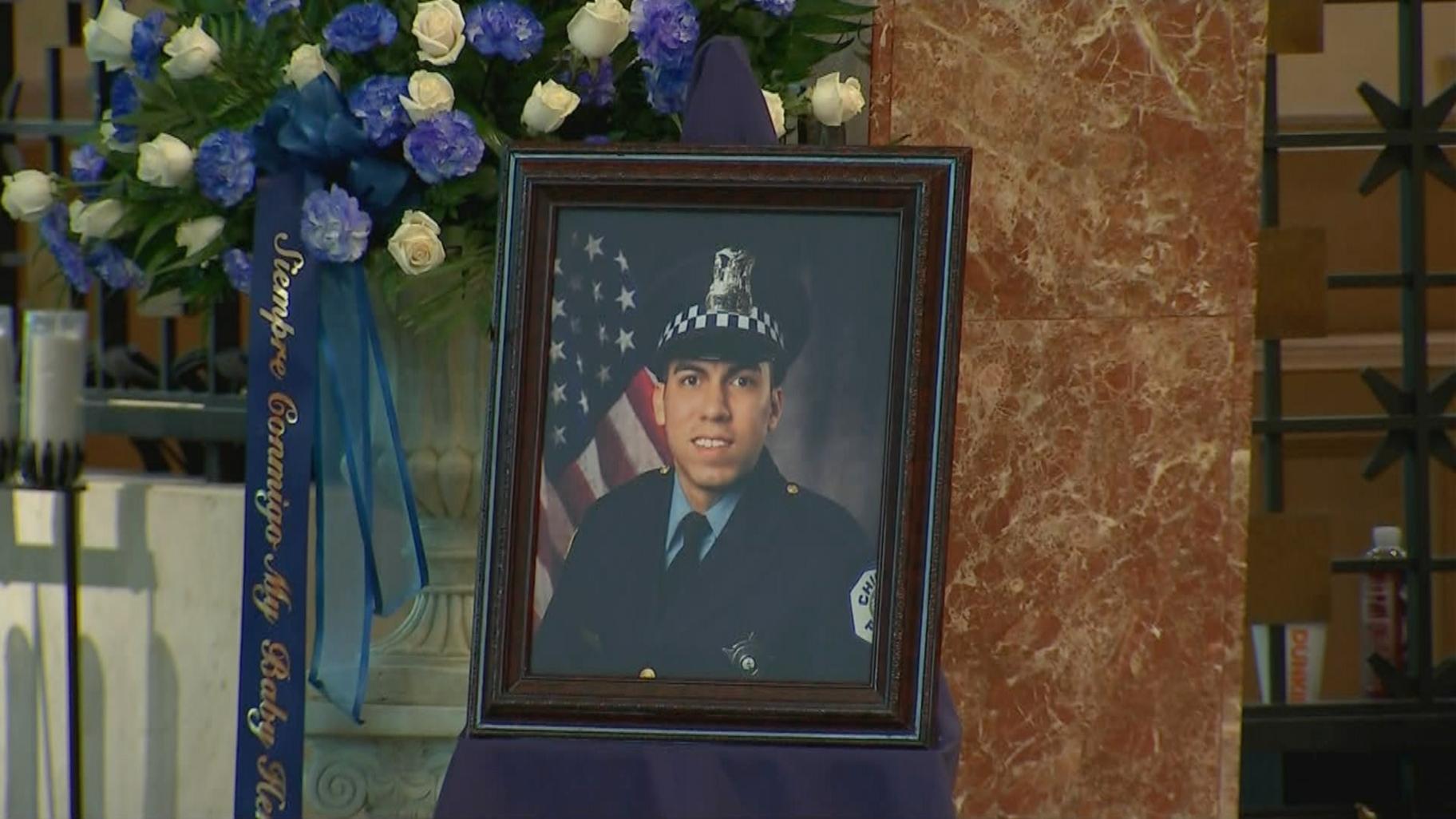 Funeral services were held for fallen Chicago police Officer Andrés Mauricio Vásquez Lasso, 32, on March 9, 2023. (WTTW News)
Vásquez Lasso migrated with his family to Chicago from Colombia when he was 18 years old. He went to college, and at 27 years old, enrolled in the police academy.
"His mother, Rocio, always called him 'my police officer' and said he never stopped working to take care of and provide for his family," Spreyne said.
The service was also held in Spanish to celebrate Vásquez Lasso's roots. His wife, Melina, too heartbroken to speak, held on to his family.
"He was such a good and courteous husband, according to Melina, that her friends tease her about how much of a gentleman he was," Spreyne said. "He also liked to salsa, often taking Melina to dance with."
On March 1, Vásquez Lasso woke up not knowing the day would be his last. It's a reminder, his fellow officers said, of the risks they take every day to protect Chicago.
"He best describes himself in this post," friend and fellow Officer Saul Canteria said. "Behind his uniform, there's another human being just like you. The uniform does not make me a robot. The uniform is not a symbol of hate. This is not a symbol [of] us versus them. I hate injustice and lawlessness, as well. That's why I become a cop. Even though my actions won't change the world, I can change the world of every person I get in contact with … and that's definitely what he did."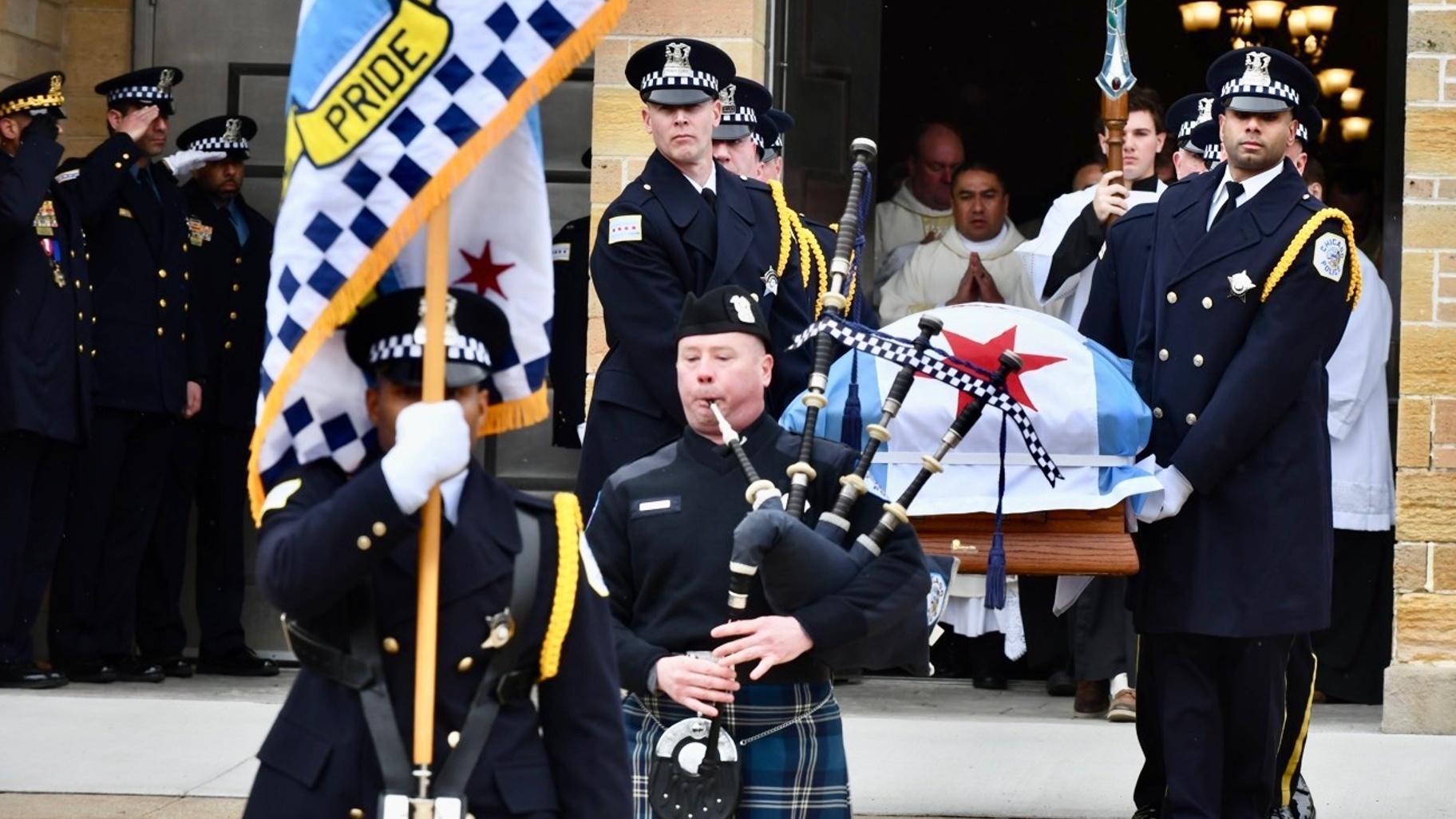 Funeral services were held for fallen Chicago police Officer Andrés Mauricio Vásquez Lasso, 32, on March 9, 2023. (Chicago Police Department / Twitter)
---