A Chicago police officer was fatally shot Wednesday while responding to a call on the city's Southwest Side, officials said.
The shooting happened in the 5200 block of South Spaulding Avenue, according to the Civilian Office of Police Accountability, or COPA, which investigates officer-involved shootings. The officer was identified Thursday as Andres Vasquez-Lasso, 32, according to the Cook County Medical Examiner's Office.
Officers were responding to a call about 4:45 p.m. Wednesday that a woman was being chased down the street by a man with a gun, Chicago police Superintendent David Brown said at a news conference Wednesday night.
Two police cars responded to the scene, where officers encountered an 18-year-old man with a gun, Brown said, citing preliminary information. Police began to pursue the man, Brown said, and shots were exchanged at close range.
Vasquez-Lasso was shot multiple times and later died at Mt. Sinai Hospital. The 18-year-old was shot in his head and is in critical condition, Brown said.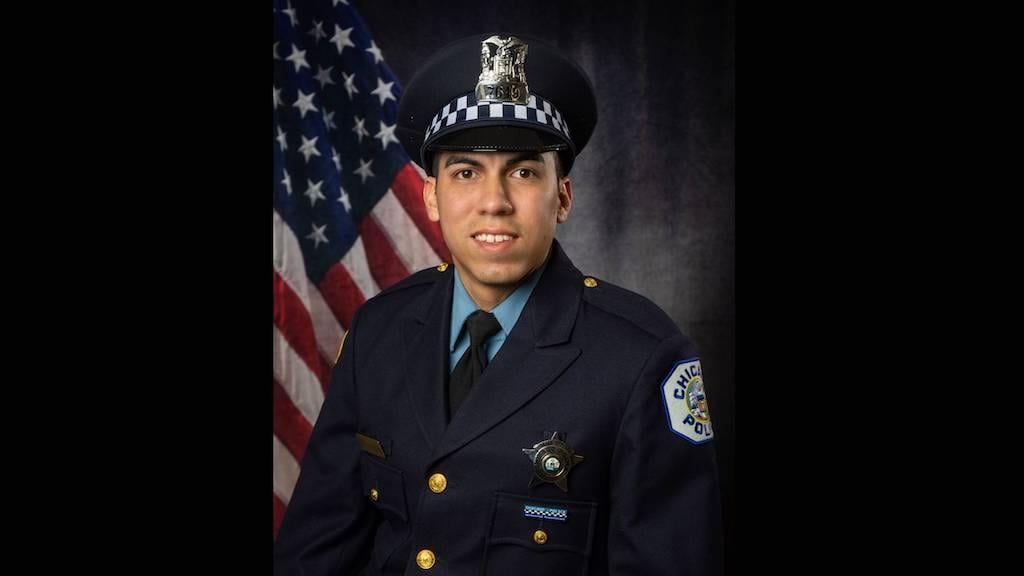 Officer Andres Vasquez-Lasso (Chicago Police Department)
Brown told reporters that Vasquez-Lasso was a five-year veteran of the Chicago Police Department who "had a bright future ahead of him." 
"This is a family of public servants," Brown said, "and as you can imagine, they are taking this tragedy very, very hard. … This is something that no family should have to face."
He said detectives were still working to piece together evidence Wednesday night and that the department is turning over evidence to COPA.
"Our hearts go out to this young officer's family," Chicago Mayor Lori Lightfoot said at the news conference. "And I echo what the superintendent said. We need to lift them [the officer's family] up in our prayers and wrap our arms around them as they go through this journey of grief and loss."
Lightfoot said she wanted to remind people that police officers run toward danger for the sake of public safety "every single day, on every shift" and encouraged people to thank officers for their service.
Vasquez-Lasso's family launched a GoFundMe campaign Thursday to help cover funeral costs and provide support for his loved ones.
"We are deeply saddened to share the news that one of our brave police officers, Andres Vasquez-Lasso, has passed away in the line of duty," his family wrote on the site. "Andres was a dedicated and courageous officer who served our community with honor and distinction. We are grateful for his service and will always remember his sacrifice."
Officer Andre Vasquez-Lasso exemplified honor and courage when he was fatally shot responding to a person with a gun call.

Last night, we honored his heroism as we escorted him to the Cook County Medical Examiner's Office.

End of Watch: March 1, 2023. pic.twitter.com/HFmecjDYXE

— Chicago Police (@Chicago_Police) March 2, 2023
---
The shooting occurred less than two hours after Brown announced that he will be resigning from the CPD later this month.
Vasquez-Lasso is the first Chicago police officer to be fatally shot in the line of duty since Ella French, who was killed during a traffic stop in West Englewood in August 2021. Two brothers, Emonte and Eric Morgan, have been charged in that case.
---